Icewind Dale: Enhanced Edition coming to Android later in 2014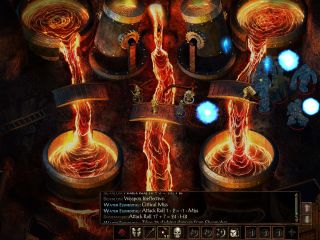 Beamdog Studios, who previously released an enhanced version of the classic PC Dungeons and Dragons RPGs Baldur's Gate for Android devices, is doing it again with another D&D-based game, Icewind Dale, which will be launched later in 2014.
Icewind Dale was first developed by Black Isle Studios and published by Interplay in 2000, using the Forgotten Realms setting in the D&D universe. Beamdog Studios is going back and making a lot of improvements for the new version, along with adding new content, which is why their game is titled Icewind Dale: Enhanced Edition.
Here's a list of what's being added to the game:
Six expanded quests, featuring content cut from the original game
60 new items
Heart of Winter and Trials of the Luremaster expansions
31 new class and kit combinations from Baldur's Gate II: Enhanced Edition, well as the half-orc playable race
122 new spells carried over from Baldur's Gate: Enhanced Edition
Cross-platform multiplayer for up to six players
A new "Story Mode" difficulty setting to allow players to experience all of the story with none of the Game Over screens
In addition the UI in the game has been improved with new Zoom capabilities and a Quickloot Bar. The game will be released for the PC, Mac, Linux and iOS platforms as well. The price for the PC version will be $19.99 but there's no word on what the price will be for the Android version.
Are you planning to play this improved version of Icewind Dale on your Android smartphone or tablet when it comes out?
Source: Icewind Dale
I would love a MMORPG on Android. Have it on an Android TV device and you have it in your living room, phone, and tablet.

+1 Definitely. Posted via Android Central App

Mmorpg on Android? Have you tried 'Order and Chaos'? It's got many of the same features wow has, such as guilds, pvp, pve, etc. I bought it for $1 but think it's free now. Posted via Android Central App

Looks pretty cool. Will check it out soon.

Yes!!! The best dungeon crawl!!! Posted via Android Central App

Are there any good ones right now? Posted via AT&T LG G3.

Tried playing Baldurs gate on android once and it was to much screen clicking to be enjoyable. Definitely better on pc Posted via Android Central App

Big day for D&D news, I'm a little apprehensive as to how well this will play. I was never a big fan anyway to be honest. Posted via Android Central App

Didn't it take them a year longer to to release BG:EE on Android after iOS? The whole time they kept promising that it was a few months away. They still haven't released BG2:EE on Android. Who knows if and when we'll see this game. Posted via Android Central App

Bg:ee has been released to android. Check it out at baldursgate.com Posted via Android Central App

I believe it took them year after ios to release BG1:EE on android and BG2:EE is still not available on our platform. Posted via Android Central App

I just hope they will not release bugs like they did with bg and bg2. First one error carried over from original game that made finishing the game impossible unless using cheat console, and every new quest they added to bg2 was a bug fest. If it wasn't for that both games would be awesome and absolutely payable on tablets, and probably bit cumbersome on phones. Posted via Android Central App

Awesome. Pure Awesome. I like it, pure purchase as well. I am willing to pay a premium $9.99 just like its predecessor for a good game on mobile.
Android Central Newsletter
Thank you for signing up to Android Central. You will receive a verification email shortly.
There was a problem. Please refresh the page and try again.