Ice Cream Sandwich now on 1 percent of all Android devices, Gingerbread still on the rise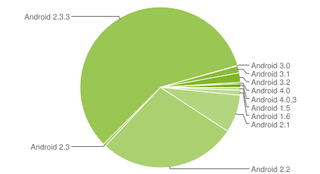 Google has just released the latest numbers regarding who's using what version of Android. These are devices that have accessed the Android Market over two weeks ending Feb. 1. The long and short of it is this:
Ice Cream Sandwich is up to a whopping 1 percent of all devices. That's the Galaxy Nexus, of course.
Honeycomb (Android 3.0) is still around, hitting 3.4 percent of devices in the past two weeks, up a percentage point from a month ago.
Gingerbread (Android 2.3) is at 58.6 percent, up from 55.5 percent last month.
Froyo (Android 2.2) fell three percentage points to 27.8 percent.
Eclair is hanging on at 7.6 percent, down from 8.5 percent last month.
Google is currently activating more than 700,000 Android devices a day.
Source: Android Platform Versions
ICS isn't just on the Nexus... I have the Xoom and ICS :P

Yes and don't forget the Transformer Prime :) I wonder does this take into account devices running ICS unofficially, like my Nook Color (that is now collecting dust since I got my Transformer Prime)

This counts devices that have accessed the Android Market in the two weeks during which the data was collected. Unless they are further fudging the numbers to weed out custom ROMs (a huge undertaking), then this means that when a device accesses the market (to check for app updates or when the Market app is launched) that device is added to the tally.

Good observation. It is so easy to lie with statistics, and this is a perfect example of it. This stat only represents users who logged on to the Market and THAT should be the article heading. There is NO way that one in every 100 Android users has a Nexus, or any ICS device, especially considering that Google reports over 500,000 activations/day. (700,000 was a Christmas rush figure.) However, Both of these are also lies, if not, at that rate, everyone in the entire industrialized world will soon have an android phone. I love Android and Google, but I do not appreciate being played for a fool. Exaggerating doesn't win respect. It causes a loss of credibility. Plus, the Nexus is a new device as are other devices with custom ROMs. It is normal for people with new devices to hit up the Market. Plus, those users are doing so more than once, so these are not different people representing ICS usage as the article purports. Plus the vast majority of people with a Nexus or custom ICS ROM are the better informed Android users who have an avid interest in everything Android. They are more likely to customize their phones will probably hit up the Market 3 to 5 times more often than average. [I prefer the Galaxy Note myself.] The question now is, did Google spoof us or was this a poor choice for an article title by the writer? Hmmmmm.

Got it on my Xoom and Evo 4G

Also on my Fascinate and Galaxy Tab 7". Both of them running smoother than Touchwiz ever did.

I was going to say the same thing. I have had ICS, officially, on the Xoom for quite some time now. Exactly how is that only "the Galaxy Nexus, of course." Plus there is the Transformer Prime, too. Come on Phil, that is a really bad mistake...

What phones out there now are using 1.5 and 1.6?

Don't forget that Froyo didn't roll out until mid-2010. My mother-in-law bought her phone in early 2010 on a 2 year contact. Her phone never got the froyo update (she has some crappy Samsung keyboard phone (the one after the Moment that Sprint sold literally for 2 weeks)). Android was updating their OS so much that a lot of non-flag bearing phones just got left behind and are forever stuck in pre-froyo.

People like the poster above's mother-in-law who don't know from updates and have no clue about different versions of Android, or barely know the word Android...

Honeycomb is peaking right now. ICS takeover has begun.

There are far more Galaxy Nexus, TF Primes and Zooms than I thought out there in the wild. That's good. I wish Sprint would hurry up and release their next ICS device.

Motorola sold over 1,000,000 Xooms...

Don't forget that many people are using ICS with custom ROMs.

I remember a similar chart like this last year when Froyo was dominating and Gingerbread was just a small piece of the pie. Android has come a long way.

i agree..
when they do these reports they should also do a side-by-side comparison graph from exactly 1 year ago to kinda put things in perspective

Biggest problem I see with that graph is the size of the Froyo block. There is no excuse for it being that big. The updates really need to go fast. If everything was the way it should be by May the ICS block would be the size of current gingerbread and Froyo block combined.

There are still a lot of the el-cheepo tablets and phones that have no support out in the wild.

all the early cm9 builds plus kangs will show up as 4.0 builds as well. And all the aosp builds... people are biting at the bit for some ics.

Google only counting the devices that have official builds and is on the market.. Your EVO and other devices have builds but their rooted.. not officially from HTC or Samsung.. The Xoom have ICS also a long with the Prime.. but i guess tablets and phones are in their own category "shrug'
Android Central Newsletter
Get the best of Android Central in in your inbox, every day!
Thank you for signing up to Android Central. You will receive a verification email shortly.
There was a problem. Please refresh the page and try again.