Google Play now gives away a paid app every week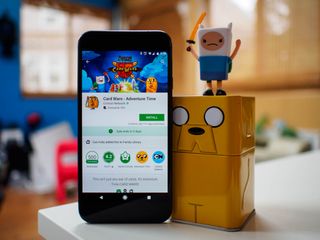 There are millions of free apps available on the Play Store, and many of them are pretty great. But there are also millions of paid apps that don't always get the attention they deserve.
Now, Google wants to highlight a few of those paid titles by offering a free app or game of the week. The first one is Card Wars — Adventure Time (opens in new tab), a lighthearted card trading and battle game that usually runs for $2.99, but this week is going gratis.
Like Apple's version of the same, it appears Google will highlight a single title each week, and chances are it will be a paid game that also has in-app purchases. That benefits both Google and the developer, since it gets a chance to add millions of new users and ramp up revenue.
This isn't the first time Google has given away paid apps for free. It started the practice in its then-nascent Family section back in 2015, but that particular enterprise seems to have faded away for this more broad version.
Get the Android Central Newsletter
Instant access to breaking news, the hottest reviews, great deals and helpful tips.
Daniel Bader was a former Android Central Editor-in-Chief and Executive Editor for iMore and Windows Central.
They won't offer any AAA titles

I'm looking forward to what comes of this.

Does Amazon still do this? That's how I got a lot of my apps back in the day. And there were some AAA titles from Amazon then.

They replaced their free app of the day with their Underground program.

I expect every one of these "free" apps will come with in-app purchases and advertisements.

Kinda like it says in the article? Yeah, me too.

Oops!
Since when was reading the article a prerequisite to posting a whiny comment?

Actually this was the 3rd week it was going. First week was Bloon Tower Defense 5, last week was True Skate.

Aww I missed bloon td? Sad times

Ooooh. I like this. I know it won't be anything great, but freebies are always welcome. It gives me an opportunity to try games I wouldn't normally play.

I wish they had the option to buy the app but not prompt to install it. I mean, it's not the end of the world, but would be better hehe.

but wouldn't it be like buying food from a fast food place but not eating it immediately?

No, it would be like buying canned food that you store in your pantry and you may or may not ever eat. Now I'm hungry.

So the first app they choose to "give away for free" has both in-game ads and offers in-app purchases? :ThinkingFaceEmoji:

Is there a way to "buy" it without installing it?

You can install it and then uninstall right away and you own it in the play store, then you can download it again whenever you want to.

Why does the dog in the picture have a pair of shorts for a nose?

Isn't this like a few weeks late? Even AP posted this not so long ago when I personally have had this on my Play Store for nearly 3/4 weeks already.

The reason App Gratis got killed?

Aw, App Gratis, haven't heard of it since the iPhone days when the application was removed by Apple.

Don't forget to notify us in case they ever decided to give Monument Valley away.