Advertisement Feature
Google fax - fax from Gmail, Google Drive, Docs, and Sheets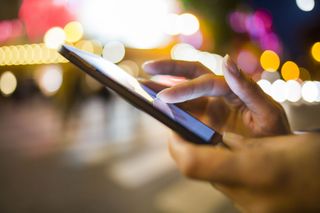 (Image credit: Shutterstock)
Even though email is the most popular communication medium around the world, there are many professionals who still prefer faxing due to its security and confidentiality benefits.
In fact, some government departments only accept documents sent through fax. However, in this day and age where everything is becoming compact and wireless, no one wants a fax machine that takes up half of the space in the office. This is why more and more people are shifting to online fax, especially Google fax.
This article will deal with various ways to fax through Google services such as Gmail, Google Drive, Google Docs, etc. without the need for a fax machine.
Jump to the information you need:
Part 1: Sending and Receiving Faxes Online
Fax machines require a lot of investments, space, and added necessities such as phone lines, paper, toner, etc, correspondingly dissuading most users from the purchasement or rental of one.
And this is why online fax services are becoming a preferred alternative to bulky fax machines, as they allow users to send and receive faxes directly through the internet.
CocoFax is a preferred online fax service due to its suitability for both- occasional users and power users. Occasional users can start the free trial to send and receive faxes for free through CocoFax.
For regular users, CocoFax offers a permanent fax number along with several other features such as fax from Google, Microsoft, email, smartphone etc.
Part 2: How to Fax from Gmail
Gmail, by default, does not support sending and receiving faxes directly. This is where a Google fax service like CocoFax comes to the rescue.
These online fax services translate analogue telephonic signals to digital signals and bridge the gap between Gmail and traditional fax approaches, saving the need for any additional hardware.
Sending Fax through Gmail
In order to fax via Gmail, you can create a CocoFax account by entering your Gmail address in its platform. CocoFax offers a 30-day free trial period during account creation.
After this, sending faxes becomes as easy as sending an email. The major difference between sending a fax and an email is the 'To' field.
Here are the steps:
Sign up for a CocoFax account using your Gmail address (you can get a 30-day free trial).
In Gmail, Click on the Compose option in Gmail that allows creating a new email.
In the 'To' field, enter the recipients country code and fax number followed by '@cocofax.net'.
Attach your fax document (CocoFax supports a variety of formats, including PDF, jpg, jpeg, png, doc, docx, xls, xlsx, tiff.)
Press Send (filling in the subject line and body are optional).
Whenever you send a fax through CocoFax, CocoFax will send a delivery report to your Gmail inbox containing details such as fax pages,delivery status etc.
Receiving Fax through Gmail
CocoFax provides a free fax number with a subscription plan. A user can receive faxes through this number.The incoming fax is usually forwarded to the registered Gmail inbox as a PDF attachment. The email also contains information about the sender, such as his or her fax number and the transmission log.
Part 3: How to Send Fax from Google Drive (Docs, Sheets, etc.)
CocoFax provides a Google Drive addon that can integrate with Google Docs and Google Sheets. Users can use it to fax directly through Google drive documents with a single click.
Here's how to use that:
Download and install the CocoFax add-on for Google Drive.
While viewing your document or spreadsheet in Google Drive, select the menu bar and click Add-ons.
Select CocoFax from the list of available add-ons.
From here, you can directly send the fax by entering the recipient's fax number and any other relevant information.
Part 4: Benefits of Faxing with Google
The benefits of faxing through Google services are so many that it can seem unfair to compare it to the conventional fax machine setup. Some of these benefits include:
There is no requirement to print every fax document. Users can choose which documents to print. They can also save, forward, or delete a fax document directly from their Gmail inbox.
Faxing with Google provides the option to use a smartphone for sending and receiving faxes at their fingertips.
Google fax saves on the cost of using a fax machine, paper, toner, utility costs, and the maintenance costs for each of these. Additionally, there is no requirement to set up a dedicated phone cable just to send and receive faxes.
G-suite faxing provides a layer of convenience as users can fax with a single click through most of the Google platforms. And all faxes are archived in the cloud.
Frequently Asked Questions
Here are answers to some frequently asked questions when it comes to faxing online through Google apps:
Q: Can I fax via smartphone? Yes, you can use any and all of these above-mentioned methods to send and receive faxes via your phone.
Q: What will I enter in the recipient field while sending fax through Gmail? The recipient field should contain the receiver's fax number with country code,area code along with '@cocofax.net' as a suffix. For example, if the fax number is 123456, the country code is +77, and the area code is 31, the recipient field should be: +7731123456@cocofax.net
Q: What should I add in the email body while faxing through Gmail? Anything entered in the email body will be sent as the first page of the fax document that the receiver will get.
Q: Why is my fax not delivered? The common reasons for faxes being undelivered are that the receiver's fax machine is switched off, their fax machine is busy, or that you enter an incorrect fax number.
Q: Can I send faxes internationally through this method? Yes, it is possible to fax to 189 countries globally with CocoFax. All you need is the country code and area code of the receiver.
Endnotes
Faxing through Gmail and other Google services is not just possible but, in fact, preferable to the traditional file transmission mediums. There is no longer any need for fax machines and phone lines with the plethora of online fax features at your disposal.
Android Central Newsletter
Thank you for signing up to Android Central. You will receive a verification email shortly.
There was a problem. Please refresh the page and try again.