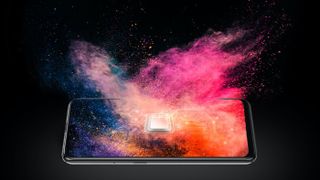 (Image credit: TCL)
The humble smartphone has grown a lot over the past decade or so. From their beginnings as chunky devices that could perform a few relatively basic tasks, to mini computers that live in our pockets, it's pretty amazing how far smartphones have come.
But they still have room to grow.
The smartphone industry in general may represent the pinnacle of miniaturized technology, but the mobile industry in general could still learn a lot from a certain other screen-oriented industry. The TV industry has been around for far longer than the smartphone industry, and as a result, it's a little more advanced in a number of different ways.
Here are a few ways in which the smartphone industry could learn from the TV industry.
Deeper blacks and brilliant colors
You may be more likely to turn to your TV for watching movies and TV shows, but chances are, you spend a whole lot more time looking at your phone's screen than your TV's. Because of that, phone manufacturers in general could take a more serious approach to display technology, ensuring that they adopt the latest display trends to make for the best viewing experience possible.
Of course, that's not to say that smartphone manufacturers aren't adopting modern display tech. Many phones now offer OLED displays, which is a great first step. But supporting standards like HDR and Dolby Vision could also be helpful, and could make watching movies on your phone a whole lot more enjoyable.
TCL in particular is pushing the boundaries on its smartphone displays. Its recent phones have adopted NXTVision, which is a technology that was originally developed for TVs, and aims to optimize content for the display, and ultimately provide a better media experience.
Pushing the boundaries of high resolution
Let's get this out of the way right now -- for most day-to-day use, you're probably not going to need a 4K display on your smartphone. But as technology like virtual reality becomes more popular, miniaturized high-resolution displays are going to become more important, and if smartphone manufacturers want to hop aboard the mobile VR train, higher resolution displays will be an important piece of the puzzle.
4K displays in phones could also make for a better day-to-day experience. You probably won't see a huge difference outright, but that slightly crisper look and feel could help ensure that the overall experience is as smooth as possible. That's especially true when coupled with a high refresh rate. And, as smartphone displays get bigger and bigger, and we start to see foldable phones like those TCL has shown off, higher resolutions will be even more important.
More content out of the box
TV manufacturers are great at ensuring TVs offer a good selection of content right out of the box. Whether it's by pre-installing the latest and greatest streaming apps, or by ensuring that it's easy to switch to free-to-air TV channels, TV-building is all about the content. That's something phone manufacturers could adopt.
Now, there are a few ways phone manufacturers could do this. A basic start would be to make sure that phones have apps like Netflix out of the box. After all, everyone has Netflix.
That said, phone manufacturers could go a step further too. For example, they could bake content right into the UI itself, making it easy to quickly and easily access content on the go. That's especially true for TV manufacturers who also build smartphones, as they could lean on the TV that's already tied to cable subscriptions and streaming apps, and create a deeper integration between their TVs and smartphones.
Phone manufacturers will have to be careful with this, as customers will get frustrated with too much extra software on their device. But as long as it's done smartly and is easily accessible, it could make for a great experience.
Immersive audio
Displays aren't the only piece of the entertainment puzzle. As more and more people use their phones for gaming, watching movies, and so on, better audio will become more important. Phone speakers are generally pretty weak, offering a tinny sound that can't get all loud. As TV manufacturers build better speakers into their TVs, phone manufacturers could do the same.
How they do that, of course, remains in question. For starters, phone manufacturers could develop ways to build better physical speakers into their phones. But they could also adopt the latest wireless audio standards as soon as they're available, build smarter headphones that integrate with their handsets, and so on. Not only that, but smartphone manufacturers could start adopting Bluetooth tech that can connect to multiple devices at once. TCL's latest phones can connect to up to an impressive four Bluetooth headsets or speakers at once, allowing for a better audio experience that you can enjoy with your friends.
Value for money
In recent years, smartphones have been getting more and more expensive. These days, it seems like every decent phone, with 5G connectivity and good performance, comes at over $1,000. The TV industry, on the other hand, has been offering increasingly competitive prices, with even premium features costing less. This has made for more competition, and consumers ultimately benefit thanks to the fact that they can get better TVs for lower prices.
The smartphone industry could adopt this too. Sure, there are budget phones out there, but they usually seriously cut corners, getting rid of the premium features that most still want from their devices without having to pay a high price. For example, you should still be able to get great multi-lens cameras on phones under $500. You should also be able to get a good display experience on a phone under $500. TCL offers all of those things, all in a package for well under $500.
A lot more to learn
Generally speaking, the smartphone industry has a lot to learn from the TV industry. A first glance, smartphones are much more complex and high-tech than TVs are, but considering how mature the TV industry is, that doesn't necessarily mean that phones have nothing to learn.
From entertainment value to pricing, hopefully smartphones will continue to get better over time -- and hopefully they'll take at least some of those cues from TVs and the TV industry as a whole.
Sign up for Black Friday email alerts!
Get the hottest deals available in your inbox plus news, reviews, opinion, analysis and more from the Android Central team.