Do you prefer Nova Launcher or TouchWiz Home?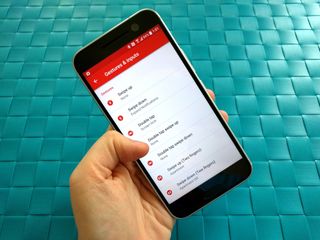 As most all of you know, one of Android's greatest strengths lies in the ability to customize just about every little aspect of it that you want. Third-party launchers are a great way to change up the entire look and feel of your device, and time and time again, Nova Launcher has proven to be one of the best options around for doing this.
Samsung's own Android launcher (TouchWiz Home) used to be hot garbage just a few short years ago, but since the Galaxy S8, Samsung managed to turn it into something that a lot of people actually prefer using over a third-party one.
Some of our forum users recently started talking about whether they prefer Nova or TouchWiz Home, and these are a few of the responses.
Now, we'd like to hear from you – Are you using Nova Launcher or Samsung's TouchWiz Home?
Get the Android Central Newsletter
Instant access to breaking news, the hottest reviews, great deals and helpful tips.
Joe Maring was a Senior Editor for Android Central between 2017 and 2021. You can reach him on Twitter at @JoeMaring1.
Nova it is for me. Samsung Experience Home launcher is good, only reasons I'm still with Nova is a) option to lock home screen icons (really works well for context menu) and b) vertical scrolling apps menu.

I prefer S8's stock launcher, with the added organization of Ginlemon's Smart Drawer, to Nova. Samsung's theming engine gives me a nice, dark theme. I still install smart Smart Launcher, though. If THAT didn't exist, I'd likely stick with stock, and install a few Samsung icon packs.

Was a die hard Nove user until the Note 8. After giving Samsung experience a try I uninstalled Nova prime and can honestly say I like the stock launcher better. TouchWiz uses half the amount of memory/ram also. Average is about 120MB compared to 220+MB with Nova.

I'm only running 102 on Nova

Yeah I'm at like 84 running Nova I don't know what that dude is talking about

I have been using nova for years, but now I'm on my stock note 8 launcher since launch. It does all the things I used to use nova for.

First impressions. Been a Galaxy User since S3. I use Evie Launcher with a Black and White Icon Theme pack. Samsung's stock launcher, replacement apps for calendar, contacts and phone are just not good enough and outdated. Just my opinion.

I've stuck with stock ever since I got my note 8. The fact the Samsung now have the option to swipe down anywhere on the screen to get the notifications pull down pretty much did away with any requirement I had for nova

Nova Launcher on my Motos. I gave up on Samsung back in 2011.

I have been using the unrooted pixel 2 launcher for the last few months after using the nova launcher for the last six years. I highly recommend the pixel 2 launchers

Was a big fan of Nova until Microsoft Launcher came along and took it's place on my phones. Samsung Experience is still a distant 3rd for me personally

Nova all day everyday no matter which phone.

Neither. Smart Launcher Pro beats them both.

I like Nova because I can shrink down my icons and get a cleaner look for my icons and get more out of my wallpaper

I would always use a third-party launcher in previous Samsung. Really on any device. Even Nexus devices. I always come back to the stock launcher. Especially since about the S6, Note 4 timeframe. Now with the Note 8, but really since the S7 Edge, I don't ever feel the need to install a third-party launcher. I may check them out from time to time to check out new features. And just having the ability to do so is one of the many reasons I love Android, by the way. But I always come back to stock relatively quickly in fact. I really think that people that have the mind made up on Samsung from past experience really need to check it out. And even if it's not for you you will have to admit that Samsung Experience has come a long way since TouchWiz.

Active S8 is my first Android phone that I haven't switched the launcher.

Anyone know how to switch to Samsung TouchWiz and keep my Nova settings at the same time? I've been a Nova Prime user since the S5 days and have always had a consistent homescreen across all my devices.

I prefer CheeseWiz to Touchwiz

Nova now, but that may change in the future.

Nova launcher is the first app I install on all my phones including my current Nexus 6P

Be it stock android, se, emui or any skin of android, I will always use Nova as its the only launcher that can fully serve as a blank canvas for KWGT and KLWP.

Nova launcher is my go to because I like a lot of icons on a screen and none on the other to enjoy the image(s) I use to customize it. Don't need or want text w/ icons. Creatures of habits like familiar things...

Nova Prime for me too. I like to use Whicons and increase my icons on the home screen to 120%. And I can easily add the Google Now swipe in to the left. App drawer can scroll vertical and hipe apps.

I instantly downloaded Nova and made my S8 look like a Pixel. I've tried to use SEH a few times but I go right back to what I'm comfortable with...

Used to use Nova when I had a Note 3. Loved it. When I upgraded to a S8+ i found Touchwiz to be much better. I actually just use the stock Touchwiz. It's a personal preference though, so I always suggest to try new things.

Action Launcher on my S8+. I find Action Launcher to be faster than Nova, and has more features that I use. I had used Nova in the past when it was first released (anyone remember the 10 cent deals?!)

I can't make my mind up lol. I said h back and forth constantly from Touchwiz to Microsoft to Nova lol.

I prefer Microsoft Launcher. The best thing about it is I can sync my home screen to my MS account and restore the same homescreen settings and app layout on my other phone.

I'm a fan of Action Launcher ..
I have replaced TouchWiz on all 5 of my previous Samsung Galaxy S devices. . .

I used to switch between Nova and Touch Wiz when I used my S7 Edge as my daily driver. It made the phone feel new every time I switched. Using a Pixel 2 XL now so just using the stock Google launcher. I like Nova a lot though so may make an appearance here at some point! 😉

Honestly, I didn't even try the S8+ launcher to know if it was any good. i have been using Nova since it it started and that's the first thing I download on a new phone.

I tried very hard to use the Samsung Launcher on my note 8 but I always have to go back to Nova. I use Gestures considerably on Nova and hope Samsung will include them someday in the Samsung Experience UI. For example, swiping up give me direct access to the Google page with feeds, double-tapping opens my setting menu (I hate having to pull down notifications and touch the little icon for settings), swipe down expands my notifications, double-tap-swipe takes me to my secret folder, etc. I miss these when I try to use Samsung Launcher.

Uhhh .... Nova Launcher .... Duh!

Nova Prime FTW. Touchwiz has gotten a lot better, and I could probably live with it, but Nova just offers so much more: Customization, variable grid positioning, widget sizing, swipe actions on icons and folder icons, gestures, app drawer tabs, scrolling dock... I could go on and on. Actually, I'd choose Nova over any stock launcher, including Google Now and Pixel launchers. There are some other 3rd party launchers that are interesting, but none of the OEM ones come close to Nova.

I have a Note 8 & I've used exclusively either Nova or Action Launcher, but after reading a lot of these comments I thought I was missing something about the Grace UX. So I just went back & checked it out & I'm totally gonna keep using either Nova or Action Launcher. There's just so many more options that I use with those 2 launchers that I just can't do with the Grace UX. So until Grace UX updates their launcher with some of these options, I'll keep using a 3rd party launcher.

I'm a Pixel user so the Pixel launcher is what I use. If I had a Samsung phone, I'd use the Nova launcher. Prefer closer to stock.

TW is stock on the S series

Microsoft Launcher is we're it's at!!

Samsung Experience for me. With the S8+ the experience is buttery smooth, features useful and appearance visually appealing!

Nova. Ever since my first Android phone, coming from a Black Berry where you could create your own themes one of the first things I did was look for a way to customize my home screen. I went through a few different Launcher apps early on and finally found Nova and have never changed since. I gave TW a shot and there really isnt anything wrong with it I just like to be able to make things how I like them. (also the nearly 3/4" of home screen height you cant use at all drives me insane), I've tried many other contenders that come and go as well and I keep coming home to Nova Nova is king.

Google Now was my Android launcher of choice on my Nexus 5, Moto X Pure, and Nexus 6p. I was kind of nervous when I got my S8+ because Google Now was removed from the play store, but I honestly feel that the new TouchWiz is polished and nice to use.