Hands-on with the public beta of Cortana on Android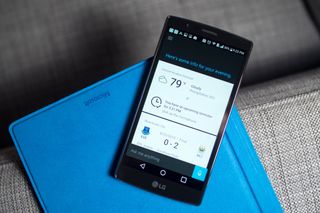 Cortana for Android was released as a public beta earlier today. I installed it on the LG G4 to see how it works. Is it better on Android compared to Windows Phone? Go watch our hands-on video to find out.
The closed beta of Android for Android was leaked earlier last month. Now, more people have access to the beta. Depending on your Android device, you can bring up Cortana by pressing and holding the physical home button or swiping up the on-screen home button. You can set this action to Cortana instead of Google Now by default.
If you have been using Windows 10, Cortana on Android looks very similar. Cards show up with the latest news, weather, sports scores, reminders, restaurant recommendations, and more. The hamburger button on the top left corner gives you access to Cortana's Notebook where you can edit settings and preferences. Here are some examples of what you can ask Cortana:
Is it going to rain today?
Remind me to pick up the microphone in 30 minutes
Set the alarm for 7 AM
Send a text message to Daniel
Tell me a Joke
Any reminders you request will also sync with your Windows 10 PC, tablets or Windows 10 mobile devices. In this beta for Android, toggling settings, opening apps or invoking Cortana hands-free by saying "Hey Cortana" are not available. Those features are only available on Windows for now.
So, what do you think having Cortana on Android? Sound off in the comments!
Download Cortana for Android (Public beta) (opens in new tab)
I'll tell you what I think. How about Microsoft just keep this on their Windows Phone? Just stay away from Android ok!? Google is doing just fine without "Cortana."

That time of the month eh? Posted via the Android Central App

Haha..not sure why people complain if other companies are bringing their service. It's good for the consumer, it's not like they are forcing anyone to use. Posted via the Android Central App

Competition is always good. This could push Good to improve Google Now. Posted via the Android Central App

I would love to see Google Now improved. It could be so much better and usable. Come on Google, "WOW" us!

Not that i couldnt think if a few ways to improve it, but google now is one of the most used and usable apps on my phone. i use it MANY times daily.

Google Now is copying Cortana, with the last update on Google Now you can say some multiple commands in the same sentence "Call my wife, on speaker" , that was on WP for years but now it works on GNow. Also I been trying some unique features from Cortana on Google Now and some of them finally works, in google now I can say "Flip a coin" and it works now, in the near future I think Google Now will work with some other Cortana exlcusive voice commands, "Roll the dice", "sing me a song", "tell me a joke", game predictions, etc. etc. can be copied to google now.

I can do a better review than this that comes from the Windows Central because I'm an android user that knows both devices and personal assitants... I been using Cortana on android for some weeks, it is great for some things that I can do but not for some others, but the addition is great. The best thing of Cortana on android is that you can have both running on your device, Cortana and Google Now at the same time and use the best features of both, for me Cortana is the best Personal Assistant but only if you run it on a WP and you really are in the MS ecosystem. Pressing and holding your home button on android can be configured to launch Cortana, you will miss those Google Cards but now you can have Cortana available holding the home button and via Icon (no widget yet available), for Google Now you can have the Widget and the "Ok Google" voice command. But what I notice is that Google Now has been copying some unique features from Cortana, for instance voice commands like "Flip a Coin" now are available using Google Now, ("roll the dice", "tell me a joke", game predictions, etc. remains as unique features of Cortana, but GNow can copy some of them in the near future) And finally after years available on WP now you can call using multiple voice commands with Google Now "Call my wife, on speaker", that was great on WP but if Google Now already copied this feature you don't need Cortana to do that. Android Cortana is not integrated with 3rd party apps like it was on WP, some unique commands from WP aren't available, for instance you cannot post to facebook using voice commands, not with Cortana and not with Google Now, you can do that and many other with Cortana on WP. On my setup I'm using Cortana to navigate using Here Drive as a default navigation app, and Google Now to use Google Maps as default, for long trips I prefer Here Drive because the Speed Limit warnings, for something practical and quick I'm using Google Maps. so with voice commands I know what to do, Cortana or Google Now, depends on the situation. Cortana and Google Now in the same device working together, multiple options are helping me a lot...

Don't install it... Problem solved

Nope, he still has to bitch about it

How dare they provide alternative options!? Posted via the Android Central App

How about if you don't want it you just don't install it? You'll still benefit from its existence, along with those of us who realise that competition is good for the end user. Wubba lubba dub dub!

Guess what. Don't like it, don't install it. Posted via the Android Central App

stfu you dumb ass Posted via the Android Central App

Telling it to start a timer is futile thing. I want this to work better, if only to make Google better. Posted

It's very simple to set a timer using voice commands to set a timer on Google now. I do it all the time when grilling Posted via...The One

DAMN!!! Thats a great idea! honestly had NO idea i could use GN to set a timer (your not talking a reminder right? a timer like a stop watch or count down). usually when i am grilling i just pull open the timer app but gonna use GN next time! thanks

Ugh, hate hearing people grill with a timer! Get an instant read thermometer. It's the only proper way to know when it's time to remove from the grill! Posted via the Android Central App

Timer...thermometer, what are those? I take food off when its done. That's how Dad did it, that's how America does it and its worked pretty well so far.

Totally agree! I'm still waiting for the day that we can just smash our smartphones in that juicy meat to measure the temperature.

I think Windows Central gets the B-team.... Posted via the Android Central App

It's lackluster at best. I feel like I can do more with s voice. Posted via Android Central App

I tried the link signed in with my email. It told me to download tthe the app first. I followed it and it said the app was not found Posted via the Android Central App

How can I get into the closed beta of "Android for Android"? Anyone?

Buy a Nexus. Closed to Nexus owners. Everyone else gets CrapWiz.

I'm digging the sync'ing to Windows 10 feature. Pretty nifty and convenient. Sadly I appear to be having issues installing it. Guess i'll give a go some other time. I doubt I'm missing anything too ground breaking. EDIT: Got it working. I feel I have missed nothing too epicly ground breaking. Still amusing.

I thought the same. It's a bit more tempting to use since cortana search is on the taskbar, but there's a bunch of ways to sync Google Now notifications with chrome, etc.

Enjoyed Cortana on my Windows 10 PC. Enjoyed it on my G4. Of course, it's not perfect and it's not as fast as Google Now, but it is a pretty nice Siri alternative. Posted from the LG G4 "Spigen + Anime" Edition. Wait, what?

Agreed! It's not as fast or capable as Google Now, but it does have personality unlike Google Now :) Posted via the Android Central App

I like to play with new stuff. Cortana seems to be the best Siri alternative so far. I still prefer Google Now for its accessibility and sheer speed and wealth of information, but it's a nice alternative. Posted from the LG G4 "Spigen + Anime" Edition. Wait, what?

I dont understand why people are so enamored with having "personality" in AI. I want it to do what i ask then get out of my way, not give me some witty comment that the developer thought was cute. IMO, this is why google now is so much better than siri... apple focused so much time and energy into making it "cute" and funny and left out functionality to do so. lol I guess thats ALWAYS been the apple way though.... form over function

Hard to explain, but having Cortana (who any Halo fan is familiar with) seems more like a real personal assistant vs. GNow. I find the interaction much more enjoyable. Its like talking to Number 5 vs. the voice box from Wargames...

Cortana is not available in your country!!!! Ohh Well!!! Will stick to Ok Google then....

As a person who previously had a windows phone as my daily driver I am pleased so far. It's only in beta but it seems like a solid start. Posted via the Android Central App

Definitely a very good start for a beta. Posted from my Galaxy Note 5

Can't find in google play. On my note 4? Says link not found.

I got my public beta invite while visiting Android authority. http://www.androidauthority.com/cortana-for-android-public-beta-now-avai... Posted via the Android Central App

It's okay. But I still like Google now better Posted via the Android Central App

"sing me a lullaby" "sing me a song" "read me the news"

It's okay but it is not Google Now. Google Now is a more mature service though so it should not be surprising that Cortana falls short in comparison. I do have Windows 10 desktops though so Cortana might be a intriguing possibility sometime in the future when the service has matured more and is closer in it's capabilities to what Google now offers. Google's implementation of Google Now on Windows leaves so so much to be desired and Microsoft could take advantage of that and lure Google Now users on Android over to Cortana on Android as Cortana matures and adds more features.

I am curious to see what it's like on WP. Since Android is very restrictive now with things like settings, Cortana is restricted, while Google Now should have free roam and more control since it's native. I'm tempted to buy a Lumia 640 just to try it, Walmart has them for under $100.

Cortana on WP is better than Google Now on Lollipop, much better but only if you are in the MS ecosystem (hotmail, bing, onedrive, etc.), USCanthony is wrong when he said that GNow is more mature because now GNow is copying some unique features from Cortana, however both have unique features not available in others, for instance Cortana has reminders based on contacts "When my brother calls, remind me to ask for his son", game predictions, etc. etc. and even if Cortana is new it was integrated with more apps on WP than Google Now with android phones, maturity is not a problem for Cortana.

You can do more with Cortana on WP. Honestly, as far as each of their "cards" go, they largely mimic each other. Google is much better with GPS centric card info, though. Directions, POI nearby. Cortana does some, but Good Now is better. Posted via the Android Central App

"mimic each other".. lol you mean M$ copied the CRAP out of google! lol And everyone still calls them CARDS!! lol But good on google for not trying to litigate this away. Its very obvious that the design was "borrowed" from google and if it was apple, we all know there would have been a law suit by now.

Well, if you're going to go that route, they all copied Palm & WebOS then...

There are a lot of features on Cortana that Google Now copied, i'm using both and I can notice them... for instance with the last update of google now you can say "Call my brother, on speaker" and it works (finally pffft), or "flip a coin" or others that have been on cortana for a long time.

Doesnt sound like Cortana plus shouldn't she be calling chief? Just a thought Posted via the Android Central App

I'm liking Cortana (it does have a bit more pizzazz) but it isn't any better functionally really than Google Now. I have a Moto 360, so I still need to rely on Google Now over Cortana anyway.

I have a Windows 10 desktop, laptop, and soon to be Surface (waiting for the Pro 4 to come out to decide on picking up the Pro 3 or Pro 4). So I think this is great, I would never leave Android for my phone, love the Note to much, so to be able to have them all sync is great. Posted via the Android Central App

I don't use Cortana or Google Now. I don't even like talking on the phone, much less talking to a phone. Posted via the Android Central App

I can't get cortana to connect to my wi fi but it works fine on cellular data. Anyone else experiencing this? posted using my Samsung killer. . .G4

Mark - My only 'criticism' is that Cortana is much more chatty and interactive than shown in the video (in a good way). Some of the interaction was obviously edited out of the video...it'd be nice to show the entire experience, not so edited down.

Not available on Moto X 2nd gen.... Posted via the Android Central App

I am slowly migrating from Windows Phone to Android. Cortana works much better than I expected. Does everything I used it for on Windows Phone. Now if you do ask her what is on your agenda and you don't use GMail Calendar, she will not list your appointments...but she will show them in your CARDS from your Outlook Calendar...
Android Central Newsletter
Get the best of Android Central in in your inbox, every day!
Thank you for signing up to Android Central. You will receive a verification email shortly.
There was a problem. Please refresh the page and try again.