App installs from search results aren't 'bypassing' Google Play, but you might miss some details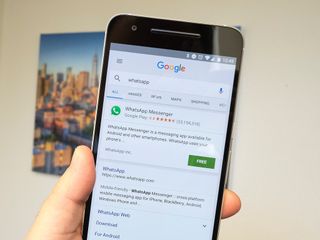 Mobile apps are funny things. We're quick to install them. And quick to blame them should something go wrong. Stolen data. Unclear permissions. Too much data being collected. Apps being hijacked by nefarious actors, repackaged and distributed through alternative means. It's very much still the Wild West out there.
But Google over the past year or so has gotten serious about getting more apps in front of more users, particularly in search results — which remains Google's bread and butter. App indexing — wherein Google actually sorts through the content of an app so it can present it back to users in any number of ways — is the key to all this. You can open a traditional web search result directly into an app. And later Google would show a button that take you to the Play Store to install the app.
And now Google has cut out the middleman — for some of us, at least — by skipping the step of opening the Google Play Store app before installing. Technically speaking, that's probably not a huge leap. And, frankly, it's not as big a deal as headlines are making it seem.
Let's take a closer look.
Here's WhatsApp — one of the most popular applications on the planet. And this is how you'll see it if you hit the "Install" button in Google search results, or if you view the app listing in the Google Play Store (opens in new tab). And for the most part you're getting the same information. And in some ways the search card is better. Screenshots are actually visible. (And just like in the Play Store listing you can flip through them, and tap to view them full-screen.) The app categories are hidden. You miss out on the generalized total number of installs — WhatsApp is in the 1 Billion Club — but that's about it.
So let's hit "Install" and see what happens.
As you'd expect, we're now greeted by all of the permissions WhatsApp uses. (And it uses a lot — and note that it's not using the new Android 6.0 Marshmallow as-needed runtime permissions.) And there's virtually no difference between what's presented to you on from the search results versus what you'll find in Google Play. That's what we'd expect to see. Google's done this right.
Hit "Install," and, well, things install just like normal. It's the same app, from Google Play, with all the same safety checks Google has in place. The only real difference is that you didn't see the Google Play Store user interface.
And that's good and bad. If it's an app I know I want to install, I just saved myself a little time and a few taps. No biggie.
But there are a few reasons we're not 100 percent crazy about the idea of folks installing apps from "outside" Google Play.
You won't see user reviews
App listings in search results are missing a lot of what you'll find in the Google Play listings. User reviews are hugely important. If an app was recently updated and broke something, that's where you'll find it. Reviews are a good way to get a general feel for whether an app is something you're going to want to try. (In fact, Google recently started aggregating reviews to help out with that "sense" of how an app is performing.) It's generally better to read them than not.
Full app descriptions lose out
You don't see the full description of the app from the search results. Developers have up to 4,000 characters to tell what their app does and doesn't do, explain permissions and generally give a reason for why you should download their app in the first place. It's only a tap away from the search results install screen — just hit "More details" — but it's still a tap removed. And having a chance to explain why a user is about to see a dozen permissions declared is an important thing for a lot of developers.
When is a store not a store?
And, finally, we (and we're hardly alone here) have for years preached the importance of installing apps from trusted sources, like Google Play. While the more savvy among us will recognize that installing from a search result doesn't "bypass" Google Play in any way, shape or form, we could see bad actors trying to take advantage of this streamlined installation process. (On the other hand it's not like the Google Play Store hasn't been aped 13 different ways.)
At first blush this might seem like Google's taking advantage of its own rules. But read section 4 of the Developer Distribution Agreement (opens in new tab) and it's pretty clear. Google's prompting updates from Google Play — not from some other place — so it's Kosher, per Google's own rules.
But the short version is that installing apps direction from search results isn't a bad thing. It's not "bypassing" Google Play. You're still downloading the apps from Google Play, you'll still get any future updates from Google Play. You're just doing it from a different starting point is all — in fact, it looks darn close to what you do for an in-app purchase — but you're also missing out on a few up-front details in the process.
I will never recommend to anyone to install apps like this. It's just begging to accidentally install something you didn't mean to install.

I'm not quite sure how you'd "accidentally" tap buttons here any more than you would anywhere else.

I'm guessing it's that bit you stated about nefarious people trying to mimic this screen for people that have install from other sources checked. If I'm in the google store I know it came from there.
Then again, if I check install from other sources it's on me to make sure this app is coming from the right place. Maybe add something on the permissions page (since it's controlled by android itself and bad people can't change it) that says where the install came from. In all, I like the ability to streamline this process.

Well there is a more details button that I assume takes you to the playstore/source. That is one way to check, that I for one will always use. I would love to see this as an account option to not allow this Posted via the Android Central App

Since JB, if you try and install something from outside the Play Store, it will prompt you that you have "Unknown Sources" disabled. Allow the install, and you have the default "This time only" checkbox. Google has made this painless enough that there is absolutely *ZERO* reason that anyone should be making themselves vulnerable to malicious apps by leaving "Unknown Sources" permanently turned on. (Active developer device not withstanding. Even then, if it's your daily driver, too....)

And Samsung goes one better and gives you a one-time option for that. So you can sideload without having to remember to flip the switch back to safe.

Wait... the one-time option is a Samsung thing? I could've sworn that was standard Android...

He just likes to crap on Google. If he can get the first comment, that's bonus.

If he has to deal with the APIs daily I can understand... Posted via the Android Central App

Like I mentioned earlier I have a friend who tapped on his Nexus 6p and the thing exploded!!! Dam It Feels Good To Be A Google Gangster

Don't worry, I'm sure it'll be available on android wear soon! Posted via the Android Central App

I agree about the importance of user reviews. Since they started aggregating, has anyone seen any negative aggregated reviews? Even when I looked at apps where it was clear that the user reviews were negative, I only see positives ("2 people said, 'Best app ever!").

I've seen some but not many. And they don't seem to reflect when an update goes bad (looking at you Accuweather).

What are aggregated reviews? Posted via the Android Central App

They are on the main app page of Google Play. Highlights of the reviews before you click on read reviews. Posted via the Android Central App

It is nice seeing apps pop up when you do a Google search for something app related but I still prefer to download from the store. Something feels a bit off doing it from the browser. Posted via the Android Central App on the Moto G³

App reviews are crap anyways. Most of my app reviews get deleted by the developers, and false 5 stars get posted on a daily basis.

Developers can't delete reviews. Posted via the Android Central App

I love this site but Jesus Christ! It can be so Sanctimonious at times. Posted via the Android Central App

It's not about being sanctimonious it's about recognizing the possibility for people who don't really understand their phone to get fooled into installing repackaged apps that contain spyware. Posted via the Android Central App

For now I will only install from the Play Store. Please don't nail me to the Chrome cross. Dam It Feels Good To Be A Google Gangster

I think I would only do this if I already knew I wanted that app. Something like installing facebook on a new device or if I had previously researched it.
Android Central Newsletter
Thank you for signing up to Android Central. You will receive a verification email shortly.
There was a problem. Please refresh the page and try again.