Android A to Z: What is a launcher?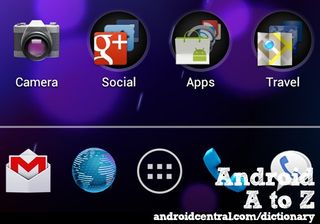 What is an Android launcher? Probably the most powerful feature of Android is its ability to be customized. And that starts with what's typically called the "launcher." The launcher usually is considered to be the homescreens and app drawer, and they come in all sorts of flavors and designs.
When you hear people talk about "stock" Android, this usually is what they're referring to -- homescreens and app drawer unchanged from what Google includes in the open-sourced code. But that's just the tip of the iceberg. From there, you can download any number of third-party "launchers," which will change the look and functionality of the homescreens and the app drawer. Home screens can have different animations. Or different docks at the bottom. Or a specific number of home screens. App drawers can have more scrolling or sorting options. The possibilities might not be endless, but they're certainly numerous.
Google has included a lot of improvements in the Ice Cream Sandwich launcher, but third-party apps absolutely are not yet obsolete.) Some of the more popular third-party launchers include:
There is no shortage of third-party launchers. But they're not the only ones. Smartphone manufacturers all have their own launchers, too. HTC has its Sense UI, its own homescreen and its own app drawer, all nicknamed "Rosie." Motorola has long has its "Blur" user interface. Samsung has "TouchWiz." Don't like any of them? You can install a third-party launcher on top of the default user interface. And with as powerful as today's phones are, you can do so without any real degradation in performance.
Previously on Android A to Z: What is a kernel?; Find more in the Android Dictionary
More from the Android Dictionary
[block:views:article_lister_bespoke-block_13]
Sign up for Black Friday email alerts!
Get the hottest deals available in your inbox plus news, reviews, opinion, analysis and more from the Android Central team.