Android A to Z: What is a launcher?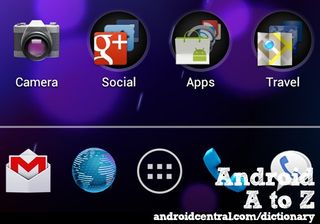 What is an Android launcher? Probably the most powerful feature of Android is its ability to be customized. And that starts with what's typically called the "launcher." The launcher usually is considered to be the homescreens and app drawer, and they come in all sorts of flavors and designs.
When you hear people talk about "stock" Android, this usually is what they're referring to -- homescreens and app drawer unchanged from what Google includes in the open-sourced code. But that's just the tip of the iceberg. From there, you can download any number of third-party "launchers," which will change the look and functionality of the homescreens and the app drawer. Home screens can have different animations. Or different docks at the bottom. Or a specific number of home screens. App drawers can have more scrolling or sorting options. The possibilities might not be endless, but they're certainly numerous.
Google has included a lot of improvements in the Ice Cream Sandwich launcher, but third-party apps absolutely are not yet obsolete.) Some of the more popular third-party launchers include:
There is no shortage of third-party launchers. But they're not the only ones. Smartphone manufacturers all have their own launchers, too. HTC has its Sense UI, its own homescreen and its own app drawer, all nicknamed "Rosie." Motorola has long has its "Blur" user interface. Samsung has "TouchWiz." Don't like any of them? You can install a third-party launcher on top of the default user interface. And with as powerful as today's phones are, you can do so without any real degradation in performance.
Previously on Android A to Z: What is a kernel?; Find more in the Android Dictionary
More from the Android Dictionary
[block:views:article_lister_bespoke-block_13]
Get the Android Central Newsletter
Instant access to breaking news, the hottest reviews, great deals and helpful tips.
Don't forget the beta of Nova Launcher for ICS!!!!!

I prefer 3rd party launchers for the simple fact that they can be backed up with out being rooted and can transfer from any Android to the next. Go Launcher our Launcher Pro are my personal favorites. The customization for both of these are superior over any stock launcher. From the look of the dock, to customizable app drawers. They have it all.

noob question.... so lets say I've got an HTC which comes with Sense (I think). If I don't like Sense I can install Go Launcher (for example) overtop of Sense which is overtop of Google... and not really loose out on performance?

That's correct. Also I would like to add, I have no idea why someone would use spb shell as their launcher. Especially since there's not half the options that, for example, go launcher ex has. Definitely not worth the money, IMO.

When I had my DINC (still do) running go launcher on top of sense it slowed down the device as it does replace visually your screen layouts, etc. but sense is still there. Putting a launcher on a stock device will take up resources. Rooting your device and removing stock/ pre loaded launchers is a much better way to go.

I've got an HTC evo 4g with go launcher ex as my launcher and haven't had any issues. Adw lagged and launcher 7 is just amazing in the execution of the app. Amazing that there isn't more devs doing that kind of style. Not exactly copying other phones launchers like launcher 7, but making their own style of home screens and app drawers. I would love to see that. Seems like most launchers keep the basic Android feel to them.

aside from rooting, you may want to disable all the widgets in Sense that auto update, and delete them along with all the shortcuts from your Sense homescreens before switching to a new Launcher. Just because you can't see it doesn't mean the Sense Launcher isn't running, so it only follows that you might as well clear the homescreens so it doesn't waste time loading widgets and shortcuts on a Launcher you're not using.

Yep! My wife uses Go Launcher simply because it performs better than HTC Sense (Sense on the Shift seems to have a few issues). When I use 3rd party launchers, I always prefer Go Launcher because it is the most customizable & feature rich (keeps getting features added on a regular basis).

Some people have the WRONG idea that the Launcher is the whole Android experience: stock Launcher = stock Android, custom launcher = skinned Android. Just because you installed ADW Launcher on your HTC Evo 3D, you haven't escaped Sense. Just because you installed Launcher Pro on your Galaxy S II you haven't escaped TouchWiz. Manufacturer skins go way beyond the launcher so you can never get rid of them, except by flashing a pure Android open source ROM. On the flipside, a phone might ship with the stock Android Launcher, and still have customizations in the Phone, Contacts, Messaging, Browser, and other apps that still depart from the pure Android experience. Finally, there are phones that are near stock Android but come with a custom Launcher. In these cases, you can install a third-party launcher that mimics the stock experience (such as Gingerbread Launcher) and you'll feel as if you had a stock Android device.

True but the launcher is the main part of the UI. Yeah, all the sub menus stay the same as before the launcher gets installed, but the launcher is what you see first after the unlock screen.

ADW Launcher EX is by far the best of these. Go launcher has significantly less customization options then EX.

I disagree. I have both ADWLauncher EX and GO Launcher EX. Go Launcher EX has more customization in every aspect. The only feature ADW has that GO doesn't has to do with the hiding and tray of the dock bar, but that's buggy IMO, I found it unusable. GO on the other hand has far superior functionality and customization added in the app drawer and in folders. I tried to go back to ADW EX, but couldn't.

Oh yeah and it is also free!!!!

So I apologize, cause adw launcher ex is awesome! The regular free adw was laggy on my HTC evo 4g, but the ex is amazing. Thanks for motivating me to try it!

You better check out Go Launcher again. I've used it and the paid version of ADW, & free Go Launcher is by far more customizable. I really wanted to like ADW but it had always been too lay for me. I'm sure it probably depends on the phone & ROM, but in my experience it's not quite as good (but still a great choice... & choice is what it's still about). If you want some great new dock backgrounds for Go Launcher, try Droidicon... fantastic!

Zeam deserves a mention. Super lightweight with some decent features. Loved it but changed to ADW when I got it during the $.10 Christmas thing, mostly because I can match the theme to my current ROM. Used Zeam again when I had to switch phones for a week.

Once again, Phil fails to answer the central question, and gets bogged down in side issues. What does it do?
Why would my mom want one? When you write a Can-Opener 101 article, you don't start out by explaining how to replace one, or paint it a different color, or listing competitive brands. I showed the article to my non-techie neighbor who just happened to be visiting and he looked at me with that WTF look.

I agree. These articles need more structure. However, give Phil some credit. This one is better than his last one. He's making progress.

Seeing that you mentioned the windows phone look I recon Espier should have made the list as well for the iPhone look https://market.android.com/details?id=mobi.espier.launcher I am not a fan, but know some people that do like it.

Totally biased - as I'm one of the authors of the app - but you can also checkout Claystone @ https://market.android.com/details?id=com.claystoneinc for a free 3D launcher alternative. We're always looking for more feedback and ways to improve the app!

Your launcher has was too much goin on...I'm sorry but I found it unusable.

Fair enough; we absolutely need to do a better job in communicating how best to utilize it, given the striking departure from standard Android behaviours. Appreciate you giving us a shot!

I just downloaded ADW EX and it seems to be pretty decent so far. Gives my old EVO 4G a fresh look but I somehow lost the 3 button action bar. I swear I've been through all the ADW settings and can't find how to get it back. Any help would be appreciated! Thanks

The stock ICS launcher is all I need!!

ADW Launcher Ex is my default launcher but I'm going to check out a couple of other launchers mentioned in the article.

I wish you continued success and a very nice page
boyacı, dekorasyon, boya ustasi

But what does the launcher actually do? That's why I came to this page.

Ummm i know i am kinda really late to ask this, but i just got to know about launchers recently o.O I wanted to know does installing a launcher makes a smartphone/tablet loose it original apps, say S Planner in the note series or any other applications provided by the manufacturer of the smartphone/tablet company?