Android Quick App: Wiz Kid Jr.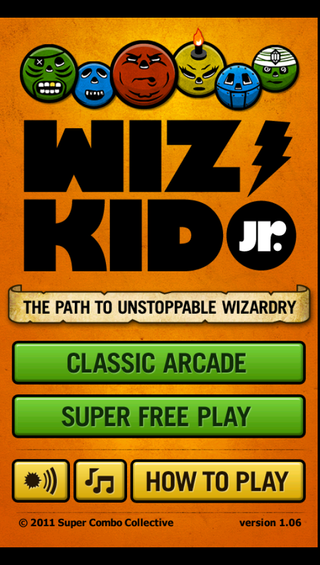 The video up there says it all. Wiz Kid Jr. is a fast-paced, puzzle-based game that challenges not only your finger dexterity but also your forethought and ability to adapt on-the-fly.
The idea is classic: anything of the same color can be destroyed or removed if there's three or more of them together. In this case, they're totems, and they give you mana. The mana doesn't give you any cool powers (for that, there's magic bolts), but it does keep your game going. Mana is like your essence, your life-blood, and without it, the baddies win.
Getting rid of totems (or the undesirables) is easy. Draw a connecting line between them, and poof, they disappear. Unfortunately, diagonal lines are a no-no, but you can still string together some pretty impressive combos if you snake to-and-fro and make sure you start the line at the optimal location. If you can't, you can still totally just go for groups of three or four (I totally did) to get your mana up little by little.
The bad guys are evil spirits, but I still think they're evil faces, and for some reason, they like munching on your mana. There's six different kinds, but you don't face them all unless you're playing on the Unstoppable Wizard difficulty. For beginner wizard, you face the first three that are unlocked, and as you unlock the more difficult levels, a new evil spirit is unlocked as well.
You're able to have six levels of mana saved up, noted by the change in your mana bar's color and the amount of vials sitting above it. You can save up more mana after you've already filled six vials, but I'm not sure by how much, because at that point, evil spirits were munching my mana so quickly I couldn't fill it up fast enough. At any rate, just know you can save up a big war chest in case the waves start coming too quickly.
Something also worth saving up (especially for the later levels), are your magic bolts. Magic bolts fuel some special abilities you unlock that can greatly expedite the removal of evil faces. You start off with the hammer at the beginner level, and it does just that: hammers away a totem or spirit. There's a small cooldown between using magic bolt-infused abilities, so you can't just blow half your hammers back-to-back when the going gets rough. As you unlock more abilities (also in conjunction with more difficult levels and more spirits), you'll have more options at your disposal, but to keep them scaled with their increased power, their cost goes up. I know the bomb costs two bolts (compared to the hammer's one), and I can only assume the next two will cost three and four (or more!).
There's also a Super Free Play mode, which lets you pick the wave speed, spirit anger, and any three spirits to duke it out with. It's fun to have and definitely lets you work out strategies against some of the spirits that may be causing you trouble.
Overall, Wiz Kid Jr. is a stellar game. Graphically, it's nails. The scary, training wizard man up top looks great, as do all the stylized fonts and accents. It runs smooth as butter, and has a kickin' soundtrack, to boot. If you like puzzle games (or anything that'll surely challenge you), Wiz Kid Jr. is a safe bet. There's a free version that's limited to 10 waves and a paid version, that for a mere 99 cents, nets you the whole game. If you like what you see, find yourself four quarters and pony up the dough. There's ghosts evil spirits to be busted.
More pictures and download links are after the break.
Saw the review on youtube first and just went and got it. What an awesome game! Good recomendation.

Looks just like the games bebbled and bejeweled.

Can anyone tell me where I can get that amazing batman wallpaper he has?

It's actually just based off of a Batman picture I found on Google. Between that and Wallpaper Wizardrii, that's all you need! The picture in question can be found here: https://docs.google.com/leaf?id=0B6YvATRq87hOZjBlMjljMDUtMGUzNC00YzUxLWE5MzEtNmE5NWI0YzU5NDgy&hl=en_US

Josh, you're the man. I greatly appreciate it :)
Android Central Newsletter
Get the best of Android Central in in your inbox, every day!
Thank you for signing up to Android Central. You will receive a verification email shortly.
There was a problem. Please refresh the page and try again.