Android Quick App: FuelLog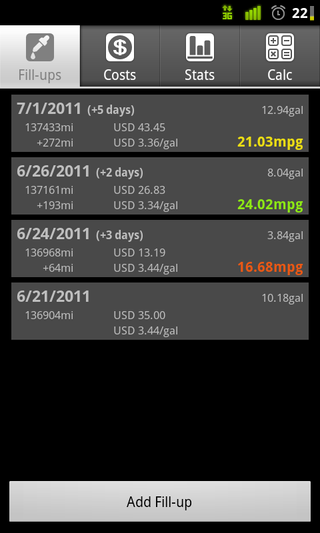 In case you can't tell, I really, really like saving money on gas. I've talked about GasBuddy on more than one occasion, and the almost natural complement to that would be FuelLog. FuelLog is a thorough, straightforward app that tracks your average gas mileage as well as cost over time.
At it's core, FuelLog is all about tracking your fill-ups and giving you feedback on your miles-per-gallon, as well as keeping you informed about your cost during each fill-up and how many days have transpired between fill-ups. It's graphically plain, but it doesn't need to be popping, just functional. And functional it is.
You get yourself started by "Add Fill-up" button. From there, you're taken to a screen with all the essential information: odometer reading, how much fuel you bought, and the cost-per-gallon. From there, FuelLog does all the appropriate math and you get your first reading. There's also an option to add a note, say, that you just towed a trailer cross-country, so that's why your gas mileage is probably in the dumps.
The more fill-ups you add, the better FuelLog gets. With more information, FuelLog can tell you your best gas mileage, your worst, and your average. This is denoted by the green, red, and yellow mileages on the list screen, but really stands out when you move to the Stats tab.
The Costs tab is for any incidentals (like repairs) that you might have to pay for your vehicle. It's got a pretty expansive list of options, ranging from a one-time cost to monthly and even quarterly. There's still the standard fields for odometer and costs, but you can also title the expense (like "Ran into a tree") and add a note.
The Stats tab is one of the more impressive features of FuelLog, giving you two choices: Graphs or Values. Values is a series of tables, showing you things like fuel consumption, accumulated costs, total fill-ups and fuel amounts bought, total costs, and a long table of averages. It's fairly comprehensive, and if there's anything you needed to know about your spending or driving habits, it's here.
When you flip over to the graphs, you're presented with a single line graph, but you can change what you're viewing. This is one of the features that illustrates how powerful FuelLog can be as it continues to accumulate more data about you. Don't think you're limited to just one graph, either. While you can only view a single graph at a time, there's plenty to pick from, like fuel consumption, trips, total odometer, and fuel price. For the visual learners among us, this is pretty key.
The last tab is a calculator to help you estimate how many gallons you'll burn if you drive a certain number of miles or the opposite, how many miles you're likely to be able to drive based on a certain number of gallons in your tank.
Overall, I think FuelLog is essential for any cost-minded people, especially if you care about improving your driving habits. Fortunately, FuelLog is free, but not without its limitations. The free version only remembers a max of 10 points on your graphs, so if you want to track things long-term, I'd suggest ponying up the ~$2.72 for the license key. The full version also gets rid of ads as well as letting you import or export a file into FuelLog, so you can keep a spreadsheet on your computer without much hassle.
Download links and more pictures are after the break.
The best and most mature fuel/maintenance Android application in the market today is "aCar". I've used it for a couple years now and it segregates information for different vehicles, lets you add maintenance types and track everything you've ever wanted to do with your vehicles. Give it a try - the developer is very responsive and the app is a five star. Enjoy!

I second this, I have had aCar for quite some time and even purchased the full version so it will backup my data. Easily the best vehicle gas/maintenance history app out there.

Another vote here for aCar. It's a very robust app that I use to track all maintenance for multiple cars.

I used aCar for a long time after getting my Droid, but the dev turned the free version into nagware and will not sell the full version (or 'donate' key) on the market, only through his web site using PayPal (which I refuse to use). While I don't need any of the extra features you get with the "donate" key, I would have gotten the full version if it had been available on the market. Since he turned the app into nagware, I've been looking at alternatives and FuelLog is one of the better ones available.

Correct link for FuelLog is: https://market.android.com/details?id=ch.simonmorgenthaler.fuellog&featu...

Personally, I couldn't stand this app.
1. It doesn't let you use your Trip Odometer. That means if you forget to record one of your fillups or your spouse fills up the car for you, your data is immediately invalid.
2. It doesn't account for tenths of a mile on your odometer. 161.1 = 161, just as 161.9 = 161. This simply isn't accurate enough to provide trending data that is worth anything.
3. It isn't pretty. I like pretty. On the other hand, one of the previous posters recommends an app that tries to do WAYYY too much for my taste. The last time I checked out all of these apps in this category, I rested on Fuel Calculator Mileage Light. https://market.android.com/details?id=gasCalc.gas&feature=order_history . It's simple, free, easy to use, and accomplishes my above points with ease.

Plus One on all of the above. Its not clear it supports more than one vehicle.
With a multi-car household OR with two drivers, you need an app that can support more than one car, and which can sync data to some common place (why not Google Docs?) so that when spouse/kids fills up they can enter on their phone and when you can enter on your phone and it all gets posted to the right place. If Grocery IQ can let any family member post to a common grocery list for free, why can't this app do it?

sync feature will come in the future

Some answers on your points:
1. It does support a trip input. But editing or entering previous fill-ups should be done using the total-odometer-input.
2. It does account for tenths of a mile. All calculations are accurate, only in the view the values are rounded.
3. It's clean, nice, not overloaded and easy to use ;)

I appreciate the response. Always good to hear directly from the devs.

2nd vote for acar, it imports most formats if you are already taking. I have 4 vehicles with 72k miles in it,.it does automatic backups which saved me when I bork'd a tibu backup and lost a few days of records. Much better graphical interface and tons of graphs. And pro is $2 more than what AC is pimping.

Where do you live that has is that cheap?

*Mileage* is totally free and can do pretty much most of what you need as well. Surprisingly, it even looks extremely similar to FuelLog. I've used it for 5 months now and haven't run into any problems. https://market.android.com/details?id=com.evancharlton.mileage&feature=s...

I used Mileage for a while, until I realized it was messing up the calculations with partial fill-ups. I switched to Fuel Log and have had no issues with it.

I've been using this app for 5 to 6 months now. I'ts great if you want to track fuel and repair costs as well as mileage and miles per gallon. I give it 5 stars. I haven't had any problems with it and I'm using an HTC EVO.

MyCars is another good (free) one that seems to work about as well.

Personally, I've used fuelly.com for a few years now. I access the site from my DX while at the pump (m.fuelly.com) and it is totally free.

Fuelly.com, there's no app, but just put a shortcut to the fill-up page.

Hi, I'm the developer of FuelLog.
Thanks for the nice and exact review!
There is one, but an important mistake: The number of registered fill-ups is UNLIMITED, also in the free version. The only limitation is that in the "fuel consumption graph" only the 10 last fill-ups are shown as individual points. All the values, calculations, lists and statistics include all registered fill-ups and are accurate!

@FuelLog: i'm struggling with my FuelLog Pro on my new Galaxy Note 4. It doesn't give me the option to open the settings button. Can you please assist with this? Thanks.

Same problem here with A Meizu MX4 Pro

Wow! @FuelLog, six months and no answer to this? I am also having a problem not being able to get to the settings. I use a Samsung Galaxy Note Edge. If this is not corrected asap, I will have to go to your competitors. It shouldn't be difficult to add a settings button to a non fill up tab, I'd suggest the cost tab.

I've been using 'Mileage' since January of 2009 and it is a really good app. Like someone else mentioned above both apps look very similar (GUI) and have similar features.

Latest news are on twitter: @FuelLogAndroid https://twitter.com/FuelLogAndroid

I really like this app. I've been using the paid version for awhile. The only thing it is missing is a way to tell you missed a fill-up. I.e. I missed one or more previous fill-ups so just exclude this fill-up from the tracking and use it as a new starting point. I had an old Blackberry app that had that feature.

Handling missed fill-ups will be implemented in the next version. Will be published in probably 1-2 weeks

FuelLog is pretty good, but it lacks features like reminders and syncing. The free version is also limited in some features. I have been using DriverDiary for the past couple months and it is hands down, the best vehicle tracking app out there (I have tried them all). The free version isn't limited at all in the number of vehicles, importing/exporting or the number of records you can input. You can also track parts and the Pro version has a SYNC feature that is fabulous. I am able to SYNC between my phone and tablet and my wifes phone with ease and always be up to date. This feature alone is probably worth triple the cost of what DriverDiary pro costs in the market. Not to mention, I was able to import all my data that I had in a spreadsheet in the free version before I went pro. Mileage is okay, but the calculations aren't accurate all of the time and the feature list is also lacking. aCar is good and has a lot of features, but is extremely limited in the free version and nags you every 10 minutes to go pro and you can't even go pro in the market. I just can't support an app like that. The UI of aCar is also terrible and not user friendly at all. Anyway, give DriverDiary a shot as an alternative. I love it!

@FaSSt2001 (aka DriverDiary-Developer): Nice promo for your own app, but there are many reasons why FuelLog is much higher rated than DriverDiary ;) Reminders will come pretty soon in FuelLog and a syncing feature is planned too.

@FuelLog Whoa man! That's not me posting above. I am DriverDiary's developer. This post popped up in Google while Googling the app and I wanted to set things straight. Yes, that is the username I have used forever and still try and use, but it's not my account on this site. In fact, this is the third site (that I know of) in the last couple weeks that someone has taken FaSSt2001. I apologize if you thought those comments were coming from me. We don't play like that and we would never come onto another app/developer article and bad mouth or degrade it. If that was my account and I could delete the post, I would because I wouldn't want it done to my app either. I assure you that the above account and post has no affiliation with SweyPro or DriverDiary on this site. While I appreciate that the user likes DriverDiary, I don't appreciate that a username I normally use on sites is being used by someone else to leave comments on other sites. I hope there are no hard feelings and I just wanted to clear the air. And for the record, since this is your arcticle, I think FuelLog is a top notch app and definitely one of the best vehicle tracking apps out there.

@sweypro: Thanks for the clarification. I agree with you. It's OK and good to point out missing and additional features and pros and cons in the apps, but the people (and the developers) should play with open cards.
Good luck with DriverDiary, and hopefully you will find the dude who is using your username, although he is doing pretty good promo for you. Maybe you should hire him ;)
Thanks for your answer, Regards
Android Central Newsletter
Get the best of Android Central in in your inbox, every day!
Thank you for signing up to Android Central. You will receive a verification email shortly.
There was a problem. Please refresh the page and try again.