Android Game Review: Star Diamonds Paradise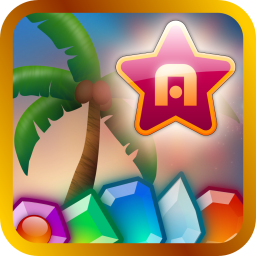 YouTube link for mobile viewing
If you're looking for a slight deviation on the gameplay you'll find in Star Diamonds Capture, you need look no further than Star Diamonds Paradise. It's built much in the same way as its sister game, with a few differences.
You're still playing against a live opponent (and you'll need an internet connection to do so!), you're still trying to capture as many points on the board as you can, and you're still trying to fill your green bar up faster than your opponent.
Instead of the game being played on a grid, the jewels are laid out in rows with hexagonal backgrounds (which keeps them from lining up nicely). And instead of only being able to flip the spots two jewels are in, you're trying to draw lines between like jewels, chaining together ever longer combos to fill your bar more quickly.
Jewels you capture are still colored with your color (and your opponent's captures are colored their color), and you can still steal their captures, just like they can steal yours. Paradise introduces some cool powerups, like the dynamite and the honeycom honey bee.
If you get a nice chain (minimum of four, I think), you'll net yourself a nice stick of dynamite. If you chain through the dynamite, it'll explode, turning all of the spaces around it your color. It's a quick way to get a couple of spots on the cheap, and can help turn the tide in your favor.
The most powerful powerup is the honey bee. You've got to get a massive chain (nine or 10), and then this bouncing bee icon appears. When you chain through the bee, he makes a sadistic giggling noise while flying out in a circular fashion. Every space he flies over turns your color, and if you chain it in the middle of the board, you'll walk away with a serious chunk of the board.
When you're not in the game, there's the same menu in the top-right corner of the main menu (tap the Star Arcade logo) that'll show you your wins, losses, recent games, and points. There's also a buddies menu, simple settings menu, and in-app shop that hasn't been implemented.
I can only guess the points you get for winning will be applied in the in-app shop, but like I've said before, I wouldn't be surprised to see in-app purchases. For what? I couldn't even begin to guess (the game is so simple!), but it's the "cool" thing to do in apps these days, so don't be caught off guard if it goes there.
If you're looking for a fun, simple game that keeps things fresh (human opponents every round? Yes, please), and doesn't take too long to play, Star Diamonds Paradise is worth your time. It's only $1.99 in the Market, so get capturing today.
We've got download links after the break.
Get the Android Central Newsletter
Instant access to breaking news, the hottest reviews, great deals and helpful tips.