Android 8.1 Oreo exits beta, now available for Pixel and Nexus devices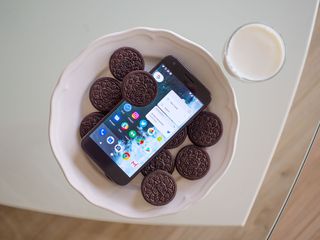 After two developer previews to test the waters before a final release, Google is now pushing out Android 8.1 to the general public to Pixel and Nexus devices. This is a pretty minor update for Pixel 2 users, but for those rocking older Google hardware, there's actually a lot of new stuff to check out.
The reason for this is that 8.1 brings the Pixel 2 software experience to devices like the first-gen Pixel, Nexus 6P, 5X, etc. This means you'll have now have a Google Search bar below your dock, the At a Glance widget at the top for weather and calendar info, light and dark themes that automatically turn on based on which wallpaper you're using, slightly transparent Quick Settings menu and – most importantly – a proper Oreo easter egg.
For older hardware and the Pixel 2, you'll see that the navigation bar turns to a white background with gray buttons in settings and certain apps in an attempt to fight off burn-in found with the Pixel 2 XL, in addition to it now dimming when not being used.
With the Pixel 2 specifically, Google's Pixel Visual Core is now available for developers to tap into. Lastly, all of the fixes found with the latest December 5, 2017 security patch are here as well.
This update comes alongside the release of Oreo for Android Go hardware, and if you want to get 8.1 on your phone without waiting for the OTA, you can find and download the system images here.
How to get the latest version of Android 8.1 Oreo on your Pixel or Nexus
Joe Maring was a Senior Editor for Android Central between 2017 and 2021. You can reach him on Twitter at @JoeMaring1.
How does this work if you're on the beta? Will I get this or do I have to leave the beta? Wouldn't mind not wiping my phone.

You will get update. Afterwards, exit beta and your phone won't wipe.

It's reported that DP2 has a newer build than the posted OTA, so you can't sideload. You'll either need to wait for the update to come to you, or leave the beta (which would wipe your device). If you do wait, then once you get it over the air, you can safely leave the beta without a wipe, since the wipe only comes if you leave while a beta version is installed.

Just checked on my Pixel 2 XL (Verizon version). Nothing yet.

If you want it right now, you will have to install the beta build if side-loading isn't your thing. Verizon's own site just has the November update posted for the 2 / 2 XL. (See here --> https://www.androidcentral.com/e?link=https%3A%2F%2Fwww.anrdoezrs.net%2F... If they haven't put up a bulletin for the new 8.1 update yet I wouldn't hold your breath. Maybe within the next week barring any additional testing they want to do with this. Kind of stinks, I reverted back to 8.0 in hopes that I could upgrade to the public release of 8.1. Now I'm stuck with high-pitched whining on my earpiece when making or receiving phone calls. The DP2 fixed that for me.

What happens if you are in the Beta program for one device (Nexus 6P)? Can you have more than one device with the beta in the program?

I think you can have more than one device installed in the beta program, but don't quote me on that because I only have the Pixel 2 and nothing else that I can put on the Android Beta Program.

You can have multiple devices in the beta. I have a pixel and nexus both enrolled

and now..... The waiting begins..... Cause we all know that the update button doesn't work... thank you Google for the update.... But no thanks for making us wait 3 weeks like the Nov. patch.... WTH!

Yeah, the 3 week wait for the Nov latch on the original Pixel was pretty bad, especially considering Google themselves stated that the update had been fixed to actually, yanno, check an update was available ....

Heh, you know we're a bit spoiled when we all complain about our updates, while the average consumer that owns a non-Pixel (or Nexus) device will wait several months, or maybe even never for an update. That being said, yeah I thought rollouts are supposed to be faster. Edit: case in point, my wife's Note 8 hasn't had an update for around 3 months. From a security standpoint, that stinks.

Took FOREVER just to get Oreo on my 6P.

I've installed the pixel 2 launcher already on my pixel XL before 8.1, should I uninstall it first before taking the update? Or leave it as is? Advice anyone?

It probably wouldn't hurt anything to leave it on, but why keep two launchers that do exactly the same thing? Personally, I'd remove it.

DP2 sure was short lived. probably would have skipped it completed if I'd known. maybe Google didn't even know. maybe they looked at their employee calendars for December and realized if it's going to happen this year, must be now. heh.

Just received my Pixel 2 XL and I'm so in love with it *.* Everything about this phone is great but the camera is excellent as f*** the blue tint is there but when I activate the saturated mode the display gets a warmer tone which dims the blue tint. Furthermore you won't notice the blue tint unless you tilt the phone to a degree where you wouldn't even use it. I didn't get the update yet but I've already downloaded two updates. Fingers crossed it will land tomorrow 😋

Does anyone know if this update fixes the issues with video recording audio issues on the Pixel 2 XL?

Just got the pixel 2 on vzn. Only update I got was to November. Checking for that update.

It's here for us Pixel XL owners!

If you want the update now go to :
1. Settings
2. Apps & Notifications
3. Click see all apps
4. Click the 3 dots in the upper right corner and press show system apps.
5. Scroll down and click on "Google Service Framework"
6. Click on storage.
7. Clear data.
8. Click back and force stop "Google Service Framework".
9. Restart Phone
10. Check for update once or twice and 8.1 should be there. It worked for me.

Just to clarify I don't think that this statement is correct: "...This means you'll have now have a Google Search bar below your dock, the At a Glance widget at the top for weather and calendar info..." It seems like older devices will NOT get Pixel 2 Launcher. Just installed 8.1 on my 5X and it is plain old google launcher.

Same here. Updated my 6P and it's still the original launcher. Frustrating as I uninstalled another version of the pixel launcher from XDA.

Received 8.1 on my Pixel XL around 1600 today. I definitely have the new launcher, "dark theme", etc. as described in the article. Yay for updates.

Rogers is releasing 8.1 for my Nexus 6P on December 11th. I hope they stick to that date.

Downloading 8.1 now. Just a day late. Not too much of a delay...

On Verizon, Pixel2 and i still haven't seen 8.1 ota'ed.

Is there no way to remove the Google search bar from the dock? Seems like a really douchy move by Google to force that on us. Any solutions short of not getting the update?

Any idea when we'll be able to use the adaptive icons feature on non-Pixel devices. Just picked up a Nexus 5x to use with Project Fi while I spend some time abroad and would love to not need nova launcher to change the shape of my icons to circles.. I'm just not into squares or the squircles.. lol
Android Central Newsletter
Get the best of Android Central in in your inbox, every day!
Thank you for signing up to Android Central. You will receive a verification email shortly.
There was a problem. Please refresh the page and try again.