Alphabet Q2 2018 earnings: $32.7 billion revenue, $2.8 billion income despite massive EU fine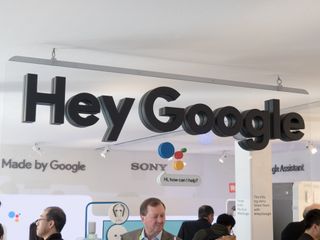 Alphabet has just released its Q2 2018 earnings report, showing another quarter of strong growth. The company had revenues of $32.7 billion for the quarter, which is up 26% year-over-year — extremely impressive for a company of this size. Operating income was just $2.8 billion, which is due in large part to the recent $5 billion fine from the European Union.
Even still, the fact that Google will be able to effectively shrug off a $5 billion fine in just one quarter is quite impressive. If you were to look at Alphabet's core operations, without taking into account the $5 billion fine, we'd be looking at a quarter with $7.88 billion in operating income — a full $1 billion higher than the same quarter last year.
Alphabet's overall revenues continue to be largely derived from advertising on Google's own properties and its network members' properties, to the tune of $28 billion for the quarter. That leaves the infamously opaque "other revenues" segment — including the hardware business, Play Store, etc. — to bring in $4.4 billion in revenue. The "Other Bets" segment of various startup and moonshot endeavors had higher revenue this quarter, $145 million, but grew its operating loss to $732 million at the same time.
The trend of increasing traffic acquisition costs (what Google spends to acquire advertising traffic) continued in Q2 2018, though just marginally. Paid clicks were up 15% year-over-year, though that's a deceleration from an increase of 58% from Q2 2016 to 2017. Cost-per-click is still on the same negative trend from previous years, though it too has reduced its fall — down to negative 10% from negative 22% the year prior. In all, it's the same trend: it costs more to drive traffic to Google's advertising, and the cost per click is going down.
Google added over 13,000 employees since Q2 2017, now putting the total headcount for the company at over 89,000 — Google says this was primarily in the cloud portion of the business. That's absolutely massive, and at this rate it means we'll be seeing that number breach six figures by early 2019. If you're interested in the deep nitty-gritty details of the earnings release, Google's investor relations call is available below.
Andrew was an Executive Editor, U.S. at Android Central between 2012 and 2020.
So they didn't pay the fine yet (and are appealing) yet they still counted it as being taken out in this quarter?

Considering this fine was brought during this quarter, it'd be considered current business and would have to be figured into that. Besides, if they do end up paying, it will most likely come out of the profits from this quarter, since they don't know what profits they'll have later. Makes sense to set aside the money now, and not have to worry about where they get it later. I generally try to do the same, make sure I've got enough to cover all my bills in advance, even figuring a certain amount for unexpected bills. That way I know how much I've got left to spend if I need or want something, while making sure I don't run short if I do buy something.

They simply factor in the fine in the next available earnings release. Google's going to pay the fine, even if it manages to get the appeal to go through to change the other stipulations the EC is attempting to put on Google's business.

They should discount the taxes on those earnings that they ain't paid in the EU. I pay mine.
The reason the EU is after them is precisely that. Not some tech related issue. Their business model just don't cut it here.
The EU has many, many flaws but in some issues they're spot on and this is one of them.

Okay. I think I understand you. Google markets a low cost mobile system which uses advertisement as an income - and never pays taxes on the model used there... So tax free income.

Lol every big company uses the loopholes to pay the least amount as possible. No person (or company) is going to pay more than they have to. Google isn't the only one doing this, the EU just needs money with Brexit.

Huh. When I actually think about it I trust Google more than I trust the EU. Imagine that.

Remember the old adage - " Be careful what you wish for " ? The EU may get more than what they bargained for...
Android Central Newsletter
Get the best of Android Central in in your inbox, every day!
Thank you for signing up to Android Central. You will receive a verification email shortly.
There was a problem. Please refresh the page and try again.