Five Great Starter Apps for Daydream VR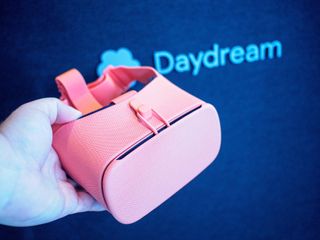 I know what I'm planning to do on Christmas Day: Get my family believing in the dream that is the Google Daydream.
I've been having tons of fun exploring the different virtual reality apps offered in the Play Store and there are a surprising number of ready-to-go games and movies available. If you're like me and you're planning to evangelize wonder of virtual reality at the holiday dinner time, here are five apps to load up on your smartphone before you start the showcase.
Wands
One of the best things about VR is being able to immerse yourself in make-believe. If you have watched Harry Potter, and let's face it, everyone has, then you have also wished you could wield a magic wand and duel a Death Eater. Well with Wands from Nux Studios you can.
Wands starts you as a budding wizards apprentice battling evil in various places in the not-actually-Harry-Potter wizarding world where you duel other wizards using your Daydream controller to draw mystic spells in the air. As a starter app it really shows off the Daydream Controller and how intuitive it is to play VR games standing, and spinning like crazy. You can find Wands on the Play Store for $5.99 (opens in new tab).
See on the Play Store (opens in new tab)
Arcslinger
Another game that makes you feel like the hero of a movie is The Arcslinger by Big Red Button Entertainment. Set in an alien Wild West, it lets you play as a Gun slinging, cowboy hero, saving the planet from varmin! Arcslinger uses the Daydream Controller to full effect, and although it can be difficult to master, once you do it's quick draw, wild west action all the way. The Arcslinger is great for showing off your new Daydream Purchase to others, and, just plain fun to play. Get it, You'll like it, I promise. You can find Arcslinger on the PlayStore for $3.49 (opens in new tab).
See on the Play Store (opens in new tab)
Wonderglade
This game is an adorable series of mini-games that take place in an amusement park. Here you can collect coins and tickets in order to unlock more games as well as cute add-ons. These include accessories, new clothes, and different items to play your mini-games with. While this won't be a game you'll lose all track of time in, it's fun and a great starter game to always keep on your phone. I downloaded this a long time ago and it still lives on my phone! This is a free (opens in new tab) download on the Play Store.
See on the Play Store (opens in new tab)
PAINT VR
Everyone needs a good artistic game for the VR. There's nothing quite like the experience of creating a 3D piece of art as if it's standing right in front of you. Paint VR has all the fun tools to make your creative streak have a ball for a while. Recreate your favorite paintings or bring something new to the table. Regardless, it's time to let your artistic side fly! You can find Paint VR on the Play Store for $4.99 (opens in new tab).
See on the Play Store (opens in new tab)
Netflix VR
While Netflix isn't essential as a starter app for VR, if you have a Netflix account it's a great way to spend some free time. Seeing your shows on a massive screen, surrounded by a chalet is a calming experience and introduces you to the idea of how you could use it while traveling. On a plane, train, or bus, using a VR headset to watch a movie is very escapist. Especially if you can use headphones. This download is free (opens in new tab) on the Play Store!
See on the Play Store (opens in new tab)
Thoughts?
Did your first Daydream app not make the list? Share your first Daydream experiences with us in the comments!
Essa Kidwell is an expert in all things VR and mobile devices who can always be found with an Oculus Go, a Pixel 2, and an iPhone 7+. They've been taking things apart just to put them back together for quite some time. If you've got a troubleshooting issue with any of your tech, they're the one you want to go to! Find them on Twitter @OriginalSluggo or Instagram @CosmeticChronus.
Android Central Newsletter
Get the best of Android Central in in your inbox, every day!
Thank you for signing up to Android Central. You will receive a verification email shortly.
There was a problem. Please refresh the page and try again.