SuperBeam: Transfer files using Wifi Direct, NFC or QR codes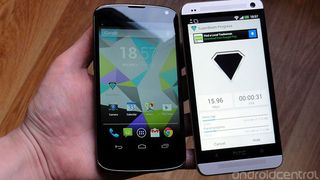 As advanced as modern mobile devices are, getting files from one phone or tablet to another can still be problematic. Cloud storage apps like Dropbox can clog up your Internet connection. The BlueTooth-based Android Beam is slow, and can only be used for certain items. And S Beam, though faster, is restricted to Samsung devices.
Enter SuperBeam, an app that aims to take advantage of a range of wireless technologies to juggle files between Android phones. The heavy lifting is done over Wifi or Wifi Direct, with an NFC connection or QR code being used to get things going.
First up, both devices must be running the SuperBeam app. Next, select the file you want to send -- either in the gallery app, or a file manager Astro or OI -- and choose SuperBeam. The app will then ask you if the device you're sending to is on the same network. If so, it'll send your bits over that network; if not, a Wifi Direct connection will eventually be established between the two.
From there you've got a few options. The easiest is NFC -- hold the two devices back-to-back and press the screen on the sending device. Alternatively you can use the "SuperBeam Scanner" app from the app drawer and scan the QR code on the sending device's screen.
Transfer speeds will depend on the Wifi capabilities of the devices (and infrastructure) you're using, but we got solid transfer rates of up to 20Mbps between our Nexus 4 and HTC One on a 5GHz Wifi N network. SuperBeam isn't as simple as S Beam or Android Beam, but its ability to transfer just about anything between just about any device makes it more versatile for power users. It's available for free on the Google Play Store for phones and tablets running Android 4.0 and above.
Android Central Newsletter
Get instant access to breaking news, the hottest reviews, great deals and helpful tips
Alex was with Android Central for over a decade, producing written and video content for the site, and served as global Executive Editor from 2016 to 2022.
And this works via NFC with Samsung phones that have S Beam? The S Beam doesn't much it up? -Suntan

Here's a pretty good video showing SuperBeam in action: https://www.youtube.com/watch?v=yf5lrgLNPRI

but wut if ur out and about and not near a wifif then ur still have to use the stock nfc

No. SuperBeam will either use WiFi-Direct or set up the sending device to be a hotspot so the other can connect to it via WiFi for the transfer. Either way, the transfer happens over a WiFi connection. You can initiate the process via NFC or QR Code scanning.

I have been able to send data without installing an app. I sent a website link from Galaxy S III to a Hp ElitePad. My phone shows both S Beam and Android beam.

Did you even read the article?

hi nickan i had a problem signing in to my old account, so i made a new one! whatup

can't get it working on my rooted stock gs3. turned off s-bean like one user said. but still nothing... looks cool. Hope I can figure this out

If you're using a custom rom,superbeam doesn't play well with custom roms..go to settings > advanced> preferred direct method >select hotspot.. Then you're good to go..:)

It's a shame that Google didn't add the support of beaming using Wifi when it upgrades Android Beam when it released Jelly Bean (before JB, you couldn't even beam a photo.) Even worse, Google didn't make it an Google Play updateable app so that people don't have to wait for an OS update if new features are added in the future.

Hey alex ,can you post that wallpaper on the nexus 4 for me? Thanks

I would like this wallpaper as well. anyone have a link?

Same here -- brilliant wallpaper!!

I love the QR option http://tsssp-pssst.appspot.com

To confirm this will likely work with any app that can share items and not limited to the gallery and 2 file managers mentioned. So yes very versatile, now to convince others to download!

Google really needs to bake something like this into the OS. Something similar to S-Beam, but would work on all android phones.

4.0 and above? That means this won't work to move files from my old phone (N1) to my new phone (1S). Still, I can send pictures I take to my brother and sister's phones.

where can I get that wallpaper of the nexus?

I make $80/hour from working freelance on my laptop. Before this job i've been out of a job for 5 months but last month my payment with bonus was little over $15000 just for working on the laptop for about 5 hours a day. Here's the site to read more how you can do it too http://www.snap11.com

Here goes the wallpaper if anyone wants it :) http://db.tt/tlWMAut9

Thank you. However, I wish the resolution was a bit better. Looks a bit pixelated on my N4.

I found one that looks a bit better. Two different sizes. https://www.dropbox.com/s/gdprjjlachgx9gb/1109_1024x1024%20Metro.jpg https://www.dropbox.com/s/cgh46evjraoo91g/1109_2048x2048%20Metro.jpg

Cool app, but this one seems much easier to use - "HitcherNet" https://www.androidcentral.com/e?link=https2F2F... Not sure if it's a fair comparison (this one is beta and doesn't mess with QR stuff)...maybe WiFi Direct will be useful after all !!

HitcherNet is working great for me as well. Easy to use and fast as well.

i'm in egypt ,i have a htc one , i have a 2 Gb package for mobile data ,does sending a file via super beam using the wifi hot spot( because i have a problem with the wifi direct-always give me fail) affect the usage ,or it's just to ensure that the 2 mobiles are connected to the same network , anyone got an answer?

THANK YOU SO MUCH!!! FOR SUCH A GREAT INFO.

Wow, it is cool to transfer files by QR code! I use File Expert to transfer files, which includes only Wifi Direct, NFC functions.

it will be easier for us to transfer files with QR code. but i want to know the update of <a href="http://www.galaxys7cases.com /">galaxy s7 cases</a>
Android Central Newsletter
Get instant access to breaking news, the hottest reviews, great deals and helpful tips
Thank you for signing up to Android Central. You will receive a verification email shortly.
There was a problem. Please refresh the page and try again.