Raising an Oreo to Android 8.0 [#acpodcast]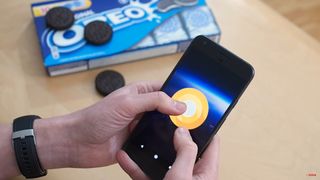 We're quickly nearing a new release of Android, and Daniel, Andrew, and Jerry are excited af! Well, maybe not af but definitely a bunch!
Along with a new release of the Android O developer preview, we learned that the new version will be version 8.0 — but the number was not the only new thing! The guys dig deep into the new release.
And in addition to talking about their reviews of the Sony Xperia XZ Premium and Moto Z2 Play, the guys dig into all the latest juicy rumors of the OnePlus 5, which has an official unveiling date.
Show notes:
Revisiting the Moto Z2 Play
Android O Developer Beta 3 is here!
Is Android O really a big enough release to justify a whole number jump to 8.0?
All the latest OnePlus 5 rumors
This episode of the Android Central Podcast is brought to you by Thrifter, the best place to get great deals in your inbox every day!
Get the Android Central Newsletter
Instant access to breaking news, the hottest reviews, great deals and helpful tips.
Daniel Bader was a former Android Central Editor-in-Chief and Executive Editor for iMore and Windows Central.
So if someone was buying a new phone this year, and wanted a Z Play, would you suggest they purchase the new z2, or maybe look for a discounted 2016 Z Play?

Does this hypothetical person care about getting updates? Not that it hugely matters because Moto can't be trusted in that department anyway.

I'm proof that Moto can't be trusted

That was my thought too, that the only big benefit I see of 2017 over 2016 is the updates.

What's the deal with Verizon that makes Sony ship their phones without the FPS active in the US?

I don't think anyone really knows. It's a contract Sony signed with someone, for whatever reason. It's speculated that company is Verizon. At least that's the last I heard. If I'm wrong, or if anybody know different, please correct me.

Somebody made the decision not to go forward with the Z3V and the result seems to be that Sony isn't allowed to sell their phones in the US with a functional FPS out of the box 📦. What I wonder is how long that stipulation is in effect for?

This is why Sony phones in the U.S. don't have fingerprint sensors
https://www.androidcentral.com/sony-fingerprint-sensors-us-deals

I had read that previously but unfortunately that article doesn't really give an answer, just conjecture.

And those 17 phones Sony sells in North America will go straight to Daniel's cousins in-law! But good on him for standing up to the yanks on the lack of nuance in their language :) I think the last time I was able to seriously recommend a Sony phone to anyone was the Z2... They need to step it up.

This was my first Android Central podcast I've listened to in a long time. Letting bygones be bygones. Very good job guys. I have a question though. It might seem like common sense but are we really really really living in a cross platform word? I mainly rely on my Gmail account for everything in my personal life. Now at work it's all about Microsoft. I guess what I'm trying to ask is am I actually cross platform and don't know it?

Jerry - you had mentioned that iOS is now fragmented... Could you expand on that?

New Tablet-only features and about 50% of the install base has been left behind for many of the other features because of older hardware.

No Flo = improved podcast. Far less blather this week.

You are SOOO right. That makes perfect sense. That's a good point ______. I agree with ______. Are you sure they guys didn't miss her constant reassurance though?

I'm pretty sure they can manage ;)
I just wish Flo had more substance to offer; on both podcasts she's on. Some people are just better at writing and reporting than being podcast hosts. In my opinion, she's drags the show(s) down.