Jerry says, 'Hit me!' [#acpodcast]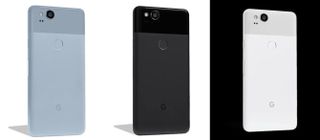 It's a huge week of news and leaks in the Android world! Daniel Bader, Andrew Martonik, and Jerry Hildenbrand settle in for a roundtable feast of epic proportions, beginning with Android 8.0 updates to some Motorola phones, the Blueborne Bluetooth vulnerability, and data throttling on T-Mobile.
Moving on to the main course, Google spent $1.1 billion to acqui-hire HTC's best engineers, more details and photos have surfaced for Pixel 2, Pixel 2 XL, and Pixelbook, and a smaller Google Home Mini speaker is on the way.
For dessert, the Moto X4 is coming to Project Fi as the first Android One device for the U.S., and an unlocked Moto X4 with Motorola's software will be shipping this year.
Show Notes and Links:
Motorola confirms Android 8.0 for Moto Z, Moto G5 lines and Moto G4 Plus
T-Mobile is raising monthly prioritization limit to 50GB per month
Google is spending $1.1 billion to hire HTC's best smartphone talent
Google Pixel 2 XL shown in black and white, pricing rumored at $849
Google Pixel 2 will start at $649, offer 'Kinda Blue' third color option
Google's smaller Home Mini speaker will cost just $49
Moto X4 coming to Project Fi as first Android One device for the U.S., priced at $399
Unlocked Moto X4 with Motorola software will come to the U.S. this year
Been looking forward to this. 😄

Half way through the podcast - and a bit dismayed of the possibility that Google just absorbed the over flow of engineers so HTC could be profitable. I have no doubt those engineers can help - but if they are taken out of their environment to work elsewhere - it's just a re-assignment. Not a true collaboration. So I'm not sure if that is the right take on this agreement.

Finished the podcast - good as always. Enjoyed the comments and perspectives within it. Always something to think about.

The Android One Moto X4 sounds like a re-birth of the Google Play Edition.

Wasn't there a time that most people preferred HTC Sense over other OEM touch interfaces?

Yes, I remember when I got the M7 and the UI was the best I had seen on any phone. The problem is that if you look at the u11 UI today it's so similar to the M7, HTC completely stalled on UI innovation. It's interesting how far Samsung have pushed forward with TW aesthetic, although the actual performance still has its hiccups.

Absolutely. Stock Android didn't offer enough in terms of features or polish. HTC Sense added lots of both.

KitKat? I'm still waiting for the ice cream sandwich update Motorola promised for my Atrix! That reaction when Jerry said "if you have a Windows phone" lol... It's a shame it's dead.
Android Central Newsletter
Get the best of Android Central in in your inbox, every day!
Thank you for signing up to Android Central. You will receive a verification email shortly.
There was a problem. Please refresh the page and try again.