Android users will have to wait a while longer for Outlook Mobile's add-ins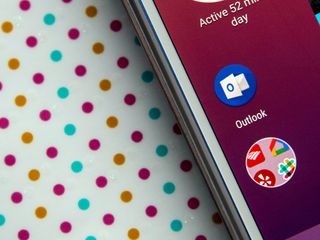 Microsoft is celebrating two years of Outlook mobile (opens in new tab) with a new feature. Unfortunately, it's only for your iPhone-using friends for now, but at the very least, here's a preview of what's to come in three concise GIFs.
Outlook mobile now features add-ins, essentially extensions or plug-ins that help integrate other services into the email app. The initial batch of add-ins includes Evernote, GIPHY, Nimble, Trello, Smartsheet, and Microsoft's own Dynamics 365 and Microsoft Translator.
It's unclear how add-ins will work on Android. On iOS, you have to enable them from the settings panel (as exhibited in the screenshot above). On the plus side, once they're turned on you can use them on Outlook for iOS, as well as Outlook 2016 or 2013 for Windows, Outlook on the web, and Outlook 2016 for Mac. The desktop apps actually offer more add-ins (opens in new tab) than the ones mentioned in the original blog post (opens in new tab). You just can't use them on Android — yet.
Android Central Newsletter
Get instant access to breaking news, the hottest reviews, great deals and helpful tips
Florence Ion was formerly an editor and columnist at Android Central. She writes about Android-powered devices of all types and explores their usefulness in her everyday life. You can follow her on Twitter or watch her Tuesday nights on All About Android.
Man, I wish I could use Outlook Mobile for my work email.

Outlook mobile is the only app that my work email can function with.

I only use outlook as well. Great email client.

We're suck with Good for Enterprise, which is just absolute garbage.

I swear to god, I'd just love for Outlook Mobile to just a flippin' SPAM button. That's all I want. It's on the web interface. WHY NOT HERE?

I've wondered why there isn't a dedicated spam button as well (as there was in the previous Outlook or Microsoft mobile mail client). I now use the iOS version on my iPhone, but previously used it on my Note 4. I have noticed, however, if you're using a Microsoft email account (I have a mix of hotmail/outlook/gmail accounts in mine), when you select a message, you can send it to the junk folder. Although it doesn't specifically state that it marks it as spam, it does seem to filter out future messages properly.

Something I'd hardly use I won't mind waiting for this feature

"It's unclear how add-ins will work on Android."
This is likely the reason it's iOS-only for now.
My hunch is once they get the implementation details ironed out, we'll see it come over to Android.

Nope, works great on my iPhone

This looks like totally pointless fluff so I'm not at all bothered about it not being available on Android. I'd prefer if they instead spent time sorting core functionality like accessing shared calendars...

Does the Android version update contacts yet? I gave up a long time ago since the contact management wasn't possible.

Yes I think it does. As it shows my contact coming from outlook. I however use same account for contacts but via exchange activesync.

Huh... I used to love Hotmail before ruddy Microsoft got their grubby hands on it... Now I detest the thing...
Android Central Newsletter
Get instant access to breaking news, the hottest reviews, great deals and helpful tips
Thank you for signing up to Android Central. You will receive a verification email shortly.
There was a problem. Please refresh the page and try again.