AT&T Optimus G Pro review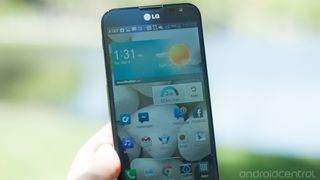 Has there ever been a more exciting time to be an Android fan? While iPhone and Windows Phone users have been nursing their flagship models in the hopes of an upcoming spec bump, Android users have seen the market flood with headline-grabbing models from three of the four major manufacturers. First HTC revamped its identity with the stunning aluminum unibody HTC One — later, Samsung added a handful of features to its already-phenomenal Galaxy S3 for its Galaxy S4. Now LG, never one to lay down and take a licking, has dropped a whopper of a device onto the American market—the Optimus G Pro proves that LG has both the capability and the savvy to compete in the toughest smartphone market to date.
The Optimus G Pro is big in every sense of the word. At 5.5-inches, this is the largest smartphone to hit the mainstream market this year. It's got big processing power, a big beautiful display, and big shoes to fill — the Optimus G failed to make the splash that its competitors did in 2012, and the Pro is LG's opportunity to steal headlines from Samsung, the king of all things "big." But as we've continued to see over and over again, that chore is easier said than done.
Whereas LG could have simply released a refresh of the Optimus G and hoped for the best, it instead took a bold step in refining both its hardware and UI language. LG has gathered some of the best bits and pieces it's ever created, from the lovely 1080p IPS display and super 13-megapixel camera to a well-balanced, attractive, and functional custom UI, to create a powerhouse that fills a void in the smartphone market at a crucial point in the refresh cycle. The Optimus G Pro is a worthy adversary to the HTC One and Galaxy S4, a product of LG's refined vision and business savvy that can, and deservedly so, sit front and center amidst AT&T's summer portfolio.
Pros
The Optimus G Pro is an eye-catching smartphone with a stunning design, impressive specs, and creative features. Its 5.5-inch full HD display is truly something to behold, and its camera is the best LG has ever made. Optimus UI has finally reached its potential with a handful of features that finally give it some status.
Cons
There's no two ways about it: the Optimus G Pro is a gargantuan device that is downright unfriendly to small hands. It's heavy too, at times noticeably so. I expected better battery life but was surprised by merely average awake times.
The Bottom Line
Swipe to scroll horizontally
Optimus G Pro hardware and build quality
LG has taken cues from throughout its portfolio to create the Optimus G Pro, which by and large is the most attractive device LG has created — you'll notice that traces of the Optimus G, the Nexus 4, and L7 have all made it into the final cut. That said, this is definitely not a device LG could have come up with when Samsung hit the market the original Note — LG had a lot of learning to do when it came to building a device this powerful, beautiful, and functional (see: LG Intituition), and I'm happy to say it was well worth the wait.
First and foremost, the Optimus G Pro is a massive device—it's long, wide, thick, and heavy. And while those attributes don't always lend themselves to "sexy," here they do. This is a device that was designed to be big, and does so as well as I've ever seen. Its thickness is complimented by a faux-metallic trim that lends an undeniably sturdy feel; the G Pro's weight feels undoubtedly heavy yet appropriate for the total package.
The device's massive footprint benefits immensely from an attractively-patterned slate-black rear end. It's a fingerprint magnet, sure, but it's sleek and eye-catching when clean. The built-in speaker is located on the top end of the back — it's loud enough for casual listening, though it's certainly not a selling point ala the HTC One's sound system. Pry off that battery cover and you'll notice it contains the device's NFC chip -- you'll also notice the standard micro SIM and micro SD card slots.
Optimus G Pro display
It took plenty of iterations, a bit of arm twisting, and a healthy dose of skepticism, but I'm ready to concede that LG's IPS display technology is simply the best in the biz. There's really only one way to skin this cat — the Optimus G Pro's display is most likely the most gorgeous I've ever seen on any smartphone, and rivals the iPad's Retina Display as the best on any mobile device. It's simply stunning, in a way that makes me want to write for hours on end about its color accuracy, sharpness, and saturation. I'm smitten.
The magic that is the Pro's display is an amalgam of a number of different qualities and variables that help it stand out from the pack—its 1920 x 1080 resolution is the highest we've seen on a smartphone to date, and translates to around 400 ppi across the 5.5-inch footprint. A display of this size should settle for nothing less that full 1080p, so don't expect to lay your eyes on the Pro and ever look at your Note 2 the same way again. And with LG's IPS technology, viewing angles, direct sunlight viewing, and vivid brightness compliment the resolution beautifully.
LG didn't really have any choice other than to create a mind-blowing display — it needs to steal eyeballs away from the HTC One's and the Galaxy S4's screens, which in their own right are some of the best we've ever seen. But LG has done so impressively: I find the Pro to be brighter than HTC's display, and far more color accurate than Samsung's offering on the S4. I'll acknowledge the controversy of my preference and will happily hear arguments for LCD-3 and Super AMOLED Plus, but for now my mind is made up—the Optimus G Pro's display is king.
The Optimus G Pro vs. the Galaxy Note 2
I'd be remiss not to compare the Optimus G Pro's size and appearance to the other elephant on the market, Samsung's Galaxy Note 2. Tit for tat, these phones are relatively similar in shape and weight, but a closer look will reveal some dizzying differences. As I quickly said after my initial hands-on with the G Pro, it feels as though LG used the Note 2 as a boilerplate, carefully buffing out the phablet's imperfections to create its own superphone. Take the addition of a spare button on the Pro's left side, programmable to launch a whole host of apps or functions, or the elongated-oval home button, to which LG chose to add full RGB LED notification capabilities. LG has even improved the "Flip Cover" concept by adding auto detection to its version — open the cover to automatically turn on the G Pro's display, close it to turn it off — as well as an opening through with the LED notification is visible.
Perhaps most noticeable after extended use is the difference between the two devices' widths — on paper, 0.17 inches doesn't seem like much, though you'll realize rather quickly what it translates to once you experience both devices firsthand. It seems as though LG has noticed, like many consumers and critics, that the Note 2 is just a few hairs too wide for comfortable one-handed usage. LG's solution? Shave those few hairs away, leaving an ever-so-slightly narrower profile and thus a much more comfortable one-handed experience. The G Pro is still undoubtedly designed for two hands, especially if you have small-to-average sized hands, though the occasional one-handed reply to an email with your coffee in the other hand isn't going to cause the conundrum that the Note 2 did. In terms of supersized smartphones, this is the most accessible we've seen to date.
It's also worth noting that while Samsung took a "one device to rule them all" approach with the Note 2, outfitting it with a stylus and a whole host of functionalities designed to replace your tablet and even your laptop, the Optimus G Pro is rather simply "just" a smartphone. You won't find a stylus here, and LG probably doesn't expect the Optimus G Pro to be your sole computing device. LG has created here a huge smartphone, not a small tablet.
Comparing these two devices isn't 100 percent fair, as the Note 2 is officially a pervious-generation product. I'll be interested to see what Samsung comes up with for the Note 3, and which cues they pick up on from the Optimus G Pro. We'll be able to revisit this battle in the fall, though for customers who are looking for a device right now, the Optimus G Pro is the clear winner.
Optimus G Pro internal hardware and performance
In ten years when we look back at the Optimus G Pro's spec sheet, we won't have any doubts that it was released in Q2 2013. LG shopped at the same market as Samsung and HTC did for its latest batch of internals — we're looking at the same Qualcomm Snapdragon 600 APQ8064T, Adreno 320 GPU, and 2 GBs of LP DDR3 RAM as found in both the One and the S4. Expect performance to be similar to the other recent Android flagships: fast, smooth, and seamless across the board. These are the devices we've always wanted Android to ship on.
The Optimus G Pro's speed is compounded by its exceptional LTE radios — AT&T's LTE network is getting more and more impressive by the day, and it's undoubtedly the fastest network in New York today. It's impressive in every sense of the word, and consistently outperforms Verizon in sheer speed. The Optimus G Pro reliably maintains a solid and strong LTE connection throughout Manhattan and the outer boroughs, a feather in the cap of both LG's solid construction and AT&T's increasingly reliable coverage.
Powering all of that voltage (and that massive display) is a whopping (removable) 3,140 mAh battery, and despite its rating and capacity, it produced a mix bag of real-world results. Perhaps I had inflated expectations based on what I've experienced with the Note 2, but the Optimus G Pro's battery is average at best, easily getting me through the majority of my day but leaving me thirsty by nightfall. During my time with the G Pro, I regularly took it off of the charger at 7:30 a.m. sharp, and used it as my sole device throughout the day. By 8:00 p.m. I was conscious of my imminent need for a charger; by 9 p.m. I was scrambling. The G Pro's display is a major gas guzzler, so you'll want to keep it set in the 50 percent to 80 percent range if you need to get more than 14 hours out of your charge. Again, the G Pro is by no means a poor performer, and for most users its battery will be more than ample, but I couldn't help being a bit let down.
Optimus G Pro software and features
In the post-spec world of 2013, UI is king; AT&T's three current flagships-- the HTC One, the Galaxy S 4, and the HTC First-- have all built their reputation on Sense, TouchWiz, and Facebook Home respectively. In today's market, customers are more likely to be drawn to a device's features and user experience rather than its processor or GPU. It's a lesson that LG has seemed to have caught onto, as its Optimus UI has finally grown into itself.
Where in the past Optimus UI has felt like bits and pieces thrown together at a whim, on the Optimus G Pro it feels cohesive, an integral element woven into the very fabric of the device. Optimus UI is no longer an afterthought—here, it's very much a product of LG itself, and something that the company can be proud to include in its hardware.
You'll notice LG's touch in just about every aspect of the user experience—from the email and music apps down to the menus, everything here is signature Optimus UI, with polished buttons and controls, colorful icons, and extensive customizability. This is not only an LG phone, it's an LG experience.
Beyond creating an overarching aesthetic, LG has also developed a fair share of custom features, some more of a gimmick than others, to create a name for the Optimus UI
LG Tag +
Here's LG's take on what Samsung did with its TecTiles— using the G Pro's NFC capabilities, you'll be able to program separately sold tags to trigger specific events and settings when tapped. NFC fans swear by the technology, and and it's a relatively cheap investment at around $20 for a handful of tags, though many will just as easily adjust the settings manually without the need to plaster stickers all over your home.
Quick Remote
The Optimus G Pro's built-in IR blaster is put to good use by the functional and easy-to-use Quick Remote. Point the device at your TV, cable box, or a myriad of other home entertainment devices and it'll seamlessly program itself as your new universal remote. I would have liked to see compatibility with streaming media devices such as a Roku, but at the very least Quick Remote will replace 9/10 of your home theater clickers.
Q Slide 2.0 and Quick Memo
Here are two tricks that LG cribbed directly from the Galaxy line, though here LG has added a few of its own twists into the mix. Q Slide can be thought of as "mutitasking- LG style" — rather than the two-window approach that the Galaxy line employs, Q-Slide overlays one app on top of another, using adjustable opacity as the way to shift between the two. Q-Slide is currently compatible with the videos, note pad, calendar, and calculator apps — launch any of these from the notification drawer and they'll appear in a shrunken, adjustable window atop of what you're doing. With transparency turned all the way up, you'll be able to use the overlapped app; turn the transparency down and you'll have access to whatever you're doing on the main screen underneath. It carries with it some major cool factor and I prefer it to Samsung's Multi Window, though I'd like to see LG expand compatibility to additional apps.
We've seen Quick Memo before on most of LG's recent offerings, and here it's benefited by the Pro's expanded display real estate. Launched through the notification drawer, Quick Memo offers a ton of pen type and color options with which to doodle. It's a perfectly functional note taking app made significantly cooler by the ability to overlay your notes while using the device-- jot down a phone number, switch over to Overlay mode, and watch your doodle sit atop the screen as you navigate to the dialer. It's an interesting and ingenious solution to the problem of "toggling" between screens, and something we're thrilled to see on just about every LG device.
Video Wiz
More fun than functional, Video Wiz creates custom "music videos" using your images and movies-- select a style and a backtrack and add your photos or videos to create something like a moving slideshow. HTC does it much, much better with its Zoes, and LG's version will likely never take off, though Video Wiz is something that had to be included to keep the Optimus G competitive.
Other odds and ends
AT&T's slew of bloatware is here, including DriveMode, FamilyMap, Locker, , Mobile TV, myAT&T, Navigator, Ready2Go, and Smart Wi-Fi. Other pre-loaded sofware includes Amazon's Kindle app and YellowPages Mobile.
AT&T has customized the Optimus G Pro's Browser with its own "Browser Bar", a ribbon at the bottom of the screen that contains shortcuts to your favorite web content. In addition to the buttons to Tweet, Like on Facebook, and Share, the Browser Bar also contains links to News, Sports, Entertainment, and Special Offers all powered by Yahoo!
Optimus G Pro c​amera review
The pixel wars are far from over, and LG is here to tell you that the future of smartphone cameras is all about the megapixel. There's 13 of them stuffed into the Optimus G Pro's main shooter, and much like the rest of the device, the optics here represent a major leap forward in terms of quality for LG. Gone are the days of LG treating its optics like an afterthought—here, the camera plays a major role in the overall experience of the G Pro, something HTC and Samsung caught onto a while ago as a major draw for both consumers and critics. LG wants you to use its camera here, and has given you plenty of fun and useful reasons to do so:
Cheese Shutter
LG introduced Cheese Shutter on last year's Optimus G and I've enjoyed it ever since. It's gimmicky, sure, but it works well: simply say a key phrase like "Cheese" to snap the shot without manually hitting the shutter. Selfies have never been easier (or more obvious).
Intelligent Auto
The normally-exposed photo is on the left; the photo taken with Intelligent Auto is on the right
Intelligent Auto "automatically identifies the scene's characteristics" to adjust the shutter speed, aperture, and options to catch the perfect shot. Surprisingly, Intelligent Auto works quite well here, producing evenly-exposed shots in even the most unfriendly of circumstances. For the novice user, as well as the user who depends on a quality shot every time, IA is a must-use feature.
VR Panorama
Does Photosphere by any other name smell as sweet? Yes, as a matter of fact it does, as the G Pro's VR Panorama is just as cool as the Nexus 4's more aptly-named version—use it to create super-wide panoramas and eye-catching 360 degree composites. It's great once you get the hang of it, but it does indeed take a bit of playing around and an even bigger bit of patience. I had a hard time grasping the concept the first few times I fired it up, but once I had gotten my sea legs VR Panorama quickly became one of my favorite features of the G Pro's camera.
For an in-depth look at VR Panorama, check out our complete VR Panorama walkthrough.
Time Catch Shot
Here's something we've seen Samsung and HTC deploy quite well — while enabled, the G Pro will catch a series of scenes leading up to your final "shot." From the gallery, you'll be able to select the scenes you'd like to keep and ditch the rest. It's been done before and is nothing new or groundbreaking, but it works well regardless and is great for action shots and photographing kids and pets.
As we know all too well, a camera's goodies only tell half the story, and I'm thrilled to share that photo quality on the G Pro tells the other half quite well. The 13 megapixels produce shots that are crisp, clean, and noise free, proving a point against HTC's argument of less is more. Low light and action are no match for the G Pro's shooter, which boasts a super-fast shutter speed and agile autofocus. The downside of all those pixels? Massive image sizes—be aware that the native 4160 x 3120 resolution of your shots will chew through your internal storage faster than you'd think.
The G Pro's front-facer is significantly less impressive, but its two megapixels are adequate for the occasional well-lit selfie. Here, you'll want to use the included Beauty Shot, which brightens and smoothes skin tone with surprisingly good results.
`The G Pro's camera shoots full 1080p video that's well-exposed and dynamically-lit, something that previous LG optics have had a difficult time with, though I did notice some noise and laggy focusing in less-than-stellar conditions. Again, LG has thrown in a bevy of features that make the camcorder both fun and functional, even when its videos aren't the best of the best. WDR recording is the HRD of camcorders, while Live Effect lets you add silly faces and backgrounds to your videos in real time. My favorite feature, though, is Dual Recording--while your main camera records what's in front of you, you can designate the front-facer to capture your reaction, which is embedded in a smaller square within the video. It's something that Samsung introduced on its S4, which means LG will reap the benefits of the millions of dollars worth of marketing that its competitor is about to spend on the gimmick.
After a few days of shooting solely with the Optimus G Pro, it's become clear that LG has learned a lesson that all other manufactures have already caught on to: with enough eye-catching features and bonus goodies crammed into the camera experience, photo quality isn't the first thing consumers are looking at anymore. While the G Pro doesn't produce photos as mind-blowing as the HTC One does, it's quite capable, and above all else, it's a damn fun camera to use.
The bottom line
My experience with the Optimus G Pro has been nothing short of spectacular—it's a functional and powerful device that maintains a sense of fun without coming off as just another toy. It's stunning, too, turning heads in part due to its size, in part due to its style. This is the phone to beat on AT&T this summer.
I've never been as impressed with LG as I am today, not only due to the hardware and software that has finally come off as fully-baked, but also due to the shrewd strategy behind the Optimus G Pro's launch. LG could have easily released an Optimus G 2.0 to compete with the S4 and HTC One and maintained its "underdog" status quo. Instead, LG decided to raise the stakes by beating Samsung to the punch and releasing a phone that stands head and shoulders (in a literal sense) above the competition. It set its sights directly on the portion of the market that is looking for a flagship-quality jumbo-sized phone, and among that crowd the Optimus G Pro will do very, very well.
It's worth noting that the Optimus G Pro, despite its sheer size and footprint, is not a phablet, or at least it doesn't function like one. There's no stylus, no multi window; its multitasking capabilities are geared toward the average joe instead of the power user looking to replace his or her tablet. What we have here is a mega-sized smartphone, which might end up saving LG from a major battle against Samsung this year. It was a smart move, given the Note's incredible success, and one that I think will pay off for LG in the long run.
There's no two ways about it: the Optimus G Pro faces the fiercest competition ever to grace AT&T's shelves. The HTC One is still the most attractive smartphone on the market today, and the S4 adds fantastic new features to an already wildly-popular device. But when the dust settles and you're standing in your local AT&T with $200 to burn, the LG Optimus G Pro is the device to beat. It's the biggest, baddest, most powerful smartphone on the market today, and LG is officially the darkhorse to beat in AT&T's summer rat race.
[gallery][/gallery]
Be an expert in 5 minutes
Get the latest news from Android Central, your trusted companion in the world of Android