Need for Speed Most Wanted review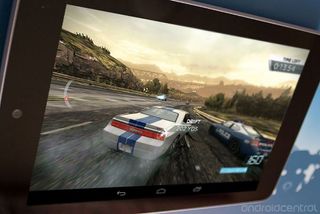 Need for Speed Most Wanted careened into Google Play today, hauling with it high expectations based on the long-standing franchise. The latest Need for Speed racing game for Android excels in graphics, and offers an otherwise pared-down, straightforward racing experience. Race types are all familiar, including the usual 6-car run, one-on-one, time trials, and checkpoint races.
As players progress, they earn Speed Points, which over time unlock new cars. Those cars are bought with in-game cash, which is acquired by winning gold, silver, and bronze awards in races, or through in-app purchases if you're feeling skeezy. It's hard not to begrudge a dev for pushing IAPs after charging seven bucks for it up-front as well. So far the only car customization I've seen are paint jobs, though the Google Play listing mentions mods that can properly enhance your car's performance.
The graphics really are phenomenal. Though I felt the framerate was a little low playing on the Nexus 7, it kept up fine and the models still rendered extremely well. Lighting is great, and there are a few particle effects, such as sparks and a bit of dust, but it would be good to see a bit more in terms of water effects. Reflections are particularly well done. As for audio, the soundtrack is excellent, with recognizable, high-octane tunes shuffling throughout your races. The sound effects do a decent enough job to convincingly portray what's happening, right down to the brief lull in the motor roar as gears shift.
I'm pretty happy with the controls though they felt a little sluggish, likely because I was playing on the Nexus 7. Keep in mind that this game is nearly 2 GB once everything's installed. Tilt-based steering is the default, with upward swipes employed for activating nitrous speed boosts, right-side taps to drift around corners, and left-side taps for the breaks. If you like, you can use a tap-and-drag scheme to steer, but if my video is any indication, it takes some getting used to. The gameplay is ultimately geared towards racing purists. Tightly hugging turns, timing boosts, and avoiding obstacles are the core muscles you'll be flexing in Most Wanted, unlike other racing games which tend to be more dependent on car upgrades, catching floating power-ups, and taking down opposing racers.
Need for Speed Most Wanted really pushes the cross-platform Speedwall, which is a fancy name for a scoring leaderboard with your friends. Speedwalls exist for every challenge, and if you don't have any NFS buddies to fill them up, AI placeholders will fill it up. The top scorers make it to the Most Wanted list. Getting top scores has never been a big draw for me, especially when it's hard enough adding friends you care about that actually play the same game. Same goes for Origin; EA's social gaming network continues to be gently nudged our direction, but there's still little impetus to be particularly active on there.
It's sad that even run-of-the-mill online multiplayer isn't included in Most Wanted. Real Racing 3 will be doing some cool work with asynchronous multiplayer when it eventually launches, and I would be surprised if EA and Gameloft didn't follow suit with something similar eventually.
The cars themselves are all recognizable brand names broken up into major categories, such as GT, muscle, and sports. That's great news for car fans, but the downside to this is that you will never see one of them flip ass-over-teakettle on the track, nevermind explode in a blazing inferno. Some scratch on the paint, a dangling bumper, a spiderwebbed windshield, and a loss in speed are all you need to worry about when ramming another car head-on at 200 mph. That takes you out of the moment, especially in a game that's ostensibly steering away from the arcadey goofiness of the Asphalt series and towards some semblance realism.
The bottom line
Need for Speed Most Wanted stands in sharp contrast to the other big-name racing games on Android as leaning towards grittier, more realistic racing. The graphics are absolutely superb, but it's a toss-up if you're willing to sacrifice the visual element for wider gameplay variety. Need for Speed Most Wanted lacks significant multiplayer, substantial car customization, and the good old-fashioned thrill of absolutely demolishing cars at high speeds. Those may seem like tacky additions for those looking for a "real" racing game, but personally, I play games to have fun, not to hop in some simulation of reality.
Image 1 of 12
Get the Android Central Newsletter
Instant access to breaking news, the hottest reviews, great deals and helpful tips.
Simon has been covering mobile since before the first iPhone came out. After producing news articles, podcasts, review videos, and everything in between, he's now helping industry partners get the word about their latest products. Get in touch with him at simon@futurenet.com.