LG V60 hands-on preview: Don't overlook this Galaxy S20+ competitor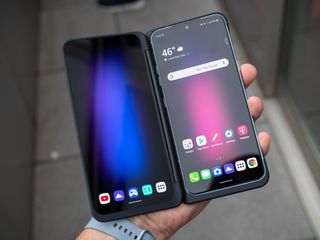 (Image credit: Andrew Martonik / Android Central)
When it comes to high-end Android phones, Samsung is top of mind. But it isn't the only company putting out top-spec devices right now — other companies are making compelling phones right alongside it. LG is still here, bringing us a flagship alternative: the V60 ThinQ 5G. And this time around, coinciding with Samsung making big price jumps in the Galaxy S20 lineup, LG is offering a comparable phone that is actually notably less expensive.
If you've been looking at the Galaxy S20+ or S20 Ultra and balking at their prices, you need to do yourself a favor and see what the V60 has to offer.
Hardware and software struggling to stand out
LG has long struggled to differentiate its hardware from the competition, and that's gotten tougher as the market coalesces even further to these metal-and-glass sandwiches. The V60 doesn't appreciably move things forward, unfortunately. LG doesn't have much of a compelling design story to tell here, but frankly neither do most smartphone makers nowadays. So the fact that it really looks like a slightly tweaked Galaxy S10+ isn't to say that LG is copying anyone, but more so that unless you make a point to take design risks, you end up with a really generic design that can be seen all around the industry.
Image 1 of 9
That shouldn't take away from the V60's hardware quality, though, which is every bit as solid and expertly crafted as Samsung's latest offerings. There are just two colors offered, blue and white, with a nice gold metal on the blue and a subdued silver for the white — again, not very daring, but nice. Yes it's a typical equation of big panes of glass with a metal frame between, but the metal actually comes to a flat side with a chamfered edge toward the front that gives you better grip. The back glass is much more aggressively curved as it meets the metal on the sides, which lets you hands wrap around it better, while the front is nearly flat and helps with edge gesture input.
The screen bezels catch my eyes as being larger than the competition, too, but this is also partly due to this being a flat display and not one of Samsung's with curved sides to mask the bezels. And they still fade away pretty quickly considering this is a big phone at 6.8 inches diagonally, with just a small teardrop-style cutout for the front-facing camera. It's also hefty, at 218 grams, and feels every bit of it — just like the Galaxy S20 Ultra. The pOLED screen looks really nice, running at "just" FHD+ resolution, though it was overcast in my time with it so I can't vouch for screen brightness — a regular shortcoming of LG's phones.
While you're staring at that big screen, there isn't anything particularly interesting to say about the software side either — other than this being Android 10. Its latest design language, which we recently saw on the G8X, is a notable improvement over what it had before in that it focuses a lot on reducing visual clutter and simplifying interface elements. But it still just has that little bit of missing polish, and outdated iconography design, that feels weird and unfamiliar to me. Everything works just fine though, and it's easily powerful enough to do everything you want, so I have no doubt I could get familiar with it in short order.
The second screen accessory is still intriguing
The V60 may not have much hardware flair on its own, but we need to remember it's still an LG phone, and that means there's going to be a quirky part. That is the Dual Screen attachment, which debuted with the V50 and was tweaked with the G8X, and is an included accessory in the box of every V60.
LG has decided to make the latest Dual Screen a bit more ... rugged than what we saw on the G8X. It has a tough rubber exterior with ridges on the back that looks exactly like the sort of case you'd put on your phone if you knew it was going to take some abuse, whereas the G8X's attachment was flat and streamlined with a leather pattern on the back.
But otherwise, this is the exact same idea. The Dual Screen wraps around the phone like a normal case, but with a USB-C plug to power a second screen. It uses the exact same pOLED panel as the phone, teardrop cutout and all, and swivels with a double hinge that lets it wrap all the way around the back of the phone when you don't want to use it. That hinge can also hold at any angle you want, opening up possibilities to prop it up for viewing or more comfortable one-handed holding.
Image 1 of 9
LG didn't do anything funky or create its own system for the Dual Screen — Android just sees it as a second display, and lets you address it exactly how you'd think. There's a small handle on the side of the screen you can tap to extend controls, which let you expand a single app across both screens (in portrait or landscape), run a separate app on both screens, and swap apps between the two. Certain apps are optimized to span across both screens, and Google's now on board with its biggest apps: YouTube, Chrome, Photos, Maps, Gmail, YouTube Music.
You can control two apps simultaneously in portrait mode, swap between the two at any time, and move content back and forth. In landscape mode you have options to put the keyboard on the bottom with content on the top, for example, or use LG's software to map touch controls in any game. With how huge smartphone screens have become, the secondary area isn't going to be necessary to get things done all that often, but it's a nice little perk to be able to just flip around the case and have it there when you want more room.
LG's general pitch for the Dual Screen idea is that you'll decide in the morning before leaving the house whether you're going to want that second screen — and associated bulk — for the day. If you need it, you put it on the phone and head out; if you don't, you leave it behind and get a "normal" phone for the day. You aren't expected to hot-swap it on and off throughout the day, which you can see throughout the design.
The problem is that it's just a huge thing when the Dual Screen is attached. Yes, the second screen is valuable, and opens up new possibilities by giving you double the screen to work with, but any time you're not using it the phone is barely usable in one hand because of the extra bulk and another 134 grams of weight. That makes it a tougher decision each day as to whether you want to bring it along.
The right specs and features ... mostly
The theme of the V60's specs and features is "mostly there." It generally follows the Galaxy S20+, but comes up short in a handful of areas — some that matter, and others that don't.
You're getting a top-end Snapdragon 865 processor, of course, and 128GB of storage with a microSD card slot. You're also getting 5G connectivity, with mmWave on Verizon and Sub-6 elsewhere. There's an optical in-display fingerprint sensor, stereo speakers, and IP68 water and dust resistance. The 5000mAh battery matches the Galaxy S20 Ultra's, and there's both Quick Charge 4.0 wired and Qi wireless charging. Basically, it covers the bases.
Swipe to scroll horizontally
Category
LG V60
Operating System
Android 10
Display
6.8-inch OLED
2460x1080 (20.5:9), 403 ppi
Processor
Qualcomm Snapdragon 865
Memory
8GB
Storage
128GB
Expandable Storage
microSD up to 2TB
Rear Camera 1
64MP, 0.8-micron
f/1.8, 78-degree FoV, OIS
8K24 video recording
Rear Camera 2
13MP, 1-micron
f/1.9, 117-degree FoV
Front Camera
10MP, 1.22-micron
f/1.9, 72.5-degree FoV
Security
In-display fingerprint sensor
Audio
3.5 mm headphone jack
Quad DAC
Battery
5000mAh
Quick Charge 4.0
Qi wireless
Water Resistance
IP68
Dimensions
169.3 x 77.6 x 8.79 mm
Weight
218 g
Colors
White, Blue
But then there are those few shortcomings. The display is "only" FHD+ (2460x1080), but that really doesn't matter; it's the same resolution the Galaxy S20 series ships at despite being capable of QHD+. The bigger issue is that this is only a 60Hz display, which certainly dates it a bit, and there's further question as to whether the display is, overall, as good as the Galaxy S20+. There's also only 8GB of RAM, but that's probably fine too, even if we'd prefer 12GB for future-proofing.
The last potential shortcomings are likely to be found in the camera system. LG has three cameras here: a standard, ultra-wide, and depth-sensing camera, eschewing a telephoto in a year where Samsung went all in on zoom as a feature. The main sensor is a new 64MP unit that uses 4-to-1 pixel binning to take 16MP photos with an effective pixel size of 1.6-microns; smaller than what Samsung's doing, but it has potential assuming LG has really worked on its image processing. The ultra-wide is an underwhelming-looking 13MP sensor with 1-micron pixels, which doesn't instill confidence in its low light capabilities.
LG's last couple rounds of cameras have been fine, but nowhere near challenging the best out there — and competition is as hot as it's been in several years. We know that specs don't tell the whole story, provided the software running the show is good — the hope is LG has stepped up its game. On the video front it's doing 8K at 24 fps, including an AI-powered time lapse mode, and using a 4-microphone isolation mode that specifically focuses audio capture on your subject, which is all neat — but it won't paper over any shortcomings that may exist in the core functionality of the cameras for photos.
On the other side of things, there's one huge standout feature: the headphone jack. Yup, LG still includes it, and even keeps its much-appreciated high-quality Quad DAC. For as much as I still hear from people who wish they had a standard headphone jack on their phone, this feature alone should send a few eyeballs in LG's direction.
Will anyone consider buying an LG V60? You should.
What pulls this all together and makes it interesting is that LG isn't going to launch the V60 at an absurd price as it's done with so many phones. The V60 is going to be under $1000, including the Dual Screen attachment. That places it at or below the price of the Galaxy S20, despite being sized like a Galaxy S20+ — and including the secondary screen accessory. We'll be getting official release and pricing information for the V60 in the coming weeks, but knowing it won't be over the thousand-dollar threshold is important.
That's great value for a phone that hits on most of the same specs and features as Samsung's latest phones, even if it obviously comes up short in a few small areas and probably comes up short in a few others. In a market where I'm constantly getting feedback that top-end phones are too darn expensive, it's a great time for LG to come in with a reasonably-priced flagship that offers a solid value proposition.
Given the specs, hardware and price, people would be silly not to consider the LG V60 when they're looking for a high-end Android phone. But honestly, that's been the case for a lot of LG's phones, and yet nobody seems to want to buy them. The V60 obviously isn't a perfect spec-for-spec or feature-for-feature competitor to the Galaxy S20+ or S20 Ultra, but it isn't far off, and it's $200 (or more) cheaper — even if you don't care about the Dual Screen attachment.
Dual Screen again
(opens in new tab)
The latest flagship iterates on the Dual Screen, and keeps the price down.
LG isn't blowing anyone away with stellar design or features, but it goes toe-to-toe with Samsung in many ways and does it at a discount. And it includes a second screen accessory at the same time.
Android Central Newsletter
Get instant access to breaking news, the hottest reviews, great deals and helpful tips
Andrew was an Executive Editor, U.S. at Android Central between 2012 and 2020.
It's still an LG phone. Again they just don't sell in any great volumes, why? The 32bit DAC remains for the true jack fans? An audiophile's dream phone? Cheaper than the S20 series? Is it really worth a peek-a-boo, yes!

Wow just 128GB of storage

With the addition of an SD card slot 128gb is hardly a real complaint.

It's 2020, most people have become unaware that SD cards exist

That doesn't change the fact that they do and are ridiculously cheap. Don't be THAT guy. Micro SD cards are not something that just came out.

The G5, G6, and G7 were all godawful phones. After the G7 I finally gave up on LG and won't be going back.

I'm still rocking my G5. For me it all comes down to how that camera shakes out. Everything else looks great on the phone.

My next phone hands down. LG doesn't get the hype the other players get and some deservedly but LG is largely underrated. It does everything people who love to really get involved with content creation want. And it will be cheaper than the $999 S20 with the second screen attachment and a true pro photo and cinema mode? And the best headphone jack and stereo recording in the game? Too easy.

Once you go 90Hz, you can't go back. If you haven't experienced 90Hz, then by all means get this cause it ticks a lot of boxes. Not for me though...

Sure you can! I went to 90Hz, and even 120Hz. 90Hz is nice but not earth shattering. I don't even notice a difference between 90Hz and 120Hz. I'm back at 60Hz now, and perfectly fine sticking with 60Hz, even when gaming. So for this price point, we don't have much to complain about when you consider all it can do.

The only decision that I don't agree with for this phone is the lack of a QHD display.

I was just about to type this exact thing. Everything else looks promising and the use of the main sensor for zoom makes sense using an f/1.8 aperture which should fare well for all lighting conditions.

I think I'll keep my 256gb Ufs 3.0 storage and 90hz oled on my oneplus 7 pro. For those who must have headphone jack or/and micro sd, guess this is only modern option

Sounds interesting. It probably won't get updates very quickly though.

Screen resolution doesnt seem all that great at 407 ppi. Then there is the slow software updates. My LG V40 is still on Android 9. LG I really want to spend my hard earned money on your V60 but that lack of software updates really makes me want to jump the LG ship.

They did improve with the last generation of phones though. Not super fast but faster than previous years and devices.

They lost me with the G3. An editor on another site even blocked me when I called out that phone's deficiencies early on, but I guess he probably saw how foolish he was to hype it so much.
I don't know.... There's always been something JUST off about LG phones.

LG didnt start to hit its stride until the LG V30. I've owned the V10, V20, V30, V40. All very decent phones. Now I rock a Note 10. Great phone as well. Trying to compare the[checks notes] G3? to what LG is doing now is a tad unrealistic.

Was the last LG you owned the G3 then? That was a long time ago, it competed against the Galaxy S5. Both Samsung and LG have come a long way.

Makes 0 sense to compare an old phone to a phone in 2020. But whatever floats your boat

So what is that "something" then? Can you provide some sort of concrete example to back up your opinion, or are you biasing a whole company and series of phones due to a singular bad experience?

Nice looking phone, except for those bezels and that godawful horizontal camera band.
FHD is fine by me, but the camera on the G7 is really disappointing, so I'm not keeping my hopes up.
Why on earth they've decided to put further bulk on that secondary display is beyond me; it would see zero usage in my hands. I'd never consider a regular case, let alone that rubber behemoth!

It's not like you HAVE to use it.smh

Of course not, but it's a major selling point seeing as how it's part of the package; one could hope that it was actually usable, and not just expensive dead weight...

I like my V40, and I'm considering the V60 to replace it. Lack of a zoom sensor is kind of off-putting though. May have to look at the S20, if only for that reason. I do prefer the FP sensor on the back of the phone, over the in screen, but that's starting to look unavoidable no matter where you go.

The design of the Surface Duo is better executed than this. And I hate that it has a fake notch for symmetrical reason. It's stupid.

The notch isn't for aesthetics, it so LG can provide colour matched panels.

OHHHH well that make a notch for a screen that irrelevant event dumber...

Notches are in dude,get over it

I have 0 issues with notches. I have issue for a notch for a screen that has no camera and to "provide colour matched panel", which is stupid. Try to read.

They might have saved money by using the same display panel for both sides. I would not fault them for doing that, even though I don't like notches.

That actually makes more sense.

It is a valid choice, but with a few shortcomings to balance out the advantages. Me? I don't give a rat's behind about 120Hz refresh rates, but I do care about resolution because I use VR and have three headsets. I could see myself using the second screen on some occasions, though I feel a better approach would have been to reduce the price $50 and offer the second screen as an option. The huge battery is a plus, and is likely the reason it looks a bit chunky. Speaking of aesthetics; the rest of the world gives us notches, holes, or bezels. Why do we have a notch AND bezels? Just lose the notch and give us an uncompromised screen. There are phones with regular bezels that have about the same screen to body ratio as this. Oh, and for media fans; give us the corners back as well. I do prefer the camera layout on the back, and like it better than the second smartphone stuck to the back of the S20. I'm sort of surprised at only two cameras on the back, as much as I am that neither LG or Samsung know how to make a regular camera swap roles as a TOF. I'm glad they went back to normal stereo speakers instead of the screen exciter. It is an audiophile's dream? To a degree. LG is not the only one with a 32 bit DAC. Both Samsung and HTC DACS are 32-bit/384kHz, versus LG's 32-bit/192kHz audio. LG's advantage in that department is the higher voltage. The 24 bit audio recording on video isn't quite new. For comparison, HTC has stereo 24 bit Hi-Res audio certified recording, 3D surround sound recording, audio zoom which follows manual zoom or the one-touch pro zoom feature, and audio boost while recording video. They've had four microphones since 2017, but you can also plug an external mic in. But even if LG's features are not unique, they are unique enough from the all-too-common Samsung and Apple to be noticed by those who care. I know that I still don't like listening to music on iPhones, but I would enjoy it on an LG.

With a 1080p display and a 5000mamp battery SOT should be exceptional. 8to10hrs?

Yeah, I would expect SOT to be pretty spectacular. 8 to 10 hours should be doable.

I'm not sure if I would consider LG a competitor to ANY other flagship phone these days, not even iPhone

At least it has a headphone jack.

So does an old Sony Walkman :-)

Given that for top end audio, no-one is even in the race, I don't think there is much point in futile comparisons.

I find the overall tone of this article very disappointing. For every good thing that is stated, there is the overall gloominess and negativity that this site has been associating with any non-Samsung phone.
Examples? I am glad that you asked!
-There is "only" 8 GB of RAM, where we would prefer 12 GB for future proofing
- "The theme of the V60's specs and features is "mostly there." It generally follows the Galaxy S20+, but comes up short in a handful of areas — some that matter, and others that don't."
- "LG has long struggled to differentiate its hardware from the competition, and that's gotten tougher as the market coalesces even further to these metal-and-glass sandwiches. The V60 doesn't appreciably move things forward, unfortunately. LG doesn't have much of a compelling design story to tell here, but frankly neither do most smartphone makers nowadays."
This is not a hands on article. This is an implicit comparison to Samsung that only serves to prove that despite several key advantages that COULD push someone to choose this phone, you should only really buy the popular brand that has produced dozens of article on this website.
Either give other phones a fair shake, or make it a fair comparison that lacks the gloomy tone.

I got a Pixel 2 XL after losing my SGS7, while while waiting for the Note10, which I passed on--no headphone jack. What my P2XL has taught me is that the headphone jack is way too underrated. It depends on your workflow. I am not a 'regular' headphone user. I have three sets of wireless buds and have come to almost hate them--from regularly needing to charge one when I do need it. The BT interface is still to clumsy: I have to triage among my phone and tablet, and sometimes my ultrabook if I am at my desk, to make the proper connection. The P2XL with USB-C connector meant that I had to pay about $10/dongle--I needed to buy three (office, bag, car) to keep my regular earphones. Or buy a USB-C wired headset, which I did, and remember to carry it with me all the time. It does not work with my PC, ultrabook, or tablet, so now I carry two wired headsets. So I have emotionally bailed on Samsung--purely for the HJ. Not wild about the P4XL-the USB-C headset does not do it for me. So LG has started to look really good again. The 128GB works: my P2XL has taught me that. 8GB of RAM is a lot. Welcome back jack! Will the V60 camera deliver?
Android Central Newsletter
Get instant access to breaking news, the hottest reviews, great deals and helpful tips
Thank you for signing up to Android Central. You will receive a verification email shortly.
There was a problem. Please refresh the page and try again.