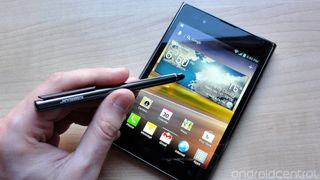 Oh Optimus Vu, what an odd little device you are. Developed as a less than subtle knee-jerk reaction to Samsung's Galaxy Note, the Vu went on sale in Korea earlier this year, and it'll soon be making its way to Japan on NTT Docomo, too. Stateside, it's known as the Verizon LG Intuition. In any case, this is LG's 5-inch, stylus-using, 4:3 aspect ratio squarish slab. It ran Android 2.3 at launch, but it's recently received a substantial update to version 4.0 and the new LG Optimus UI 3.0. Shaped more like a placemat than a telephone, the Optimus Vu is one of the most outlandish-looking devices to have ever passed across our desk.
The Vu's internal specs closely match the device it emulates, and the recent ICS update has done a lot to unlock the potential of that hardware. But considering the 5+ inch phone space is dominated by Samsung, is there space for a second device in this product class? And with the Galaxy Note 2 expected in a matter of weeks, is there any reason to consider LG's offering? Find out in our full review of the LG Optimus Vu.
Pros
ICS plus Optimus UI 3.0 makes for a great user experience. Pen input works reasonably well, despite relying on a plain old capacitive stylus. Good build quality and solid hardware, despite its weird dimensions. Ample internal storage.
Cons
With a 4:3 aspect ratio screen, the Vu is awkward and clunky by design, and the lack of an on-device slot for the stylus means you're unlikely to take it out and about with you. One-handed use is basically impossible. Camera performance is inconsistent.
The Bottom Line
For what should feel like a thoroughly half-assed device, the Optimus Vu isn't a terrible piece of consumer electronics. But too many usability issues remain for us to recommend it over the competition in the 5-inch smartphone space. The Optimus Vu's limited international availability means few consumers will be faced with a choice between it and the Galaxy Note. But for those who find themselves having to make that decision, in our opinion it's a no-brainer -- buy the Note instead.
Swipe to scroll horizontally
LG Optimus Vu video walkthrough
LG Optimus Vu hardware review
Aside from any software concerns, we've always found LG's physical hardware to be top-notch. On the outside, the Optimus Vu draws inspiration from a number of earlier LG designs, including the Prada 3.0 and Optimus 4X HD. There's an ample chunk of bezel surrounding the 5-inch IPS display, with four capacitive keys down below. A faux-metallic trim surrounds the edges of the device, with rounded corners on the left and right sides. The phone's volume rocker lives on the right edge, with power and a dedicated screenshot key up top.
There's also a slide-out antenna concealed in the top right corner, which can be used in conjunction with the bundled TV app to view Korean TV and radio broadcasts. If you're not in Korea, you won't have any use for this, as extending the antenna doesn't improve cellular or Wifi reception.
Around the back, the Vu sports a textured plastic finish not unlike the LG Prada. The 8MP rear camera lies flush with the back panel, and is supported by a single LED flash. Our review unit, a South Korean model, sports SK Telecom's 4G LTE logo around the back, above LG's own branding.
The Korean Optimus Vu supports a veritable smorgasbord of cellular radios. There's CDMA, HSPA+ (2100 MHz) and LTE (800 MHz) for use on SKT's domestic network, as well as quad-band GSM for international use. With this wide range of network support, we had no issues using our Korean Vu on GSM, GPRS, EDGE, 3G and HSPA+ networks in the UK. We imagine you'd be able to use 4G on any standard 800 MHz LTE network too, though we haven't been able to verify this. And we weren't able to test phone calls over CDMA, but they worked just fine in GSM mode, and call quality was comparable to that of other GSM smartphones.
The Vu uses a micro-SIM card, which is accessed by prying open the SIM card door with the bundled metal poking tool. Similarly, you've got a microUSB port up top, protected by a tiny sliding metal door. There's also a 3.5mm headphone jack on the top left corner. And those are the only ports you'll find on the Vu, as there's no expandable storage. Our SKT model has 32GB of onboard storage, with 2GB for apps, 25GB for media and the rest being taken up by the OS.
Like the Galaxy Note, the Optimus Vu offers pen input, though LG includes a capacitive stylus rather than Samsung's more precise, pressure-sensitive Wacom-based S Pen. To be fair to LG, the "Rubberdium" pen bundled with the Vu compares favorably to many capacitive styluses. But having used the S Pen on the Galaxy Note, the having to prod at the screen with a rubber nub feels imprecise and a little ham-fisted. The Vu's chassis also lacks a pen slot, so you'll have to carry the stylus around with you separately, meaning you're all the more likely to lose it. All in all, the pen input experience on the Vu lacks elegance, and gives an impression of being tacked on after the fact.
Incidentally, we also tried the stylus on a Galaxy Nexus, Galaxy S3, RAZR MAXX and Nexus 7, and the S3 was the only device it worked with. That's not entirely surprising, considering the that phone has its own optional capacitive stylus.
Weighing in at 168 grams, the Optimus Vu isn't the lightest smartphone around, but the fact that its weight is spread over a 5-inch space means it doesn't feel particularly heavy. Unfortunately, that's about the only redeeming quality of the Vu when it comes to ease of use. In all other areas, the phone is an ergonomic disaster. Its 4:3 aspect ratio, combined with its large screen size, make single-handed use impossible, to the point where most right-handers won't even be able to reach the menu key with their thumb, and locating pressing either of the buttons along the top is an exercise in frustration.
The Optimus Vu's extra width also means it's significantly less pocketable than the Samsung handset it's imitating. With its 16:10 aspect ratio and relatively slim bezel, the Galaxy Note still fits reasonably well in a jeans pocket. Not so with the Vu, which instead demands a jacket pocket or handbag. The 4:3 aspect ratio is a fatal design flaw, and one which makes the Vu a highly impractical device to carry with you and use.
Mercifully, the quality of the screen itself is relatively high, as we'd expect from LG. It's an XGA (1024x768) IPS panel -- not the highest resolution you'll find on a mobile device, but what it lacks in pixel density it more than makes up for in picture quality and clarity. It's roughly comparable to the screen on the Optimus 4X HD, though not quite as sharp.
LG Optimus Vu specs
LG Optimus Vu software review
The Optimus Vu runs Android 4.0.4 Ice Cream Sandwich and LG's latest UI layer, dubbed Optimus UI 3.0. In the past we've rightly complained about LG's smartphone software, and its Gingerbread-based ROMs tended to be slow and visually disjointed. All that changes, however, with ICS and Optimus UI 3.0, which represent a significant improvement in terms of performance and design.
Gone is the lag that's characterized LG's Gingerbread ROMs, replaced with a smooth (though not quite buttery smooth) launcher and responsive system apps. Qualcomm's Snapdragon S3 is no longer a top-tier chip, but it's plenty fast on the Optimus Vu with Ice Cream Sandwich. Design-wise, the software is virtually identical to what's shipping on the Optimus 4X HD -- LG's taken everything back to the drawing board, working out a new visual style with some deference to the ICS design guidelines. (That's something its Korean rival Samsung could learn from.)
There's an abundance of clean lines, and icons are stylized but not cartoonish. In addition, you'll find more than a few cyan tints left over from vanilla ICS. Stock Android isn't there in all its glory, but nor has LG thrown it under the bus.
For the most part, LG's own apps do a decent job of scaling to the large 1024x768 screen, however the same can't be said for third party applications, notably Google apps like Gmail, Google+ and Google Reader. LG's software DPI setting means that apps like these appear blown-up (though not pixelated or distorted), with oversized icons and text. This means you get almost no benefit from the extra screen real estate, unlike the Galaxy Note, which scales apps more intelligently. The phone does detect certain applications that may not scale properly, and offers to correct the aspect ratio, but all this does is add black bars on either side. And besides that, aspect ratios and screen resolutions aren't something end-users should be expected to worry about.
As we've mentioned, the Optimus Vu comes with a "Rubberdium" capacitive stylus, which works remarkably well on the phone's large screen. Unsurprisingly, any app will happily accept pen input instead of regular touch input, and despite its blunt rubber end, the pen is still markedly more accurate than the average human finger.
LG's included two pen-centric apps on the Optimus Vu -- LG QuickClip and Notebook. QuickClip is a basic screenshot annotation app, activated by pressing the dedicated screenshot key next to the headphone jack. Once that's done, you can save your screenshot, or draw all over it, or bring up a blank page for your drawings. It's not as advanced as Samsung's S Memo, but it works well enough for basic drawings (and we doubt you're going to create any masterpieces on a phone like this anyway.)
Notebook offers even more functionality, including the ability to create fully-fledged multimedia documents on the phone. As well as drawing on the screen with the pen, you can add text, photos and video from the rear camera, and voice recordings. If you were so inclined, you could create rich multimedia books on the Vu, then export them as PDFs for viewing on other devices. Like S Memo, it's technically impressive, but we have to question how frequently the average user will dip into features like this.
NFC is also included on the Optimus Vu, and the recent update to ICS means it's also gained Android Beam support. What's more, the NFC toggle in the notification shade can enable NFC for device-to-device transfers or payment methods only. LG's also included NFC tag stickers in the box, which work with the bundled LG Tag+ application. We've seen similar NFC tag capabilities on LG and Sony phones in the past, allowing you to tell the phone to perform certain functions or enable certain features when moved over an NFC tag. For example, if you keep one in your car dock, you might tell the device to turn off Wifi and activate Google Maps Navigation when it's docked.
So despite some quirks with third-party app support, the overall software experience on the Optimus Vu is fast and reliable. In the past we've given LG some heat over the quality of its Android-based firmware, so it's good to see the manufacturer finally stepping up its game.
LG Optimus Vu battery life​
The LG Optimus Vu ships with a non-removable 2080mAh battery. That's considerably less juice than the Galaxy Note's 2500mAh, but consider that the Vu is powering a smaller screen, and that IPS LCD displays tend to be more power efficient than SuperAMOLED offerings.
As we mentioned, we've been using the Vu primarily on 2100MHz HSPA+ networks in the UK. So it's difficult to accurately measure battery life on a 4G phone when you're limited to 3G and Wifi connectivity. Our best guess is that you'll experience some moderate loss of battery life on 4G, compared to 3G, just as you do on every other smartphone out there.
On 3G networks, though, we were fairly impressed with the battery life offered by the Vu while using the phone as a daily driver. Battery life closely matched that of Samsung's Galaxy Note, despite the smaller battery, giving us upwards of 12 hours of moderate to heavy use. Despite this, the fact that the battery itself isn't removable represents a mark against the Vu.
LG Optimus Vu came​ra review
Like its 4.7-inch cousin the, Optimus 4X HD, the Optimus Vu's 8MP rear shooter is somewhat disappointing when compared alongside other high-end smartphone cameras. Samsung, Apple, HTC and Sony have raised the bar considerably in their current product line-ups, and by comparison the Optimus Vu's camera, like that of the 4X HD, falls short.
In both still shots and video (which the phone can record up to 1080p resolution), the Vu struggles to focus, and presents stuttery transitions between light and dark areas.There's also some clear over-compression in high-res video footage recorded on the phone, as you'll see in our sample footage below.
That said, we have reason to suspect that the Vu's camera issues may be rooted in software rather than hardware. Some phones, notably the Galaxy Note, had auto-focus issues at launch, and these were later fixed in software updates. Likewise, video compression is a software problem. So we think it may be possible to fix these quirks in future updates. However, the fact that they remain after the phone's one major software update -- from Gingerbread to ICS -- doesn't bode well.
It's not all bad, though. In ideal lighting conditions, the Vu can produce some impressive still shots, and we've been consistently impressed with its ability to capture highly detailed macro shots. But that's doesn't make up for the litany of other issues with the phone's camera, and so the overall picture remains disappointing.
Image 1 of 10
Hacking th​e LG Optimus Vu
Don't hold your breath. Given its limited availability, and the poor prospects of a widespread Western release, we don't think there's much hope that any kind of custom ROM scene will develop around the Optimus Vu. If you pick up one of these, you'll be relying on LG for your software updates for the foreseeable future.
Wrap​​-up
For what should feel like a thoroughly half-assed device, the Optimus Vu isn't a terrible piece of consumer electronics. Most of its usability credentials are owed to LG's much-improved Optimus UI 3.0 software, which is based upon Android 4.0 Ice Cream Sandwich. As we've mentioned in our coverage of the Optimus 4X HD, LG's software has finally caught up with its hardware, and that's fantastic. But software doesn't change the fact that the Vu is a bulky, un-ergonomic smartphone in a unnatural form factor. And pen input, though it works well enough, feels like it's tacked on after the fact. The quirky, unreliable camera doesn't help matters either.
The Optimus Vu's limited international availability means few consumers will be faced with a choice between it and the Galaxy Note. But for those who find themselves having to make that decision, in our opinion it's a no-brainer -- buy the Note instead.
Get the Android Central Newsletter
Instant access to breaking news, the hottest reviews, great deals and helpful tips.
Alex was with Android Central for over a decade, producing written and video content for the site, and served as global Executive Editor from 2016 to 2022.