How to upgrade the Raspberry Pi in your Kano Computer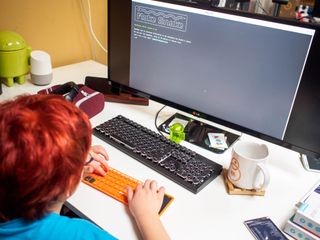 Upgrading the Raspberry Pi in your Kano Computer can sound a little scary, especially for folks out there who have no idea how to do so. There's no need to worry, since it's actually quite simple, even if you're not sure what Raspbian or Debian even is.
Products used in this guide
How to upgrade that Raspberry Pi
Install Debian onto your Kano Computer if you haven't already.
Open up the APT tool in Raspbian
Open the terminal from the taskbar or applications menu.
Before you can fully upgrade your Raspberry Pi, update the system's package.
Do so by entering the following command: sudo apt-get update
Upgrade installed packages with the following command: sudo apt-get dist-upgrade
Feel satisfied because the job is done!
You can now rest easy knowing that everything has been upgraded. Doing this regularly will keep your product and installation up to date, meaning your apps and packages will be able to be used as normal without you worrying about crashing or losing data in the process.
Our top equipment picks
The base you'll need
Brains before beauty
The Raspberry Pi 3B is one of the best motherboards around with how compact and durable it is, as well as having more USB ports to help you with a simple, easy set-up.
You're really going to struggle upgrading your Raspberry Pi in your Kano Computer without, well, actually having a Raspberry Pi in the first place. Seriously, don't try and upgrade a Raspberry Pi without having one, or you're going to look strange.
Additional Equipment
There are going to be other pieces of equipment you'll need to make sure your Raspberry Pi in the Kano Computer is upgraded as smoothly and efficiently as possible. This list has everything you'll need, so make sure you're taking notes.
Sunfounder 7-Inch Monitor ($56 at Amazon US)
Like the Raspberry Pi 3B model, it's going to be tough to upgrade your Raspberry Pi without a monitor to see what you're doing. The SunFounder is perfect and portable, and was made for Raspberry Pi products.
USB Keyboard With Integrated Touchpad ($45 at Best Buy)
Who needs a mouse when you've got a keyboard with a touchpad? With this product you'll be able to upgrade your Raspberry Pi with ease thanks to its mouse and reliable keys.
Debian (Free at Debian)
Debian is particularly important. Without Debian you won't be able to upgrade your Raspberry Pi at all, so before you start make sure you've got this program downloaded.
Be an expert in 5 minutes
Get the latest news from Android Central, your trusted companion in the world of Android