HERE Maps rebrands to HERE WeGo, adds new features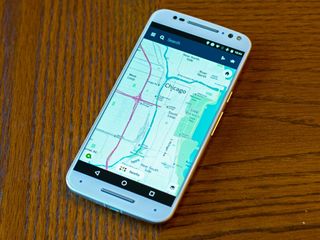 HERE Maps, the mobile mapping app that was sold by Nokia to a group of car companies in late 2015, has released a major update for Android in the Google Play Store. It also includes a name change to HERE WeGo.
Why the name change? In a blog post, HERE says:
Among today's updates, the HERE WeGo app offers users a revamped experience when they open it up:
The app also adds options to get to your destination from car-sharing firm Car2Go. Many cities in the app also include taxi info like an approximate price and wait time For people who like to ride their bike to their destination, the app has also added elevation information to make it more accurate.
You can download the new HERE WeGo app from the Google Play Store (opens in new tab).
Android Central Newsletter
Get instant access to breaking news, the hottest reviews, great deals and helpful tips
Here worked awesome on Windows. Sucks on Android. Makes 100% sense they dropped Windows support.

? Posted via the Android Central App

MSFT don't care about Windowsphone. W10M is a horrible... . That's why I changed to Android. I was big WP fan, but Android is awesome!!! :P Posted via the Android Central App
for LG G3

Here works great on Android when you don't have data coverage. I used it in multiple cities in Europe in the last couple of weeks and it got me where I wanted to go every time.

Makes me think of Mario... Posted via the Android Central App

Haha Posted via the Android Central App (LG V10 or N5X)

Too bad they aren't really implementing major features. Would love to use this as my app for daily commute but it doesn't have any interesting features for that anymore. Plus i still find that i want more information during navigation as well. And i'm still not sure what their business model is. It seems to me they just go for your information as there aren't any in-app purchases or whatever

What do you mean interesting features? Its a satnav? It just needs to tell you how to get from A to B quickly and efficiently. Here does that better than any other app or device I've tried. My TomTom sits in my junk drawer now. Did you mean it doesn't work with Pokemon Go or suchlike?

I like the new name. Clever. Better than the old.

Here had some really nice features back in the day on Windows Mobile. I liked downloading maps and the real time driving speed and warning beeps when you were speeding lol Posted via the Android Central App

Same here. I've had to set Google Maps to do the same as I got so used to it Posted via the Android Central App

Waze does that, just found out it even does a warning sound for speed limits

The warning beeps are still there. You could set it to whatever threshold you want it to come on at.

When was the last time you tried looking in the settings menu? It's all there still. Downloading of maps, speed and warning beeps it's all there.

Still does all those things on Android, ajb

Not a fan of the new name. It just makes me think of Mario.

Lol it does hmm Nintendo might sue. Posted via the Android Central App (LG V10 or N5X)

Ditto! It sounds like someone calling their dog, "Here Wego! Wego? Come..."

Who cares about the name, seriously. Posted via the Android Central App

Is the finding and connecting to gps still so painfully slow? Posted via the Pokemon Central App

I've not had any problems connecting to GPS anywhere I've used Here. Maybe it's your phone?

Haven't used this app in awhile. Apparently I have to re-download Texas for whatever reason and now they have ads placement... way to go BMW Posted via the Android Central App

I use to use it on WP8 worked great. Now i use Sygic. Posted via the Android Central App

Great. Now bring back spoken street names and high quality voices. Ty. Posted via the Android Central App

Are they ever going to stop changing the name of this mapping service?
It was originally called "Nokia Maps", then it was changed to "OVI Maps", then changed back to "Nokia Maps", then changed to "HERE Maps", and now "HERE WeGo"..... Posted via the Android Central App

Did they add the "HOME" option already? It is probably the only GPS solution that does not have a fast option for entering HOME as your destination.

six months ago actually, it puts an icon on your home screen. as for "home" in the app itself, they did that a year ago.

The name sounds like an april fjols joke... Posted via the Android Central App

I have this installed as my backup maps app for when I have no signal in areas where I have not downloaded an offline google map. This thing works exceptionally well offline.

And yet, strangely enough I like to be able to see where the location is - to ensure that it is the location I actually want. In my home town, there are shops in the wrong streets, shops that have been closed 2 years, and a golf course that has been closed 2 1/2 years on which a housing estate is part built and occupied. Worse, I reported all of these months ago.
Then, Here Wego gives "helpful" information using a "Nearby" pop up at the bottom. It includes car hire (like we use that regularly) but not car parks, and puts fuel stations on the second page. It includes pharmacies, but not hospitals. The ONLY benefit to using HERE is on my PC, to send locations to my car. And I have to double check using the satellite view to be sure the locations are actually where the map claims.

If you dont use Google maps you are a Here tic. Posted via the Android Central App

Try using Google Maps when you have no data signal, aspold.

Does anybody know where HereWeGo stores the maps on the phone? I tried a few obvious place in the Android folder but saw only very small files

I have a question about here we go.
Until now I used a windows phone.
from time to time i have to vistit multiple clients per day.
with here maps (on windows) it was possible to pin different navigation maps on the home screen of the device.
so I had multiple maps from 1-x ready with my "atm location" as starting point and client1 to clientx as destination.
with this i could look up the addesses at work get my 3-4maps on the screen and then just tap on the client I want to go and the navigation opened. this way i didn't need to look up the addresses while I was on the road, no typing street names just one tap on the pre-saved address and the navigation opened from where I was to my destination. now on android i only see the "bring me home" thing.
this is only one "from where I am" to "pre-saved destination".
Is there a option to pin more/different destinations on the home screen?
Android Central Newsletter
Get instant access to breaking news, the hottest reviews, great deals and helpful tips
Thank you for signing up to Android Central. You will receive a verification email shortly.
There was a problem. Please refresh the page and try again.