From the Editor's Desk: Unstoppable force, immovable object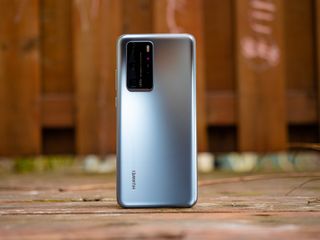 (Image credit: Daniel Bader / Android Central)
If just about any manufacturer besides Huawei had faced such extreme restrictions on its software, its smartphone division would be facing a guaranteed death sentence. Yet here we are, nine months on from Huawei's initial placement on the U.S.'s "entity list," and the company's consumer device arm is very much alive and kicking. More than that, in fact -- it's pushing ahead with building out its own ecosystem, and has recently launched what might well be the best smartphone camera of the year in the Huawei P40 series.
As a recap, Huwaei's smartphone software challenges are about more than just not having Google's applications and storefront preloaded on its new phones. Google services are ubiquitous elsewhere, of course, but the larger issue has to do with the under-the-hood bits and bytes that help other manufacturers' apps work, which live inside Google Play Services. Think: single sign-on for apps like Skyscanner, Concur and Skype. Or Widevine DRM for Netflix. Or SafetyNet for mobile payments and banking. No Google doesn't just mean no Google apps, it means anything that relies on Google's under-the-hood components will also face issues. In some cases, that means even downloading an APK file from elsewhere won't get you optimal performance if a certain app still relies on the underlying Google code.
It's also far from clear whether it'll ever be possible to reliably sideload Google Mobile Services on the P40 series, as it (briefly) was for the Mate 30 series, and some older Google-less Huawei phoenes.
Which is where Huawei Mobile Services comes in. Starting last summer, Huawei embarked upon the mammoth task of creating its own mobile services framework, with the ultimate goal of emerging as the third major mobile platform, alongside Google and Apple. The company certainly has near limitless resources to dedicate to this task, as proven by its actions in recent weeks: wooing developers with a more generous revenue cut, while also building compelling new features into the new Huawei ecosystem.
Though there are still app gaps to be seen, Huawei's AppGallery storefront has improved considerably since last May. The most significant absences are U.S.-developed apps, for obvious reasons. Elsewhere, Huawei has tapped local alternatives for features like maps, messaging and the like. And efforts to bring more big name developers to Huawei's storefront are ongoing.
Nevertheless, the stopgap solution of using the "Phone Clone" feature to port across apps that aren't yet available is imperfect at best. If an app isn't available on AppGallery, you're left having to manually update it via unofficial sites like APKMirror. If you're going in fresh, you may find an unofficial, curated site like this to be your best option. (The APKMirror folks are currently trialing their own storefront, for what it's worth.)
Even then, many of these apps rely on Google Mobile Services at present, and until Huawei is able to coax all the big players into adopting its HMS alternative, there are going to be some unavoidable teething issues.
One scenario which seems increasingly unlikely is some sort of truce between Huawei and the U.S. government, with rumors swirling this week that the administration may even try to cut off Huawei from US-aligned chip vendors like TSMC. The dream of a quick return to normal relations seems unlikely, and for Huawei phones, that means forging ahead with its own ecosystem, under its own control, without the risk of the rug being pulled from under it.
Phones like the P40 Pro have plenty going for them. Awesome screens. Phenomenal hardware design. Luxurious high technology. But the company still faces a monumental challenge in keeping customers, carriers and broad public opinion on its side over the next year while it builds out its new smartphone ecosystem. If any manufacturer can thrive outside of the Google umbrella, it's Huawei, and I'll be watching with interest as the year progresses.
Other odds and ends from our new, bizarre reality this Sunday:
If you want a break from the relentless grim news of the past couple weeks, check out our multi-part series on some of the coolest mobile tech of the moment: foldable phones.
Jerry has a great editorial on how rivals like Oppo and Xiaomi could take advantage of Huawei's current predicament in Europe to carve out a spot as one of the major rivals to Samsung.
The LG V60 ThinQ 5G is headed in the right direction in terms of being a compelling, not-insanely-priced, not-boring LG phone, but despite generally positive noises in our full review, I wonder how the market will react to yet another ho-hum good-enough LG flagship.
That's all for now. Stay safe, and I'll catch you in a few weeks.
—Alex
Get the Android Central Newsletter
Instant access to breaking news, the hottest reviews, great deals and helpful tips.
Alex was with Android Central for over a decade, producing written and video content for the site, and served as global Executive Editor from 2016 to 2022.