Dolphin Browser hits version 10 with a fresh design, new features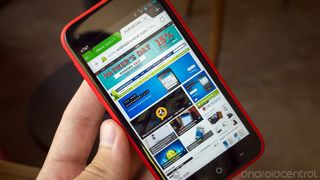 Version 10 brings a refreshed design to the entire app, with small feature enhancements to keep the experience fresh
With over 10 million downloads to date in the Play Store, Dolphin is one of the most popular browsers on Android. It's moving right along with development though, and with a bump up to version 10 including a refreshed interface and new set of features that should build on its great user experience. With its latest version Dolphin left no portion of the interface untouched, keeping the same color scheme but rethinking the design and interaction at every point. On the back-end, a revamped web app store and development tools increase the potential for expansion.
This is a big step towards modernity for Dolphin, and things are looking good. Hang with us after the break where we break down the improvements in Dolphin Browser version 10.
Dolphin is putting a huge emphasis on its design in this latest version, and the development hours are immediately apparent when you open the browser for the first time. Though previous versions of Dolphin were never "ugly" by any means, this latest update takes things to a new level of cleanliness and cohesive design. The interface sticks with the same grey, white and green motif, but flattens things out with clean lines and improved buttons and elements.
The same main interface paradigm is in play here, with slide-in panels from both left and right edges revealing additional controls, along with a standard tabbed interface and typical bookmarking and refreshing options. Updated are some more subtle changes, such as a new movable navigation button that gives you quick access to additional actions such as its Sonar service, full-screen tab views and settings with a quick swipe.
Dipping into the settings, once again we have mostly the same layout but every screen has received a design facelift. New toggle buttons and checkboxes adorn a clean settings screen, which give access to everything you'd need in a browser -- something Dolphin is well known for. The settings design continues into views such as the sharing menu and browser quick settings menu, which are flat, clean and nicely laid out.
One notable new setting is "Search Engine", which lets you customize the way your searches are performed from the URL bar. You can now choose to have more than one search option, including Amazon, Youtube, Wikipedia, eBay, Twitter and Facebook. These options will then show up as buttons at the bottom of your search screen when typing, where you can tap one and be taken right to a search for your keywords on that site.
Dolphin is also touting an all-new web app store with this release, bringing quality apps and plugins to the browser. Over 200 web apps are available at this time -- including big players like Facebook, Wikipedia, Tumblr and eBay -- which can be easily pinned and managed from your Dolphin "speed dial" start screen. The interface for browsing apps continues the clean look from the rest of the browser, and enables web developers to write HTML5 web apps and deploy them easily to Dolphin's 80 million users.
Performance in the latest version of Dolphin hasn't taken any hit with the visual refresh, and pages load and are manipulated just as smoothly as you'd expect from any modern browser. We never encountered a single issue or hiccup in the performance of Dolphin.
Long-time Dolphin users are in for a treat with this latest update to version 10 of the browser. With a refreshing take on the classic Dolphin interface and color scheme, users will feel at home but thankful for the improvements. Users on other browsers may be tempted over to at least give Dolphin a try with this latest update as well, seeing consistent improvements coming with each release. There's a reason its one of the leading third-party browser alternatives in the Play Store today.
Android Central Newsletter
Get instant access to breaking news, the hottest reviews, great deals and helpful tips
Andrew was an Executive Editor, U.S. at Android Central between 2012 and 2020.
Yaay flash support is back ..cool stuff

It was always there with a very minor hack. WHATEVER YOU DO, DO NOT DOWNLOAD THE WALLPAPER FROM THE LINK PROVIDED ON THE HOME SCREEN. I LOADED A WALLPAPER AND IT REQUESTED SUPERUSER PERMISSION. I DENIED IT AND IT REBOOTED MY PHONE.

Where did you download this wallpaper? Was it from the "HD Wallpapers Gallery" or was it a new theme from Google Play?

Funny how Dolphin always ran smoother than Chrome on my GNex and N7 ... Going to give it a try again.

not funny, Dolphin is just better. Maxthon is better than Chrome too.

Text reflow? Posted via Android Central App

Text reflow will work just fine, IF you install Dolphin Jetpack along with Dolphin Browser. This started a long time ago, and is not well documented by the folks at Dolphin.

Very useful info! Thanks. Posted via Android Central App

Ok, next question for the know it all, anyway to get rid of this damn 3 button menu at the bottom of the screen? Full screen doesn't cut it, unfortunately. Posted via Android Central App

Root your phone and get the full screen app. Posted via Android Central App

text reflow not working w/ jetpack & auto-fit pages option on OR off. auto-fit simply makes the text column narrowet than its supposed to be which messes w/ the layout of a desktop sized webpage. the last version of dolphin had it perfect where u could pinch zoom on text & then double click in order for the text to reflow. 2 steps forward but 1 important step back. might have to look for old versions to sideload if this isn't fixed soon

I think I see what you mean. It creates this extra space like a gutter to the right of the text. Disappointing. Posted via Android Central App

after some messing around, I figured out that it's the newest version of Jetpack that messes up there text reflow & pinch to zoom. as long as u just update dolphin browser & leave jetpack @ version 3.01 everything seems good.

UI looks nice but they still didnt fix the part where it uses the google maps app instead of the web based version when getting directions. WTH????

So I downloaded the new update (I've been using Chrome on my Nexus 10 and Note 2), and I LOVE the new interface. A far cry from last time I used Dolphin on my old Epic 4G on Sprint. One problem I'm having, though, is the syncing of my bookmarks folders from Chrome (both desktop and my browser on my tablet). Anyone having this problem? I get a couple folders synced, but no bookmark links are in them. Anyone with Dolphin experience have a suggestion for me?

Yes I do have a suggestion check out out now works with multi-view on my S4 bet it'll work on the note 2 also.

Check out what? If you posted a link or something it didn't show up. I tried using X-Marks (formerly Foxmarks), but it didn't work either.

I like the new clean look. But the most annoying "feature" remains: going to google.com always trigger the "www.google.com wants to know your location" prompt even though I've checked off "Remember preference" a bazillion times. Anyway, I know how to disable location to prevent this but why can't Dolphin remember my preference?

love the update version. Posted via Android Central App

I used to love Dolphin...then when Chrome got better in the past 6 months or so, I switched Posted via Android Central App

I also used to stay with dolphin, back when chrome was super terrible. Now chrome is good enough, but dolphin is still smoother. This makes me want to go back to and use dolphin again. Posted via Android Central App

It crashes as much as stock browser :(

I've been w/Dolphin quite awhile, using it w/mobile is preferable since my Lastpass & others work perfect. OK I Google w/my PC but I also use UC Browser w/my mobile too. UC is very fast but no opportunities to use my Dolphin add-ons . Thanks Android Central ( you've been a favorite for years! ).
Android Central Newsletter
Get instant access to breaking news, the hottest reviews, great deals and helpful tips
Thank you for signing up to Android Central. You will receive a verification email shortly.
There was a problem. Please refresh the page and try again.