Conduit HD for Tegra devices review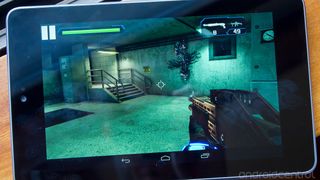 NVIDIA has been teaming up with game developers to make Tegra-optimized titles available for some time now, and today it is announcing another new release -- Conduit HD. If the name sounds familiar, it may be because it was first seen on the Wii console. But now it has come over to Android in its full glory, and is TegraZone exclusive at launch.
Hang with us after the break and see what Conduit HD is all about.
Conduit HD has all of the components of a good first-person shooter game. We've got a futuristic setting. We've got lots of guns and grenades. And of course we've got alien life forms of all types. The game has a generally lackluster storyline to our eyes, but it's easy to follow and keeps you engaged along the way. For an app expected to be played on a tablet or phone, this is plenty acceptable -- you don't want to get off the rails too far. There are two main modes of the game -- one when you're out in the ruins of the world fighting aliens and the other when you pass through the "conduits" (hence the name) to a zone where you're taking on more human-line opponents. This gives a little dimension to the game that makes it more interesting. The voice acting in the game is also notably good -- it's the little things like this that give the game depth.
Getting through the game is just the same as any other completely touch-enabled game, which involves virtual joysticks and buttons. There's a dual joystick setup here, with separate touch targets for joysticks to zoom and fire weapons. This makes it easier to differentiate between movements and firing, but also adds extra taps when switching between the two. If you'd prefer, settings allow you to turn on automatic firing to create a more laid-back gaming experience. We wouldn't hold it against you if you wanted to use some of the automatic modes, but full manual control and tweaking is available for the more involved gamer. We could really see this game benefiting from a wireless controller or Project Shield-like setup.
Being a Tegra-optimized game, the graphics obviously look notably better than if it were running on another device. We played the game on a Nexus 7 and it both looked and played smoothly as you'd want. Things don't look mind-melting great (you'll probably want Tegra 4 for that), but we're certainly pushing console-level graphics at this point. Most importantly, gameplay was smooth as butter with no stutters or lagginess, and loading screens were extremely quick as well.
Conduit HD is available starting today, but only for Tegra devices at launch. There's also an interesting payment model at work here -- the game is free to try for the first two levels, then you can purchase the remaining 7 levels for $4.99. If you'd prefer to buy the levels at a slower pace, you can drop $2.99 for levels 3-6, and another $2.99 for levels 7-9. You'll obviously save a bit if you get them together, so we recommend you go the $4.99 route.
This game is certainly worth your few hard-earned dollars if you've got a Tegra device to play it on and are a fan of first-person shooter titles. The touchscreen controls aren't great, but luckily configuration options and automatic modes can mitigate most of the frustration. You can grab your download of Conduit HD at the Play Store link above, or from TegraZone on your device.
Get the Android Central Newsletter
Instant access to breaking news, the hottest reviews, great deals and helpful tips.
Andrew was an Executive Editor, U.S. at Android Central between 2012 and 2020.