A closer look at the Intel Merrifield 64-bit chipset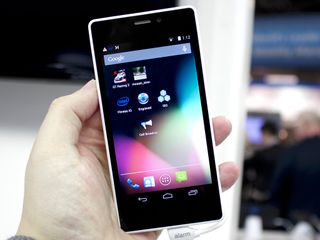 The reference device isn't bad either
Intel announced its first 64-bit chipsets for Android this week at Mobile World Congress. Following this we stopped by to take a closer look, including checking out the first Merrifield reference device. Since it's not a consumer product there was little point going too deep – so no hands on in the traditional sense – but we did learn a little more about the platform.
To recap; Intel announced two different 64-bit chipsets this week, Merrifield and Moorefield. The dual-core LTE Merrifield will be coming to market in the first half of 2014 while the quad-core LTE Moorefield will follow in the second half.
Without being too specific in the press conference, Intel talked of support for "advanced sensors." Having spoken since with an Intel engineer, these sensors include things such as a pedometer, GPS, an air gesture sensor, motion sensors and more built right into the chipset. And, since Intel controls the sensors, it also controls how much battery each one of them draws. Power efficiency and overall battery life remains a high priority, and is something Intel has done pretty well at in the past on Android.
As in years past, the new chips are demonstrated within a reference device constructed by Intel – and it doesn't look too bad either. The idea is that Intel's partners – which now include multi-year deals with the likes of ASUS and Lenovo – see what's possible with Merrifield and build upon it. As it happens, it even comes with an Intel designed fitness app to show off some of the built in sensors. The engineer we spoke to was particularly pleased that Intel had put some real effort into this years reference phone, with its white bezels and mirrored back. The camera stack sticks out a little too much, though.
Of course, since it's a smartphone, we spent a little time playing around with it. Not in a proper, full hands-on sense, more in a checking out current performance sense. Importantly, the Merrifield reference device is running Android 4.4.2 KitKat. Cue the "we'd expect nothing less" remarks, but when Intel first launched Android chipsets the software was a generation behind and playing catch up from there on out. Thankfully, that doesn't seem to be the case anymore.
Performance seems good. You can only tell so much at a trade show, but there's not a trace of lag anywhere when you're navigating through the phone, swiping, jumping in and out of apps and when playing games. GT Racing 2 was pre-loaded on the display models and it played really well. Good looking graphics, smooth gameplay and responsive controls. The stock Android camera app was also nice and sharp, pretty quick to focus and to snap images. If this is a reference phone, then OEMs like Lenovo that has signed up to launch Merrifield devices already should be able to do something worth taking a good look at.
Any rumors Intel might be looking for a way out of Android compatible chips seems to have been just that. Rumors. With some pretty exciting developments on this years roadmap and partner deals spanning multiple years, maybe, just maybe we'll start to see Intel push on. It'll be tough, though. Qualcomm and Nvidia aren't slowing down either.
Get the Android Central Newsletter
Instant access to breaking news, the hottest reviews, great deals and helpful tips.