A closer look at the Intel Merrifield 64-bit chipset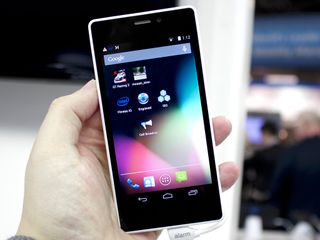 The reference device isn't bad either
Intel announced its first 64-bit chipsets for Android this week at Mobile World Congress. Following this we stopped by to take a closer look, including checking out the first Merrifield reference device. Since it's not a consumer product there was little point going too deep – so no hands on in the traditional sense – but we did learn a little more about the platform.
To recap; Intel announced two different 64-bit chipsets this week, Merrifield and Moorefield. The dual-core LTE Merrifield will be coming to market in the first half of 2014 while the quad-core LTE Moorefield will follow in the second half.
Without being too specific in the press conference, Intel talked of support for "advanced sensors." Having spoken since with an Intel engineer, these sensors include things such as a pedometer, GPS, an air gesture sensor, motion sensors and more built right into the chipset. And, since Intel controls the sensors, it also controls how much battery each one of them draws. Power efficiency and overall battery life remains a high priority, and is something Intel has done pretty well at in the past on Android.
As in years past, the new chips are demonstrated within a reference device constructed by Intel – and it doesn't look too bad either. The idea is that Intel's partners – which now include multi-year deals with the likes of ASUS and Lenovo – see what's possible with Merrifield and build upon it. As it happens, it even comes with an Intel designed fitness app to show off some of the built in sensors. The engineer we spoke to was particularly pleased that Intel had put some real effort into this years reference phone, with its white bezels and mirrored back. The camera stack sticks out a little too much, though.
Of course, since it's a smartphone, we spent a little time playing around with it. Not in a proper, full hands-on sense, more in a checking out current performance sense. Importantly, the Merrifield reference device is running Android 4.4.2 KitKat. Cue the "we'd expect nothing less" remarks, but when Intel first launched Android chipsets the software was a generation behind and playing catch up from there on out. Thankfully, that doesn't seem to be the case anymore.
Performance seems good. You can only tell so much at a trade show, but there's not a trace of lag anywhere when you're navigating through the phone, swiping, jumping in and out of apps and when playing games. GT Racing 2 was pre-loaded on the display models and it played really well. Good looking graphics, smooth gameplay and responsive controls. The stock Android camera app was also nice and sharp, pretty quick to focus and to snap images. If this is a reference phone, then OEMs like Lenovo that has signed up to launch Merrifield devices already should be able to do something worth taking a good look at.
Any rumors Intel might be looking for a way out of Android compatible chips seems to have been just that. Rumors. With some pretty exciting developments on this years roadmap and partner deals spanning multiple years, maybe, just maybe we'll start to see Intel push on. It'll be tough, though. Qualcomm and Nvidia aren't slowing down either.
Yes! 64 is a number that's better. Great news Posted via Android Central App

Haha that's funny because that's what most people think! As a person that has interests in computer science I can tell you that you WILL NOT see a performance difference until you get over 4GB of RAM Posted via Android Central App

It matters little. Android OS has to be 64 bit in order to take advantage of the 4gb of memory.

Oh yes you will for apps that have been optimized or even just recompiled for 64bit. The pipes are twice as large, you'll definitely feel a difference, especially for the optimized apps.

That looks so much like the 1st gen Nexus 7. Im looking forward to seeing intel progress in the mobile market, especially when it comes to windows tablets. Can only be a good thing!

If they are working with Asus do you this this could be part of the next Nexus 7?

Doubtful since not all of the apps in the Play Store are x86 compatible.

You shouldn't assume Asus will be making the next N7...but of course it could be.

Hope not. Their quality control sucks. Posted via Android Central App
VZW Moto X

Indeed, both for hardware and software (They killed my TF101 with the JB update).

I own two Asus devices, I'm not impressed. Posted with my HTC One GPe via Android Central App

Same here.
N7 - blue pixels (1/2 sq.in), keyboard
10.1 FHD - brightness, battery, video playback (HBO, Netflix...) Posted via Android Central App
VZW Moto X

But thats just a "Marketing Gimmick, no benefit to end users" right?

It is, in some cases. The benefit of a 64 bit operating system is that it asked for more intensive applications, that require more ram, to run better. 64 bit allows for more RAM to be installed.
Think about computers. No manufacturer sells you a computer with a high-end, 64 bit CPU, but with minimal RAM, not even apple. If manufacturers produce handsets with a 64 bit CPU and more RAM, and when developers write applications that take advantage of the more powerful hardware, 64 bit computing will be put to good use. Posted via Android Central App

No. Future-proofing is itself a benefit to end users. Posted from one of an unnecessarily large collection of Nexus devices because I'm That Guy

Actually he's correct. Until phones go over the allotment of ram limited by 32 bit, its 100% pointless and just a selling gimmick Posted via Android Central App

Good stuff Posted via Android Central App
VZW Moto X

first of all that phone looks nice! really like the simplicity.
sure 64bit sounds great, but i wonder what apps can really be benefited from 64 bit?

Not until phones go over 4GB of RAM. 2 phones exactly the same with 3Gb of RAM and one has a 64bit OS/processor and 64bit apps will preform the same as the 32bit one. BUT when you at 4+GB of RAM to the 64bit, then it'll fly. Posted via Android Central App

Why isn't AMD trying to compete in the smartphone market?

That's a great question and I would really like an answer to that. I really like what they have done in the PC market. "How'd you get the beans above the frank?"

So why wait? The longer they wait, the harder it will be. I'm sure I'm wrong. I think I would feel more comfortable buying a product that has AMD as opposed to having something from MediaTek. "How'd you get the beans above the frank?"

You will not see a performance difference until ALL of these requirements are met. 64bit processor, 64bit OS, 64bit apps and a phone over 4GB of RAM. Posted via Android Central App

For some reason the app just allowed me to reply to your comment. "How'd you get the beans above the frank?"

Ii understand what your saying, but I'm talking about why haven't they gotten in to the mobile business? "How'd you get the beans above the frank?"

64 bit processors do allow more data to be moved at once. There still isn't much benefit without more team to assist the more powerful processor. Posted via Android Central App
Android Central Newsletter
Get the best of Android Central in in your inbox, every day!
Thank you for signing up to Android Central. You will receive a verification email shortly.
There was a problem. Please refresh the page and try again.