Apps World: Join penguins on an adventure in XnO for Android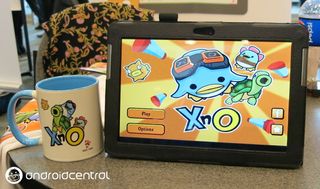 Endearing characters and high-quality art set XnO apart
Catapult games are a big deal on mobile – just look at Angry Birds and the many games the series has inspired as proof. The style of gameplay – aiming projectiles at something and trying to knock it over – works perfectly with touch-screen devices. You can classify these games as physics puzzlers, but they feel more action-oriented than most physics games.
At Apps World last week, I discovered a 3D catapult game from indie developer Digital Eclairs called XnO. The 3D perspective adds a new layer of depth to this type of game. XnO also has an endearing set of characters and delightful, high quality art style to set it apart. It's also one of the few participants in the Big Indie Pitch that has already made it to market, so you can download it right now.
Penguins versus bad blowfish
XnO stars two love-struck penguins named X and O. At the start of the game, X's girlfriend O and many of their penguin friends get captured by evil blowfish known as the Devils. X then sets out with his pufferfish and turtle friends to rescue O and the other penguins.
One of X's friends is caged up within each level. To free them, you'll have to knock over the weights that hold the cages closed. Swipe with one finger to aim and then press the button on the right side of the screen to fire a pufferfish at your target. Knock over all the weights and you beat the level. The better your performance, the higher your star rating for that level.
Eventually, X will need to move around in order to avoid enemy Devils who prowl around near him – not something you'd see in the average catapult game. Tilt the device in order to move him in any direction. You can also use a stingray item to stun the enemies, or equip an Angel Guard pufferfish to knock the enemy that touches it.
Free to play (and free the penguins)
XnO is free to play, so power-ups like the stingray and Angels can be bought as In-App Purchases after the free ones that players get run out. You can also pay to unlock levels early or to get more Angel Guard slots (basically improving your shield). None of these are required to beat levels though; players can complete the whole game without making any purchases.
Digital Eclairs' XnO is one of the better mobile games on display at the show. I love the art style, and the gameplay works perfectly with tablets or phones. If you like Angry Birds or similar games, don't miss this one.
Get the Android Central Newsletter
Instant access to breaking news, the hottest reviews, great deals and helpful tips.