Inside Firefox for Android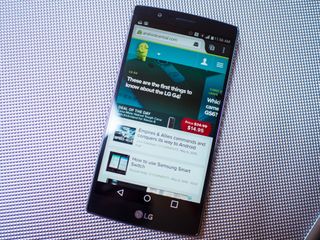 While there's a certain appeal to having structured simplicity in a web browser — something that "just works" and doesn't have option and settings coming at you from every direction — the tradeoff is almost always the sacrifice of choice. You do things the way the app says, with little in the way of options or flexibility. The folks at Mozilla have been opposed to this method of software development for as long as most folks can remember, and their Firefox browser exists as an open, flexible, and powerful way to enjoy browsing the web.
Like many other popular desktop browsers, Firefox has a mobile counterpart. Firefox for Android exists to bring the same standards and principles that guide the desktop version on to Android, and while standards and principles are cool it turns out this is also a great mobile browser. Lets take a look.
Firefox for Android offers all of the basics for a modern browser, with a seemingly endless list of extra features and options. Multi-tab interfaces, data-conscious browsing, private browsing mode, and the ability to sync with Firefox on your desktop are just the start. You've also got granular control over the kind of information Mozilla is allowed to collect from your browsing habits, the ability to create a Guest session for a friend using your phone, and privacy tools for controlling how you are tracked and whether you're able to store passwords for every site. It's a massive list of features for creating the exact browsing experience you want, and Mozilla is constantly adding and tweaking this list.
Outside of normal browser functionality, Mozilla offers developers a place to offer add-ons and web apps for Firefox, which are available through the homescreen. Mozilla's add-on store gives users access to features that can be bolted on to the browser itself and used whenever you choose, like the Ghostery tracking tool and a tap to translate function for text in other languages. The Firefox marketplace, however, is all about web apps. You'll find everything from location tracking apps and Bing maps to games and ebook readers, all of which install through Firefox and require Unknown Sources checked on your phone to install. It's not totally clear why these web apps are better than native Android apps, but Firefox fancies themselves an app store, so you have another source to get apps from.
If you're into tweaking settings and controlling how you are tracked, or if you're interested in using third party software to expand your experience, or even if you want to start using Firefox like it's a separate operating system, those tools exist. When you put all of those things together, however, you get an experience full of options that are easy to get lost in.
Starting Firefox for the first time on an Android device is overwhelming when compared to some of the other experiences out there, due largely to the decision to introduce the user to as many of these features as possible, losing the basics of actually using the browser for browsing in the process. For technical users, this is a nonissue. Browsers are fairly self explanatory and poking around in the settings is half the fun. For brand new users who have never considered Firefox before, the learning curve is a little on the high side.
That, in a nutshell, is the only real "flaw" with Firefox for Android. As a standalone browser, you get a great overall experience that gets you to and from websites fast and largely without issue. As a desktop/mobile shared experience, making it so you can effortlessly go from one to the other and not lose the task at hand, Firefox is one of the best out there. If you're looking to try something new, Firefox is high on the list of browsers worth replacing your current setup with.
Get the Android Central Newsletter
Instant access to breaking news, the hottest reviews, great deals and helpful tips.