Fingerprint scanning support to arrive with Android M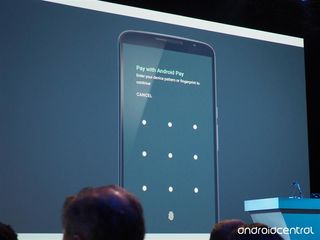 Android M will come with native support for fingerprint scanning. You'll be able to use fingerprint scanning to pay using Android Pay, as well as unlock your device. Users will also be able to make Play Store purchases by authorizing them with their fingerprint. Usernames and passwords can be saved an authenticated with a fingerprint scan.
Google also announced that developers will be able to add fingerprint scanning support to their apps. Android M comes with a standardized fingerprint API, and an Open Authentication API.
Keep your eyes on the Android Central liveblog of today's Google I/O keynote for the latest.
Nice! Goes nicely with my S6! Posted via my Galaxy S6!

So this confirms the next nexus will have a fingerprint reader Posted via the Android Central App

And I thought I was the only one thinking the same thing when I saw it live. :) Noticed how they didn't show the bottom of the device as well...hmmm Posted via the Android Central App

I'd be shocked if it (they) don't have both Posted via the Android Central App

So this confirms...Samsung was right? Man, life will end if the next Nexus has a physical button on the front. The back of the phone just does not seem to be the spot for a fingerprint scanner. Posted

You do know that the M on the back of the Nexus 6 was suppose to be where the fingerprint scanner was to be housed? I see no reason to despair if the next 2 Nexus have them as long as it's not a button on the front like Sammie and Apple use.

Why not? I think the back orf your phone is the right place to put a finger print scanner. You get to scan your finger in a much more natural way. Posted via the Android Central App

I hope oneplus two has fingerprint scanner... Posted via Android Central App on 1+1

Looks like we still have to wait a little longer for Multi-window support which is fine let them get it right first and possibly released in Android Nougat.

totally agree, you're spot on today! Posted via the Android Central App

Hopefully the s6 scanner take to this on update.

My gs6 edge finger scanner work 98% of the time . Much better then my daughter iphone 5S finger scanner. So sammy got it right all I have to do is just touch it it works . Heck even the old tech one on my note 4 edge works anybody that's having problems with the scanner on there samsung phone don't know how to use it imo Posted via the Android Central App

Button? What button? Really impress me by scanning my fingerprint when I place my finger over that print designator displayed on the screen. Now that would get my attention!

I don't see why that isn't possible ... I'd almost say it's likely. if Google drops a 5.2" Nexus will USB-C and an on screen scanner I'll be ecstatic ... especially since I've been waiting patiently to see something I really like in 2015 Posted via the Android Central App

I would be happy about this, but then I immediately remember that fun thing the courts did where you can't refuse to unlock if it has a fingerprint reader. Posted via the Android Central App

I remember something about encrypting your device while using the fingerprint scanner, so if you ever get in a situation where law enforcement wants to get in your phone, you just power on into recovery and do a factory reset. Data is technically gone. And if they try to retrieve it, it will be an encrypted mess. Rooted LG G2
Rooted GSIII
Stock Galaxy Note 4
(The Sprint Lover)

I hope the huawei nexus will have a fingerprint scanner because the acend mate 7's one was amazing hopefully USB c and fingerprint scanner for as low price as possible

Having the fingerprint scanner at the back of the phone is not that good of an idea. You only have one natural way to hold a phone so that just leaves 1 finger to scan with. With a front scanner, you got options like thumb, fore-finger, middle finger etc. + The fingerprint scanner is a pretty cool piece of Tech that u don't want hidden away but want it to scream 'USE Me'. my 2 cents...
Android Central Newsletter
Get the best of Android Central in in your inbox, every day!
Thank you for signing up to Android Central. You will receive a verification email shortly.
There was a problem. Please refresh the page and try again.