Best Quest 2 games 2023
From shooters to multiplayer, family-friendly to horror, we rounded up the best Meta Quest 2 games in every category.
The Best Action VR Games
Most VR games tend to keep their gameplay slow and methodical because anything fast-paced can cause motion sickness. But that doesn't mean your VR game library should only contain the equivalent of arthouse films. You want action, adventure, and excitement! These VR action games deliver these in bucketloads.
Ancient Dungeon
A procedurally generated rogue-lite dungeon crawler in VR? Sign me up!
Dungeon-crawling is sadly underrepresented on Oculus Quest; you have a few excellent hack-and-slash games set in a few fixed settings or Demeo for a strategy spin, but nothing that gives you a Minecraft Dungeons feeling of endless exploration. Thankfully, Ancient Dungeon does its best to fill the void.
With procedurally generated maps, multiple weapon and enemy types, and a ton of randomized upgrades and bosses that change gameplay in every run, Ancient Dungeon is a game that'll offer a ridiculous amount of replayability if you enjoy it.
Start with the free Beta and give it a few runs; I guarantee you'll get hooked. Then you can buy the full version, which adds more floors, attacks, enemies, music, and more. Originally an App Lab title, this one-developer indie title will give you more to enjoy than other games with entire studios behind them. Just be warned: limit yourself to a run or two per session if you're prone to nausea. —Michael Hicks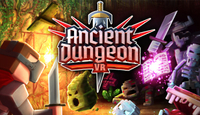 (opens in new tab)
Ancient Dungeon
Wish Minecraft would come to the Quest Store already? For now, Ancient Dungeon captures that blocky aesthetic while adding intense combat and gameplay that'll keep you coming back for more.
Buy from: Oculus (opens in new tab)
Download demo from: Oculus (opens in new tab)
Barbaria
Caesar hopes you are thoroughly entertained
For years, GORN has been the darling child of VR gamers who wanted to relive the days of the Roman gladiators. But GORN, in all its glory, is a pretty shallow game that stops being fun the moment you've exhausted all the gruesome ways to kill your enemies. Thankfully, Barbaria came along and not only honed in all the great parts of GORN's combat system but also added some brains to the equation.
Barbaria is an "asynchronous multiplayer game" which means that your actions in the game are "recorded" and played back for other players. In this case, you'll be assaulting other players' bases and attempting to get through their defenses to capture the power crystals scattered throughout. Your earnings from these raids will allow you to earn and purchase defenses for your own realm which, you guessed it, will get raided by other players when you're not playing.
This makes Barbaria a fascinating mix of action, fighting, puzzle, and tower defense. Any time you raid another player's base — or complete one of the story levels created by the developers — you can take first-person control of your barbarian or zoom out and control things from a bird's eye view, and even use magic as a huge demi-god to turn the tide of battle.
Like GORN, Barbaria is brutal and often grotesque, earning that M rating every time you chop a goblin's head off and attach it to the end of your war axe. The physics-based combat works incredibly well and the weapons never feel overly heavy or light. You'll also be regularly surprised at how enemies can interact with the environment, both with their own actions and by being thrown into something clever.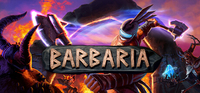 (opens in new tab)
This ultra-violent gladiator simulator tones things down with a cartoony art style and humorous concept of physics, but it's not just action that's fun. This one has a full-fledged RPG packed inside with asynchronous multiplayer that'll have you raiding (and being raided) by other gamers. Get those traps ready!
Buy at Oculus (opens in new tab)
Blade & Sorcery: Nomad
Medieval duels backed by a realistic physics engine
One of the most popular PC VR games, Blade & Sorcery is a giant sandbox where you fight foes with swords, bows and arrows, or magical attacks. Its popularity stems from the realistic physics engine, which lets you parry or deflect attacks and ensures your weapons don't just teleport through foes.
Now it is available untethered on the Quest 2 with Blade & Sorcery: Nomad, so your duels to the death can become fully roomscale. Plus, it adds a new procedurally generated Dungeons mode in which you traverse through different environments, vanquishing foes, collecting loot, and leveling up your skills. This port will even allow you to use mods, which creative gamers have used to add foes from Star Wars, Marvel, and other popular brands.
Nick described B&S combat as a "balanced mix of 'video gamey' and semi-realistic that feels just right in his review. The Goldilocks of VR weapon handling, if you will," in his review. He praised the game for its variety of weapons and mostly bug-free gameplay. It's impressive that developer Warpfrog managed to make the game work with the Quest's limited hardware at all, and it's been a blast to play so far. —Michael Hicks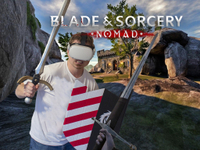 (opens in new tab)
Blade & Sorcery: Nomad
A medieval fantasy sandbox with melee, ranged, and magic combat driven by a realistic physics engine. Warpfrog pulled off some wizardry of its own to make Blade & Sorcery work on a portable headset like the Quest.
Buy from: Oculus (opens in new tab)
In Death: Unchained
This roguelite is a heavenly romp through the gates of Hell
When it launched on the PC as In Death in 2018, many players proclaimed it their favorite VR game. Unfortunately, developer Sólfar Studios couldn't keep it updated and later transferred the rights to Superbright, which now runs the Oculus Quest version of the title. The subtitle of In Death: Unchained is a duality in itself, referring both to the freeing nature of untethered VR that's brought about on the Quest platform and the never-ending quest in the game to top the leaderboards with ever-improving skills.
Like most roguelites, In Death: Unchained features a procedurally generated world that's never quite the same round after round. Set in three main areas of a godless afterlife, players will find themselves fighting through levels with a bow as their main weapon and the ability to fight melee if the need arises. The bow isn't just used to kill enemies, though; it's also an excellent means of traversal, thanks to a special arrow that works as a teleportation device. Skilled players will use this movement in tandem with free-moving joystick controls to outsmart enemies and bosses alike, all with gorgeous visuals and compelling boss fights.
In Death: Unchained, unlike its predecessor, has been updated and even overhauled several times now to change things up and keep the action fresh for veteran players. The move to seasonal content has also proven quite successful for the game and its players. In fact, it was among the first batch of games that was heavily updated to support the Oculus Quest 2's significantly enhanced processing power, a testament to Superbright's dedication to the game. —Nick Sutrich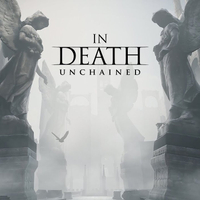 (opens in new tab)
In Death: Unchained
In Death: Unchained is a roguelite that drops players in a relentless procedurally-generated realm of the afterlife, testing their bow skills as much as their persistence.
Buy from: Oculus (opens in new tab)
Iron Man VR
Take to the skies and become an avenger!
VR is all about letting you go to places or be someone you could never be in real life. That's exactly why Iron Man VR is so dang amazing! Many Quest games will transport you to another place or time, but few games are able to make you feel like a completely different person altogether.
Embody Tony Stark and don the famous Iron Man suit in this action-adventure game that spans 8-10 hours with an original story and movie-quality voice acting and script writing. There's nothing quite like Tony's one-liners, and you'll hear plenty of quips and puns along with snarky replies as you make your way through the story. And don't worry, there are plenty of things to unlock and upgrade, including new suit abilities and entirely different suits altogether.
Iron Man VR's controls are wholly unique, as well. You'll be using each controller to propel yourself around each level with Iron Man's palm-mounted rocket thrusters, giving you the real feeling of flying anywhere you want. When you're not on a mission you can chill at Tony's bougie Malibu home and tinker around in the garage with the Iron Man suit thanks to your AI companion Gunsmith and his brilliant inventions. But will they be enough to stop the Ghost? You owe it to yourself to find out! —Nick Sutrich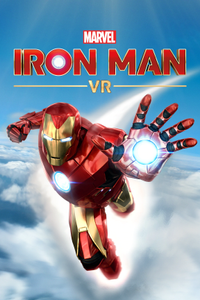 (opens in new tab)
Iron Man VR
Become Tony Stark and solve the riddle of the Ghost, a sinister character from Tony's past who is hellbent on destroying Tony and his legacy.
Buy from: Oculus (opens in new tab)
Swarm
Spider-Man heads to the arcades
Swarm is what happens when you imagine an old-school high-score arcade shooter brought into VR. You're launched into an arena teeming with aliens that spawn from random portals across the map. However, it's not a static shooting gallery; this is a very, very active game. Armed with grappling hooks and pistols, you must pull yourself every which way to avoid attacks and position yourself to strike back — performing aerial acrobatics that only make sense with room-scale VR technology.
Each level lasts only as long as you — or the enemies — can survive. Other levels offer movement challenges that test your ability to accurately grapple as fast as you can without falling to your doom. Power-ups and new weapons are found and earned during play, and you'll soon find yourself in a zen-like state of grappling, pulling, shooting, and dodging. Can you defeat the swarm and save the Earth? —Nick Sutrich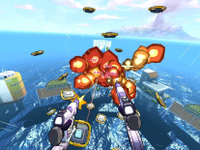 (opens in new tab)
Swarm
Grapple, fling, shoot, repeat. Swarm captures the essence of classic high-score arcade titles and perfectly translates it into VR.
Buy from: Oculus (opens in new tab)
Until You Fall
Either you'll fall, or your arms will fall off
Until You Fall is a unique take on the hack-and-slash roguelite genre. Taking thematic elements from high-fantasy epics like Lord of the Rings and injecting it with a thick serum of Tron-like neon highlights, Until You Fall will have your jaw on the floor with its stylistic beauty, up until the moment the first enemy makes you drop to the floor. Then, as the name implies, you'll battle your way through enemy after enemy until you fall. Then, you respawn back in the hub to upgrade your character and do it all over again.
Until You Fall utilizes seriously realistic physics modeling that makes you feel like you're actually swinging the weapons you wield. There's something trippy about feeling like you're fighting with a giant neon-drenched ax, and Until You Fall nails that feeling with every single swing and block. Enemies will ruthlessly attack you in groups, and the end of each section brings the choice of one randomized power-up to reward you with.
Players will make their way through dozens of levels, separated by three tiers of difficulty, color, and enemy types, battling bosses at the end and collecting Aether. This ethereal currency is used to make those weapons even more brutal, giving you the edge in battle — once you muster up enough patience, that is. The question is, which part of you will fall first, your mind or your body? Until You Fall will challenge both. —Nick Sutrich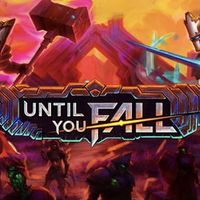 (opens in new tab)
Until You Fall
Until You Fall will test your patience and your body, willing to break at least one in this action-packed hack-and-slash roguelite.
Buy from: Oculus (opens in new tab)
Get the Android Central Newsletter
Instant access to breaking news, the hottest reviews, great deals and helpful tips.
Senior Editor, VR/AR and fitness
Michael spent years freelancing on every tech topic under the sun before settling down on the real exciting stuff: virtual reality, fitness wearables, gaming, and how tech intersects with our world. He's a semi-reformed Apple-to-Android user who loves running, D&D, and Star Wars. Find him on Twitter at @Michael_L_Hicks.