Best Quest 2 games 2023
From shooters to multiplayer, family-friendly to horror, we rounded up the best Meta Quest 2 games in every category.
The Best VR Multiplayer Shooters
Unlike traditional video games, VR shooters aren't all necessarily multiplayer. Our previous picks all have excellent single-player campaigns and no multiplayer outside of leaderboards, which many gamers will prefer. But if competition fuels you or you want a shooter that lets you play with friends, these are the best Quest 2 multiplayer shooters we've played and loved!
After the Fall
After the fall, don't get left for dead
If you're a fan of zombie shooters — especially the kind that throws hundreds of zombies at you — After the Fall is the game you need. In a broad sense, the game apes zombie shooter classics like Left 4 Dead and Killing Floor in the best of ways, creating an alternate-reality world where climate change in the '80s messed all kinds of things up and frost zombies suddenly appeared to mop up whatever was left of human civilization.
The game leans heavily into the '80s theme, as the hub where you start each play session is a 1980s arcade, complete with playable Oregon Trail hunting mini-game-inspired versions of Arizona Sunshine, the developer's previous VR title. Up to 32 players will walk amongst themselves in this lobby and can be invited to a party with a single click. Best yet, it's cross-platform playable between Oculus Quest, Oculus Rift, Steam, and PlayStation VR.
You'll be shooting hordes of zombies alongside three other players, or you can always opt to let the AI take over those player characters, instead. Either way, it's a four-person crew that'll be collecting floppies to unlock new gun components, gathering harvest from every downed zombie, and spending that harvest to better outfit yourself for the next, even more difficult level. Our After the Fall review gives you all the reasons you need to hop on right this minute.
Since launch, Vertigo Games has supported After the Fall with a new horde mode, several new maps, guns, enemies, and plenty other new content, all free. And given the developer supported Arizona Sunshine for several years, you can expect even more content to come with time. —Nick Sutrich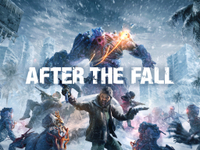 (opens in new tab)
After the Fall
Shoot thousands of zombies alongside your friends, no matter if they're on an Oculus Quest 2, Playstation VR, or any PC VR platform.
Buy from: Oculus (opens in new tab)
Blaston
Epic 1v1 arena duels in bullet-time offer an amazing workout that's free to play
Blaston gameplay is simple but very addicting. You step into an arena with guns floating all around you and your opponent in his own space in front of you. When the match starts, you'll fire at your opponent to whittle down their health bar, while dodging or shielding against their own wave of bullets. Each gun's bullets shoot at different speeds and sizes, and some weapons let you curve bullets or throw projectiles at them, so you'll want to be strategic with shots so they have no room or time to dodge.
You have the original ranked mode where every victory or defeat matters, a Western-themed Quick Draw challenge, an Arctic Blast mode with deadly icy weapons, a Knockout! tournament mode for dueling friends for a trophy, a single-player practice mode against bots, and most recently, a Street Brawl mode.
Since Blaston launched, the devs have added a ton of new features and modes and have even taken the game free-to-play. Don't worry, players who previously played for it were rewarded with in-game items and everyone can jump on the in-game store which includes player skins, weapon skins, character accessories and more.
It's a ton of content and just a few matches will get you sweating! Coolest of all, it recently improved the passthrough mode, so your surroundings are sketched into the void around you as you duel. That way, you can remain conscious of any nearby furniture, people, or pets that you might slam into, making it easier to immerse yourself in the duel. — Michael Hicks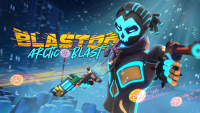 (opens in new tab)
Blaston
Blaston tasks you with taking out your fellow duelists online one at a time. Play ranked mode to unlock new weapons and an in-game store to stock up on those cosmetic features that'll keep you looking unique as ever!
Download for free at: Oculus (opens in new tab)
Contractors
Striking the balance between military realism and cartoonish fun
When it comes to VR military shooters, two names lead the pack: Onward and Contractors. You can find Onward mentioned below but, if absolute realism and tight tactics aren't quite your style, Contractors should be right up your alley. As you might assume from the name, you'll play as a military contactor battling it out for supremacy of a map. Usually, that means the team with the most kills wins.
If you've played Call of Duty or Counter-Strike before, you'll feel right at home here. The game features an impressive on-body inventory system that can be played with or without full-body physics modeling, and the game sports a bevy of accessibility features to make it easy to play for folks with all abilities and comfort levels. It's also got the most accurate weapon modeling and reload mechanics of any game in its class that isn't called Onward. You'll regularly marvel at the quality of the gun models, from the World War 2-era weapons to modern-day rifles, and even ancient ninja swords and bows.
Yes, you read that right. Contractors doesn't just give players the experience of modern-day combat, it also lets you choose from three additional gameplay styles: WW2, Ninja, and the new Zombies survival mode, as well. Up and coming games like Alvo offer up more agile movement systems and a different take on the formula, but Contractors has been a fan favorite of VR fans for years and just keeps getting better.
Last and most certainly not least is the game's easy modding capabilities, where players can design and upload their own maps and areas, complete with custom textures and everything you would expect. Yes, that means favorites from other consoles like Halo multiplayer and Star Wars Battlefront — which will never officially come to Quest 2 — can be played without having to sideload. Just search (or browse) for what you want and hit play. All the downloading is handled automatically and all you have left to do is win. — Nick Sutrich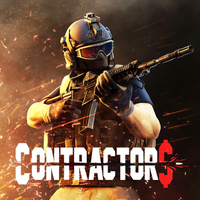 (opens in new tab)
Contractors
From modern day to WW2, PvP to zombie survival, Contractors offers a wealth of multiplayer fun, making it a fan favorite. Especially once you start adding mods to add some spice to the gameplay!
Buy from: Oculus (opens in new tab)
Drop Dead: The Cabin
If The Walking Dead had a lovechild with Stranger Things in a Cabin in the Woods
There's no shortage of zombie co-op shooters on the market today, so why in the world would we add another one to the list? Because Drop Dead: The Cabin isn't quite like all the other zombie shooters available these days. It's also only 2-player co-op which makes the gameplay feel a bit more intimate than other co-op zombie shooters.
In Drop Dead: The Cabin, you'll begin in — you guessed it — a cabin in the woods. Whether the game is set in the 80s or the cabin has just been lost to the annals of time is anyone's best guess, but all you know is that you need to get out of there as fast as possible. Of course, it's not that easy as waves of zombies and other monsters attempt to thwart your escape.
So why can't you just run for your life through the woods? Since you'd eventually be overwhelmed by monsters and killed, the best way out is to wait for the rescue helicopter that's on the way to bail you out, but you've got to keep the beacon powered so they know where to find you.
It's this interesting mix of zombie shooter and pseudo tower defense that shakes things up enough to make this game a winner. You'll be finding batteries and fuel to power the generator and beacon, all while the monsters are trying to tear them down and eliminate both players. Meanwhile, your supplies in the house dwindle with each moment since you've got to find all of your weapons in the many nooks and crannies, and a ceramic mug only lasts so long against the zombie horde.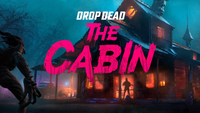 (opens in new tab)
Can you survive the woods long enough to be rescued? Join up with another friend and brave the hallowed halls of the cabin, using anything you can find to defend yourself while you wait for the chopper to come.
Buy at Oculus (opens in new tab)
Gun Raiders
The uber-creative, Tribes-like multiplayer experience
It's hard to argue with free, but Gun Raiders is compelling enough on its own. Sporting gameplay that feels straight out of the classic Starsiege: Tribes games from two decades ago, players will join in one of several different multiplayer modes that take part in thousands of different maps.
To top that off, players will fly around on jetpacks, climb any surface they set their minds to, and wield dozens of different weapons — including fantastical and semi-realistic guns and melee weapons.
If that level of variety wasn't enough to get you interested, keep in mind that this game is completely free to play and doesn't require players to watch adds or sign up for some dubious account. It's got an in-game shop and a battle pass that'll get players unique skins and other cosmetic items for a few bucks. The game has already been through four seasons of content as of late December 2022 and isn't slowing down any time soon.
This one's definitely a shooter everyone should try, if for no other reason than the fact that it's free — Nick Sutrich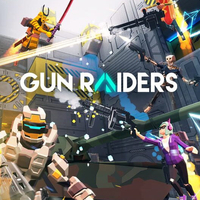 (opens in new tab)
Ready for a free-to-play experience that feels anything but "free"? Gun Raiders gives players thousands of maps to play in, dozens of weapons to wield, and an unlimited number of skins and other collectible items available through the game's seasonal battle passes. Grab a jetpack and get going!
Download for free at Oculus (opens in new tab)
Onward
CS:GO-style military simulator focuses on tactics and teamworks
Most shooters today turn you into a one-person army and are generally fast-paced and cartoonish. Old-school games where you rely on your squad and call out your opponents' tactics at a more deliberate pace aren't as popular anymore. But VR sometimes gives new life to older genres, and Onward is one of the more popular multiplayer games on the Quest 2 because it makes you feel like a soldier in real tactical situations.
Onward has single-player, co-op, and multiplayer modes, with different game types that keep things varied. In standard multiplayer, you'll play on one of two sides, each with different weapons you'll need to master. You actually have to hold your gun up to look through the scope, crouch down in real life to hide behind cover, or check your magazines to see how much ammo you have left. You can equip different load-outs with specific weapons or tools like colorful smoke grenades or a recon drone, and there are a decent number of maps, including night variants.
The Quest 2 version is a great way to play Onward. You can enjoy cross-play with Rift and SteamVR players, and you get to duck and move around without worrying about wires, so you have a competitive advantage. You'll want to talk to your squad using proximity chat, so like any multiplayer game, the experience is only as exhilarating or as toxic as the people around you. I recommend starting against bots, so you don't feel the pressure to perform well for strangers. But there isn't a campaign here: the crux of the game is multiplayer, so get this if tactical VR shooting against real opponents is what you want. —Michael Hicks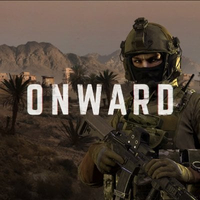 (opens in new tab)
Onward
Become a soldier and work with a team over proximity chat to plan your next move. Duck and peek out around cover, using realistic weaponry to take out foes.
Buy from: Oculus (opens in new tab)
Population: One
Turning battle royale on its head ... literally
When Population: One first got announced in late summer 2020, I'm pretty sure I heard a collective sigh from the VR community. "Do we really need another battle royale game?" was heard across forums far and wide, but developer Big Box VR proved most everyone wrong a few months later. Not only is the game one of the single-best battle royale games on any platform, but its mechanics are so well-tailored to VR that it doesn't make sense to play Population: One any other way.
If you're a fan of games like Fortnite, Apex Legends, or Call of Duty: Warzone, you'll feel immediately at home in the standard gameplay mode. Fly into a map and make sure you're the last one standing to win. The unique setup becomes apparent immediately since it doesn't take place on one floor. VR's unique level of freedom is fully explored in this game because it lets you climb anywhere — and I mean anywhere — and glide off said structures by simply extending your arms like you're wearing a wingsuit. It's doing to the battle royale formula what Breath of the Wild did for third-person adventure games.
Big Box VR has also supported the game in a way that's making players come back for more. Season One added a new War Mode, new weapons like a katana, and plenty of fresh skins. Season Two grew the map with a Western-themed area, threw in tons of new weapons, and grew the max player count to 24. The Kingdom Age season converted part of the map into a massive medieval castle, with new swords and tools to freshen things up. And the Metropolis update gave the world a Blade Runner aesthetic.
After that, the Sandbox expansion (opens in new tab) added over 1,000 new deathmatch and team deathmatch maps at launch on December 14, 2022 and even includes a full-fledged level editor. That in-game level editor makes it easy for anyone to create and publish their own maps and even bring their friends along for the fun, spinning the game into an amazing place to create and hang out. Now, the game is fully free-to-play so players can enjoy the evolving map and gameplay options without the financial commitment.
Rest assured, if you want a game that gives you plenty of reasons to play regularly, Population: One is that game. —Nick Sutrich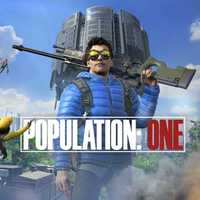 (opens in new tab)
Population: One
One turns battle royale on its head by giving players true freedom of movement. Climb, glide, or fight anywhere.
Free at: Oculus (opens in new tab)
Get the Android Central Newsletter
Instant access to breaking news, the hottest reviews, great deals and helpful tips.
Senior Editor, VR/AR and fitness
Michael spent years freelancing on every tech topic under the sun before settling down on the real exciting stuff: virtual reality, fitness wearables, gaming, and how tech intersects with our world. He's a semi-reformed Apple-to-Android user who loves running, D&D, and Star Wars. Find him on Twitter at @Michael_L_Hicks.